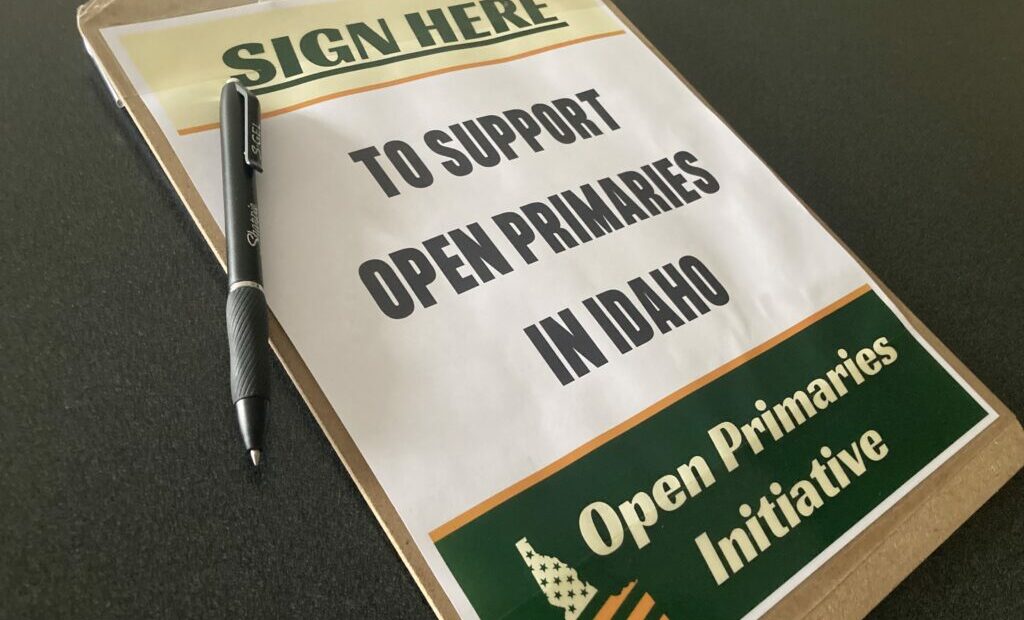 Ranked-choice voting in Idaho could happen with 2024 ballot initiative
Idahoans for Open Primaries, a coalition backed by Reclaim Idaho, wants to bring open primaries and ranked-choice voting to Idaho. 
"I used to be a Republican," said Jim Jones, a spokesperson for the Idaho Open Primaries Initiative. "Traditional Republicans are sick at heart as to what has happened here in Idaho."
The organization sees the initiative as a solution to what Jones describes as a "lock" on the process in which political candidates get through the Idaho primary system.
The current system requires voters to declare party affiliation to be allowed to cast ballots for that party's candidates. 
"Idaho's closed primary system blocks 270,000 independent voters from voting in the most important elections," reads a statement on the Idahoans for Open Primaries website.
If successful, the "open primary" measure would allow Idaho voters to cast their ballot for any candidate during a primary election, regardless of party affiliation. 
The initiative would also implement a "ranked choice" or "instant runoff" voting system.
Voters would have the choice to rank up to four candidates in order of preference, instead of choosing just one. If a candidate receives more than 50% of the first-choice votes, they are the winner. If no candidate earns more than 50% of first-choice votes, then counting will continue in rounds. 
"With ranked choice, you may get the second choice that you voted for, so the voter is not out of the ball game," said Jones. "If their first choice doesn't win, their second choice might."
In 2020, voters in Alaska approved an initiative to have ranked-choice voting for their general election.
Last year in Nevada, voters backed a measure that changed their closed primary elections to one in which the top five candidates advance. Their general election now also uses a ranked-choice voting system.
Earlier in May, Idaho Attorney General Raúl Labrador tweeted, "Let's defeat these bad ideas coming from liberal outside groups," in response to a tweet about the open primary initiative. 
In July, officials with the Idahoans for Open Primaries group filed a lawsuit alleging AG Raúl Labrador's office provided misleading titles for the ballot initiative.
Earlier this month, the Idaho Supreme Court ruled Labrador's office "failed to comply" with Idaho law when it drafted descriptions of the ballot initiative.

Idaho law requires the AG to use words commonly used to describe the measure. Justice Colleen Zahn found the AG's office made up its own term, "nonparty blanket primary," to describe part of the initiative. 
"Language like that, loaded language, was designed to impede the chances of getting the required signatures," said Jones.
Labrador's office changed the words, "nonparty blanket primary" to, "top-four primary" when re-writing the titles. The short title now reads: "Measure to (1) replace voter selection of party nominees with a top-four primary; (2) require a ranked-choice voting system for general elections."

"Last Friday [August 11] in compliance with an order from the Idaho Supreme Court, Attorney General Labrador issued rewritten ballot titles," said Luke Mayville, co-founder of Reclaim Idaho, in an emailed statement. 
This week, the Supreme Court approved the new ballot titles, giving the organization the green light to start collecting signatures. 
"It's time to open the primaries and give power back to the people of Idaho," Mayville said in a statement. 
The initiative could serve as a beacon to the rest of the country to get rid of politicians who focus on divisive issues that push to either stoke fear or anger in the electorate, said Jones. 
Although he's confident the campaign will get the signatures they need, Jones said the fight isn't over.
Last fall, Democratic Representative Mary Peltola defeated a pair of Republicans, including Sarah Palin, to win a special election to fill a U.S. House seat for Alaska. 
The Idaho GOP announced it is bringing Sarah Palin to Idaho Falls this week to speak about "the dangers of Ranked Choice Voting," and offer "a warning to Idaho," according to a statement on the Idaho GOP website.
"We anticipate there will be large amounts of dark money coming into Idaho to advertise against the initiative, and try to get people confused as to what it will do," said Jones. 
For now, Mayville has 1000 enthusiastic volunteers ready to gather signatures, said Jones. 
"Now that the new ballot titles are approved, we are hitting the field with our petitions to catch the rest of the summer vacation crowds at the rodeos and the fairs," said Jones. 
Reclaim Idaho will have until the end of April 2024 to gather enough signatures — around 63,000 — to get the initiative on the ballot.
Attorney General Raúl Labrador did not respond to a request for comment.