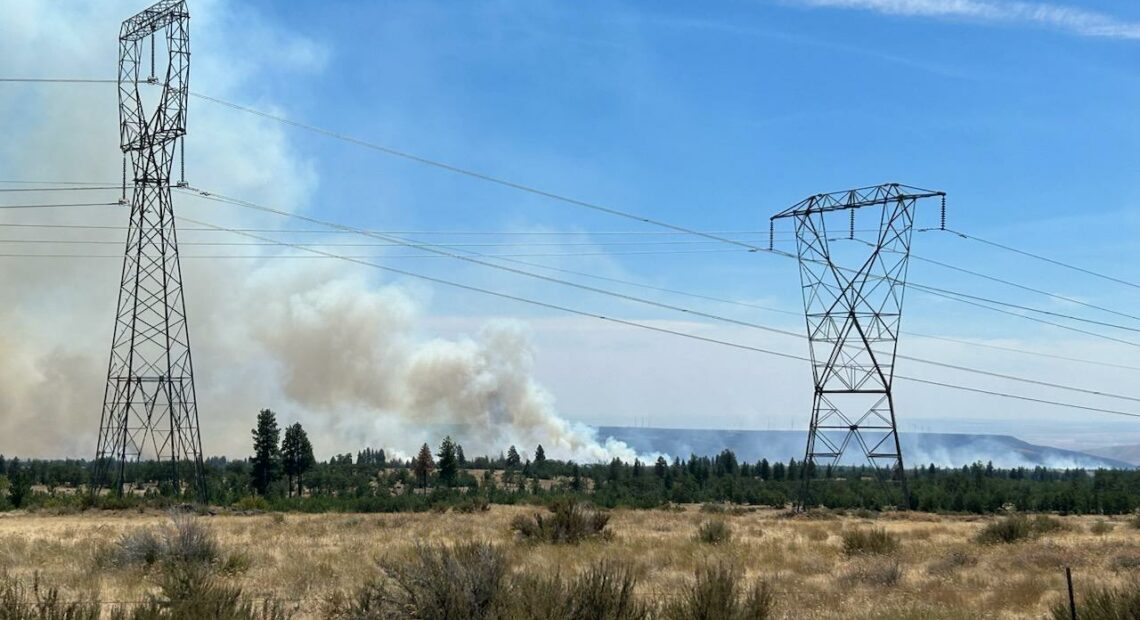 With wildfires increasing, the threat to utilities is also on the rise
Wildfires pose a threat to the energy sector — both the critical infrastructure that generates energy, like dams and wind turbines, and the infrastructure that delivers electricity to consumers, mainly transmission lines.
The Sourdough Fire in Whatcom County has caused two dams that provide power to Seattle to go offline for days at a time — the Ross and Diablo dams. Earlier this summer, the Newell Road fire near Goldendale had crews battling flames under wind turbines.
It's not just the heat or flames but also the smoke that can have devastating impacts to the infrastructure and distribution of power.
"It's also what is the density of the smoke near transmission or distribution lines, and that's some of the safety concerns that a lot of people don't think about," said Elizabeth King, with the Washington State Department of Commerce as the director of Energy Resilience and Emergency Management. "Smoke can cause arcing on a line, and we don't want that either because that impacts the safety of everybody that's around there."
Smoke can also cloud the receptors on solar panels.
"It will filter out sunlight and smoky years will result in less generation," said Phil Lou, solar energy specialist with the Washington State University energy program. "It wouldn't shut down a system; it would lower the generation."
While different sources of energy generation can be impacted differently from fires, none are immune to the destruction wildfires can cause. When energy generation facilities are in remote locations, such as the Ross and Diablo dams, it is harder for firefighting resources to get to the fire, making it dangerous for the people who work there.
"It really has to do with the geography, the terrain, that is around a generation facility," King said. "So, like the North Cascades, if you've ever been up there, it's very isolated. The amount of time, equipment, personnel that it takes to fight a fire in that area, along with a few other areas within Washington, is really challenging."
This past legislative session, Washington lawmakers passed HB 1032, which establishes a wildfire utility commission overseen by the Washington State Department of Natural Resources. The legislation will codify best practices for electric utility wildfire mitigation plans. It will also require utility companies to provide mitigation plans to the state by Oct. 31, 2024. Those plans must be reviewed every three years.
So how do utilities keep the lights on?
When the Ross and Diablo dams were offline from August 2 to August 9 because of the Sourdough Fire, Seattle City Light spent approximately $955,000 to purchase power from the external marketplace, according to Jenn Strang, communications for Seattle City Light.
Seattle City Light is a public utility so the city council sets the rate customers pay each year and customers won't feel that added expense, Strang said. Seattle City Light allocates funding for purchasing energy on the market.
Outages, planned and unplanned, happen because of more than just wildfires. However, in these emergency situations, the procuring of enough power to meet customers' demands intensifies, said Raman Vishwanathan, director of risk oversight at Seattle City Light.
How consumers adapt
When wildfires knock out power, the impact of these devastating disasters last long after the blaze is put out. Lyman Morikawa lives in upcountry Maui, Hawaii. When brush fires broke out late at night on August 7 and early in the morning August 8, he and his neighbors were some of the first people to be evacuated.
Morikawa said he awoke early that Tuesday morning to the smell of smoke. Hours later, police officers knocked on his door and told him and his wife to evacuate.
While he lives on the opposite side of the island from Lahaina, where the brunt of the devastation occurred, Morikawa said the fire was close to his home and there were houses near him that burned down.
When it was safe for Morikawa to return to his house, he had no power. Morikawa has a generator, which he keeps to power his electric vehicle in emergencies. After the Maui fires, it powered his house and his office next door. . The generator runs on fuel but can also be powered by the solar panel system he has.
Once the power was back in Morikawa's area, he took generators to people in Lahaina who were still without power.
For Morikawa, it makes more sense to have a solar-powered generator —
"I hate to be driving to a wildfire with 50 gallons of gasoline in the back of my truck, along with the generator," Morikawa said. "So I would rather have a solar powered battery operated generator, and I can throw it in the back of the car — maybe you could run one or two refrigerators, that's all that'd be necessary."
Risk of wildfire increasing
Higher temperature days, days with lower humidity, more wind, and double the number of high-risk fire days by mid-century will mean an increase in the risk of wildfires, said Ronda Strauch, climate change research and adaptation advisor for Seattle City Light.
Seattle City Light developed its Wildfire Risk Reduction Strategy and released it this summer in response to the increasing threat wildfires pose, in part due to climate change.
Included within that strategy are some actions already in place, like vegetation management around infrastructure, to lessen the fire risk near Seattle City Light assets.
Another part to ensure the utility can address consumers' demands in a time of more climate risks is through diversifying where energy comes from, Strauch said. Seattle City Light is currently in the process of procuring more wind and solar power.
"If you think about that, that means we have more resources from different locations, that gives us that greater diversity — a little bit less of all your eggs in one basket," Strauch said. "That is also helpful for being able to mitigate the customer impact from wildfires and other kinds of events."
Even with energy generation diversification, transmission lines are the constraint, Vishwanathan said. A fire burning outside of Seattle City Light's territory could still impact transmission lines that bring power to city light customers.
So, that means looking at energy conservation and diversifying with new technology within cities to lessen the reliability on transmission lines.
"We are not there yet, in my opinion," Vishwanathan said.