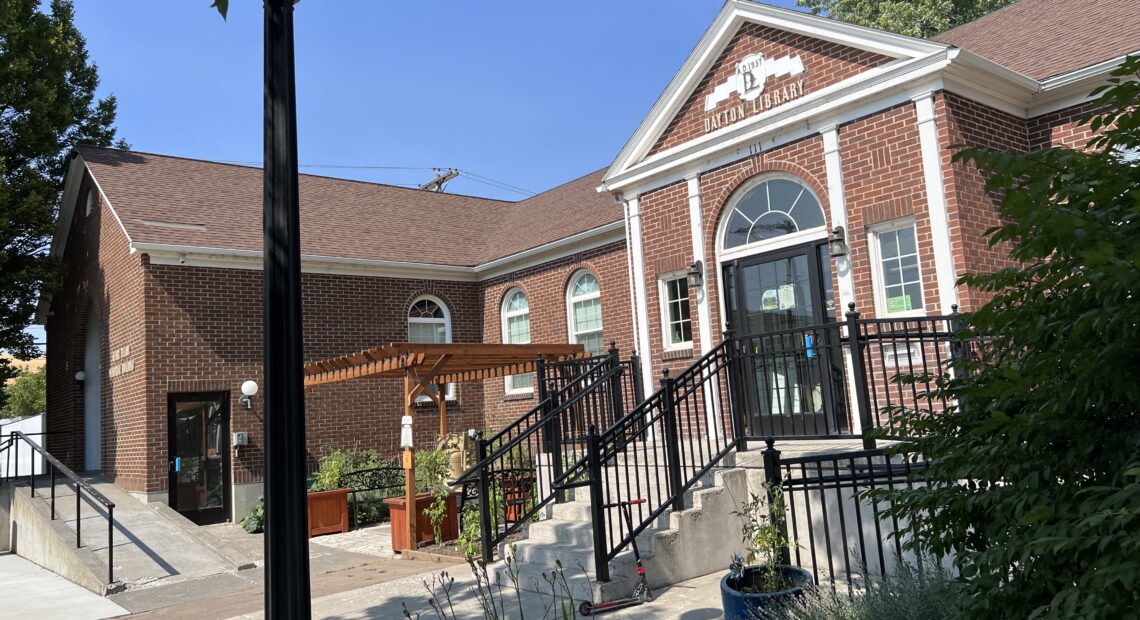 Rural Washington library could be nation's first to dissolve after book challenges, reshelving requests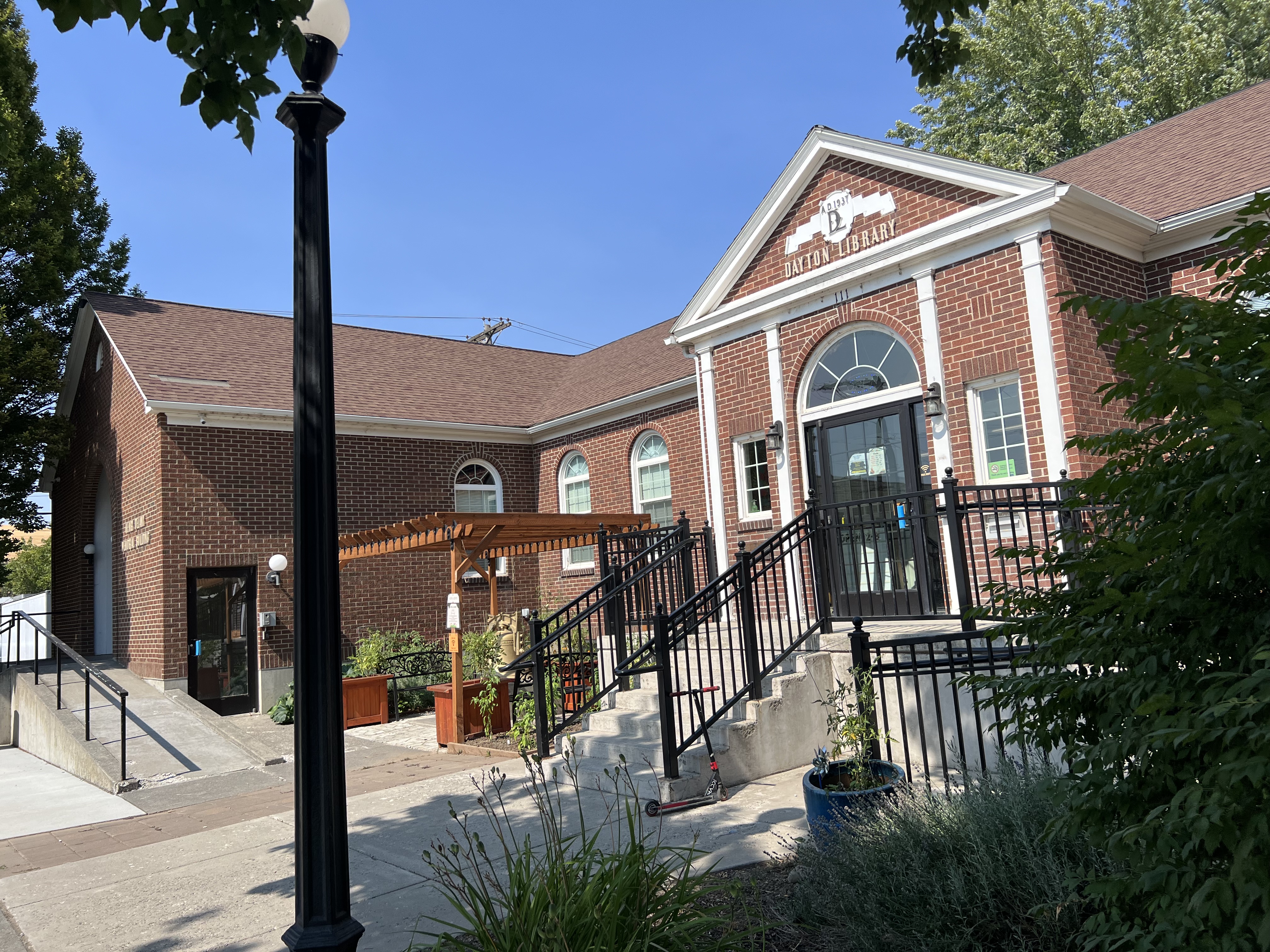 The Columbia County Library in southeastern Washington stands less than a block off Dayton's Main Street in a historic red-brick building that now houses more than 30,000 books.
The fate of this building, the contents inside and the community it fosters will now be in the hands of 1,076 active county voters this November.
Some residents connect the current vitriol over the public library to larger culture wars widening divides across the country. Others say it's a local issue, only affecting the county and its seat, Dayton, home to just one traffic light and the one library.
What started out as a request to remove or reshelve 11 books for children and young adults, which some residents deem pornographic and obscene, has now morphed into the potential dissolution of the county's only library. If this happens, current librarians said everything that's not nailed down goes to the State Library, from books to computers to furniture. The building would return to the City of Dayton.
Librarians say this would be the first library in the country to dissolve following a book challenge, although many other libraries and school districts across the country and the Northwest have faced similar challenges.
"I just believe with all my heart that a library is essential to any vibrant community and to our democracy," said Tanya Patton, who could be counted as one of the biggest reasons this rural library district exists in its current form. Some people refer to her as "The Library Lady" or the library's "godmother."
'To me, libraries are that important'
Patton, who identifies as a conservative Christian, was born in Dayton but grew up in Kennewick, where she said she eagerly tagged along with her mother, an avid reader, to the Mid-Columbia Libraries' Keewaydin Park Branch every week. She said she can still remember that library's smell. Her family read together all the time.
"I would go to a library that was in the rat-infested basement of a dilapidated shack. To me, libraries are that important," she said.
Patton moved back to Dayton in 1992 after she met her future husband while visiting her parents. She noticed her hometown's library was in dire need of maintenance and updating.
At the time, the library was owned by the city. She said there was barely a budget to buy new books, the meeting room cost $20 to rent and the building was only open 20 hours a week.
"The librarian needed to go home and make dinner," Patton said.
So, Patton jumped in to help. "Give me a cause or something I'm passionate about," she joked.
She headed up a campaign in 2005 to form a rural library district, spending hundreds of hours in the county assessor's office and reading through legal jargon in various RCWs.
After the vote, 59% of county voters agreed to pay yearly taxes to fund the library district. Now, taxpayers, with the exception of those living in Starbuck, pay 45 cents per $1,000 of assessed property value, which funds the library.
"We've always tried to be conservative in what we levy," Patton said, noting the library district has a statutory maximum levy rate of 50 cents per $1,000 of assessed property value but has never levied that amount.
Voters in the City of Dayton approved annexing the library in 2009.
Since the rural library district formed, former library director Todd Vandenbark said the library has grown into something other eastern Washington residents envy. Vandenbark spoke exclusively with Northwest News Network.
'A gem in and of itself'
"That library is a gem in and of itself. I visited other rural libraries and it's one of the best I've walked in," Vandenbark said.
The children's and young adult sections moved from a small corner of the upper floor to take over the entire basement, filled with plush seats, a new fish tank, a railroad track to play with and tables with chalkboards in the center. The library now has $30,000 each year to spend on new books. There's a growing "library of things." Want to learn to play ukulele but not sure you'll love it? Check out an instrument. People can check out Wi-Fi hotspots for areas in the county that still need access to high speed broadband. The library is now open 41 hours, six days a week.
Along with that expansion, came books that some people say should not be in the library's collection–or, should be moved to the adult section.
Seth Murdock, 48, moved to Dayton in 2013. He said he remembers hanging out in libraries as a kid in Alaska, but, he said, things have drastically changed in the last few years.
'Inappropriate books'
About a year ago, Murdock said his wife checked out about 15 books that he said were inundated with sexual content and marketed to children. Murdock said he had to do something.
He stood in front of the library Board of Trustees, holding the books, and read excerpts to the audience. He asked the board to use "discretion in their purchase and shelving of books."
"Libraries have become almost sacred institutions, which allows somebody to get things into them and use them as a vehicle for displaying this kind of stuff and remaining beyond reproach in the minds of a lot of people," Murdock said in an interview. "It would take a lot for most people to criticize a library. But they've reached that point for me."
At the library, any requests to remove books have to go through a formal process. People must submit a "request for reconsideration of materials." Then, the library director makes a decision. If someone disagrees with that decision, they can appeal to the library board of trustees.
Almost exactly a year ago, people requested 11 books be removed or reshelved from the library. The books featured themes of gender, sexuality, consent and race, said Vandenbark.
At the time, Vandenbark said he turned down most of the requests.
"The simple reason that they were not, is that that would be a violation of the First Amendment rights of patrons who would want to see those titles and read those titles," he said.
He said "Yes! No!: A first book about consent" was moved from the "toddler board books shelf" to the "parent and toddler read together books."
Court cases dating back 100 years have upheld libraries' duties to support freedom of expression and the right to read freely. Murdock argued this is not a First Amendment discussion, which he said is a negative, not a positive right.
Last month, Vandenbark quit his position at the library, after what he called a difficult year. It's something that librarians in Bonners Ferry, and various school districts in the Northwest, and all across the country have faced, he said.
"After six or so months it was tiring and draining. I knew that somebody else needed to take a turn to step up. When you're battling fear you have to take turns," he said. "Being a librarian shouldn't be controversial. Books shouldn't be controversial."
A fundamental disagreement
However, Murdock said he felt like he wasn't listened to. By refusing to remove the books, Murdock said the discussion felt like part of a "broader assault on society that's infiltrating children with that type of material." Material like the LGBTQ+ book "What's the T?" by Juno Dawson.
"It felt like I was paying for something that I found completely wrong," he said.
A library, he said, should just be books–and it should reflect the community's values, especially if it is taxpayer-funded.
That's a fundamental disagreement in the community. Patton said she also doesn't agree politically with every book on the library's shelves but said that is the difference between a personal and public library.
"My library at home reflects my values," she said. "All the books that I have on my bookshelf reflect my values and my ideals: what works for my family and my faith. But a public library–it's so important that the collection represents the community."
Patton teaches at the local high school and said she knows kids need books that reflect their lives and deal with their anxieties and concerns.
"A good library has something in it to offend everyone," Vandenbark said. "We had Adolf Hitler's 'Mein Kampf.' We had 'The Diary of a Young Girl' by Anne Frank. We had books by and about Donald Trump; books by and about Bernie Sanders."
Not all agreed. After the book ban failed, people took an even closer look at books on the library's shelves. On them, they said they noted more than 100 books in the young adult section featuring sexual content. They requested to move the entire young adult section upstairs, merging it with the adult section. (There are currently around 800 books in the YA section, said Ellen Brigham, the Columbia County Library interim director.)
'A huge misunderstanding'
Brigham, who said working in a library was her "dream job," called these concerns a "huge misunderstanding" and a "misuse of the terms grooming and pornography."
"It is illegal for us to buy obscene materials," she said. "If we were buying obscene materials, the FBI would want to talk with us; they would want to talk with our distributor. It would be a big deal."
In an attempt to appease people, Brigham recently incorporated the young adult non-fiction section into the adult non-fiction section. This week, she also announced parents can put restrictions on their minor children's library accounts.
"If you're like, 'my kid can only check out books that are on the school reading list. No more this, that, the other thing. Only those.' Then, we'll make a note. If they try to check out anything else, we'll be like, 'You need to ask your parent,'" Brigham said at the Aug. 21 library board meeting.
But, those upset with the library have other ideas. Murdock said he's not sure moving books is the answer. Instead, he proposed a new type of library that would rise from the ashes of the old one.
It would be donor-funded. People could vote with their wallets. Don't like books there? Don't donate, he said.
"You can approach them and say, 'Look, we don't like the direction you're going. And if you continue, then count us out of it.' You wouldn't have any full time employees, just volunteer-grown with a much more modest selection of books," he said.
Former librarian and Dayton resident Amy Rosenberg said that just won't work. If the vote goes through, all of the library's materials, "millions of dollars worth of stuff," would be given to the State Library. The building would go back to the City of Dayton, which she said couldn't maintain it all those years ago.
"That's just magical thinking," she said, referring to building a new library. "We're going to lose everything, and there's just no way to get it all back."
Rosenberg learned to love libraries as a kid–discovering hers in Athena, Ore., because it had air conditioning, when she was about 7, the same age as her daughter now.
The library in Dayton also serves as a cooling shelter, which could become more important for Northwest residents as climate change continues to cause hotter, longer summers. Several people stopped by the library one recent Tuesday during a heatwave, commenting on the cooler inside temperatures or grabbing a bottle of free water.
'It can happen anywhere'
After the A.C. lured Rosenberg inside, she developed a lifelong love of books, calling the current situation "hurtful and distressing."
"If it can happen here, it can happen anywhere," she said.
The American Library Association, founded in 1876, has noted a drastic uptick in requests to censor books in public and school libraries since 2020, said Deborah Caldwell-Stone, the association's Director of the Office for Intellectual Freedom.
"This organized movement to remove books from libraries is active in every state, every community," she said.
In 2022, the association documented 1,269 requests to censor library books and resources, almost double the number of requests in 2021. According to the association, it's the highest number of "attempted book bans" since the association began tracking book challenges more than 20 years ago.
However, the first person to organize Dayton's current book removal efforts, Jessica Ruffcorn, told Northwest News Network this issue is specific to Dayton and not affiliated with any other larger national efforts. Ruffcorn refused multiple interview requests.
In neighboring Idaho, a 2022 petition to dissolve the Meridian Library District did not proceed to the ballot after the Ada County Board of Commissioners voted it down. The Meridian Library District director, Nick Grove, did not respond to an interview request.
In Dayton, local cafe owners have said they're planning on closing down if the library is dissolved in November. Other business owners said they're worried about tourism, having never experienced what they called "this level of vitriol" in any town where they have lived.
Dayton's image
Lifelong resident Elise Severe, 36, said the animosity keeps growing. That's why she founded Neighbors United for Progress, a "multi-partisan" political action committee that supports candidates and issues in the county. She said they plan to door knock and phone bank in support of the library. So, too, do others who would like to see the institution dissolved.
But, only active voters who live in unincorporated areas of Columbia County will decide Nov. 7 on the ballot measure. According to the Columbia County Auditor's Office, right now, that's 1,076 people. In the city of Dayton, there are 1,707 active voters.
"It's going to take a lot of face-to-face conversations with people that you know," Severe said.
Losing the library is not the image she said the nation needs to have of her hometown; she's related to founding families of the city.
She said she and her three young girls go to the library on a regular basis. The "almost five-year-old," just made a craft from the library that's hanging on the family fridge: a jellyfish made of streamers and glitter and Styrofoam.
"It's better to build things, to create things, than to tear them down," she said. "That is what we to do as a society. We build things for each other, and for our families. We do not tear them down."