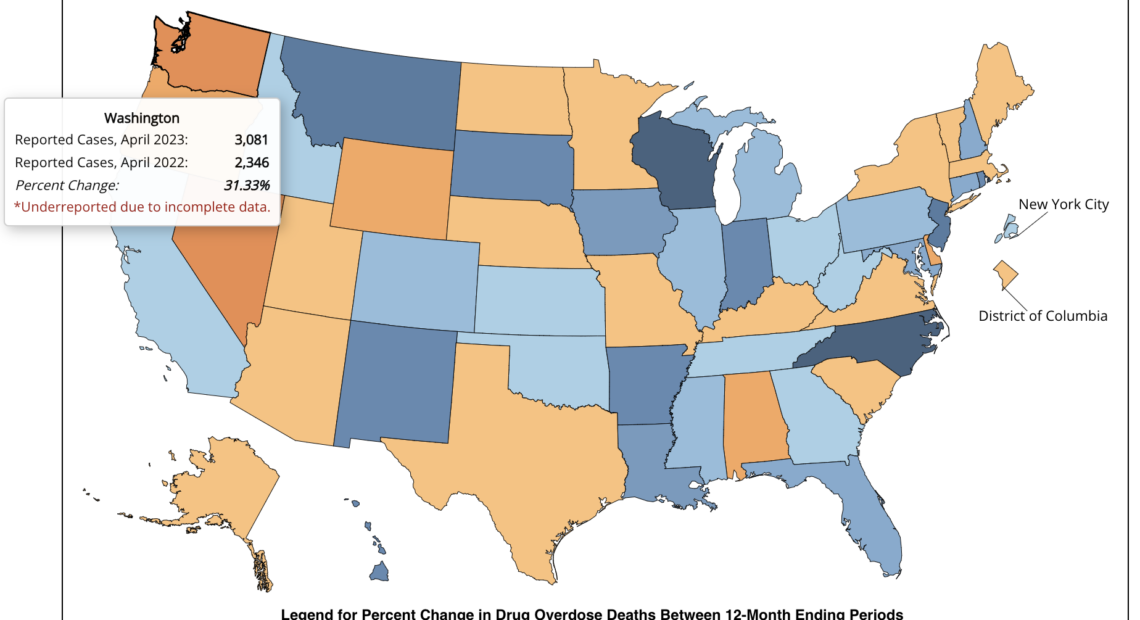 Federal funds to battle opioid addiction coming to rural western Washington hospitals
For people seeking medication-assisted treatment for substance use disorder in some rural Washington communities, there could soon be more options. Recent grant funding from the U.S. Department of Health and Human Services has been allocated to develop medication-assisted treatment (MAT) at rural clinics.
The Whidbey Island Public Hospital District, (WhidbeyHealth), based in Island County, and Cascade Community Health Care, based in Lewis County, are the only two rural service providers in Washington to be awarded that grant funding for this fiscal year. The money comes from the Department of Health and Human Services' Rural Communities Opioid Response program. That includes nine grant programs, one of which is the Medication Assisted Treatment (MAT) Access Program.
That program awards recipients money to support administering medication-assisted treatment in rural health clinics. Medication-assisted treatment (MAT) can be used to combat substance use disorders for alcohol and opioid addiction. This kind of treatment combines pharmaceuticals with behavioral health treatment, tailored to each patient's needs.
The overdose crisis permeates every community in Washington. According to the Centers for Disease Control and Prevention, Washington state saw the highest increase of reported overdose deaths in the nation between April 2022 and April 2023, a 31.3% increase over the previous year.
Megan Meacham is the director of the rural Strategic Initiatives Division within the Federal Office of Rural Health Policy at the Health Resources and Services Administration.
"At then at the end of the three years, the goal is that these communities have new access points to be able to make sure that patients who need it have access to the medication-assisted treatment," said Meacham, referring to the program.
Rural communities face unique challenges to getting people care — like lack in transportation infrastructure or fewer speciality providers.
"We really aim to allow rural communities the flexibility to address this crisis in the way that meets their community needs the best," Meacham said.
WhidbeyHealth will receive $990,557 from that program over a three-year period. With that, the organization plans to begin offering MAT at two of its clinics — its Freeland location and its location on Goldie Road in Oak Harbor.
Patients will be able to access that care five days per week with appointments. Tabitha Sierra, a registered nurse and program manager for behavioral health, said patients will have a private room and be observed by trained medical staff during induction for the treatment.
"It's based on your symptoms, and it's very specific to the patient that's there," Sierra said.
WhidbeyHealth staff said they plan to give patients who are undergoing this treatment detailed, next-step instructions and support by offering connections to other services, such as counseling, if the patient is interested.
WhidbeyHealth said the the two clinics will begin offering MAT in the first quarter of 2024.
Cascade Community Health Care, based in Lewis County, will receive $928,700, also from the MAT Access Program.
Cole Meckle is a pastor at Gather Church, a non-denominational Christian church in Centralia that offers a variety of community services, including a low-barrier clinic for MAT.
Meckle said his organization operates from a harm-reduction mindset, to reduce harms individuals in active addiction might themselves experience, as well as the harms to the community. For Meckle, that means meeting people where they are at and addressing holistic needs of an individual, in ways medical settings don't always have the capacity to do. That can include health care, housing and other social services, he said.
"We are coming alongside people and helping them to make the next healthy choice again for their lives," Meckle said.
Gather Church's MAT clinic operates five days per week and does not require an appointment. Providers at the clinic work with patients to address their individual needs and goals.
"We're trying to remove the barriers that would impede people's ability to receive medication-assisted treatment," Meckle said. "Some of those being simply the access to those services due to the delay in time to see a provider that would be able to prescribe for you."
Meckle said the gap in access to this kind of treatment is shrinking for his community, given the operation of his clinic combined with more providers. But, he said there is still a gap for folks that might need longer-term support from a primary doctor after being stabilized from a treatment center.
"In Lewis County, there are just a handful of primary care physicians that do medication-assisted treatment," Meckle said.
For people that might benefit from longer-term MAT, which would make more sense in a primary care facility, that leaves fewer options.
"It is good, I believe, to have as much continuity of care as you can with somebody — so if you're going to a primary care doctor for most of your health care, it would be nice if more of those primary care settings were able to take on the MAT prescribing component of somebody's care," Meckle said.
One place that has integrated MAT care into its primary care clinic is Summit Pacific Medical Center in Gray's Harbor. The County Public Hospital District 1 received a $300,000 grant from the Rural Communities Opioid Response program for this fiscal year. That money will support a variety of expanding care services at Summit Pacific Medical Center.
Summit Pacific has operated a MAT clinic since 2019, and Christina Mitchell, clinic manager at Summit Pacific, said they feel they have a good foundation with those services. The clinic is low-barrier, meaning no appointment is necessary and other behavioral health services are offered in the same place.
"We don't turn anybody away," Mitchell said. "We meet the patient where they are in their journey."
With the funding, Mitchell said they plan to begin providing more services over the next year for patients — including screening for diseases like Hepatitis C.
"Those that have substance use disorder are more vulnerable to infectious diseases like Hepatitis C, and it does provide a health risk to them, but not only to them, but also to the public," Mitchell said. "We know that by identifying Hepatitis C early, and treating early, not only makes them more healthy, but then also increases the health of our community."
The clinic will also use the funding to distribute naloxone, an opioid overdose reversal drug, and fentanyl test strips. With the proliferation of fentanyl, test strips allow users to check what is in the drugs they use.
"The goal really is to keep people alive long enough … until they're in a good place where they can stop using substances altogether," Mitchell said. "So, this is just part of the journey."
The Substance Abuse and Mental Health Services Administration has an interactive map where you can search for MAT with the medication Buprenorphine, for opioid dependence, near you.