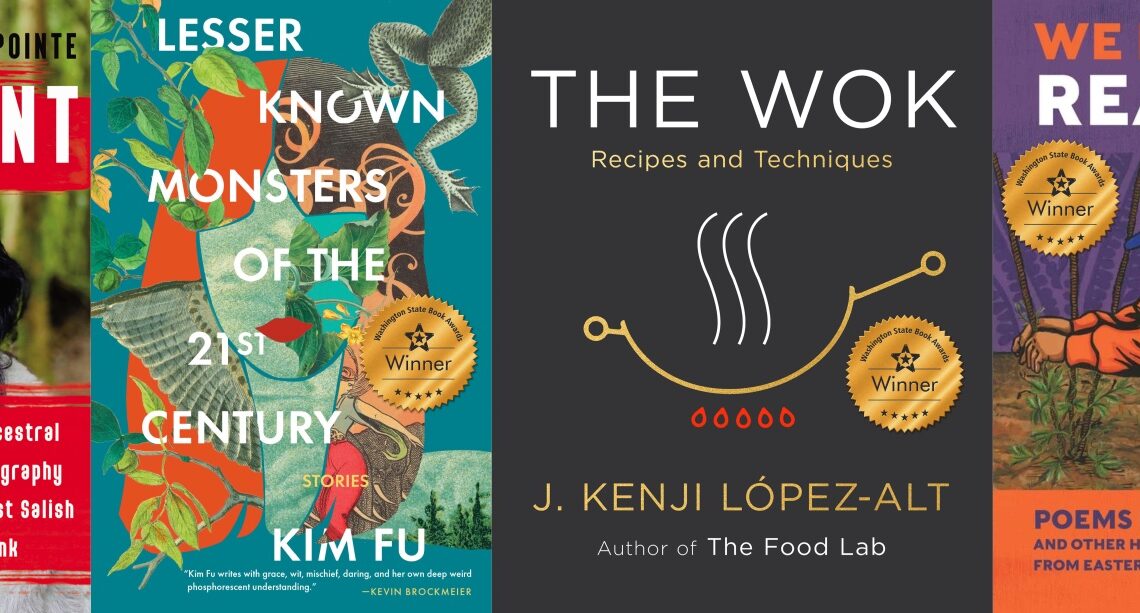 Washington State Book Award winners talk lineage, generational storytelling
By Johanna Bejarano and Lauren Gallup

The Washington Center for the Book announced the 2023 Washington State Book Awards for outstanding books published by Washington authors. Reporter Lauren Gallup interviewed Sasha taqʷšəblu LaPointe and Johanna Bejarano interviewed Ricardo Ruiz — two of the winners.
Sasha taqʷšəblu LaPointe is the author of "Red Paint: The Ancestral Autobiography of a Coast Salish Punk." The book is the winner of the 2023 Creative Nonfiction/Memoir Washington State Book Award.
LaPointe is from the Upper Skagit and Nooksack Indian Tribe. "Red Paint" is about her experiences and the experiences of the women that came before her, while living in the Coast Salish territory.
When LaPointe took a break from writing, she began learning more about her ancestry.
"I started having conversations with my mom about the women of our lineage," LaPoine said. 
The story of Comptia Koholowish fascinated her. Koholowish was a child survivor of the smallpox epidemic. LaPointe says Koholowish's story drew her to dig deeper. "For me, it was honoring her strength and her life and reconnecting with it."
For the book, LaPointe traveled to the areas the women in her lineage lived. She said standing in those places where her ancestors did was an important part of her "own journey into healing."
The memoir deals with trauma — lived, generational, historical — but LaPointe doesn't see the book as a trauma narrative. 
"I was really wanting and interested in doing what's challenging that narrative," LaPointe said. "And instead of going to these places to sort of re-experience trauma, I was sort of reconnecting with the resilience and the strength that comes from these women and these stories."
LaPointe said she's had readers reach out to her, sharing their appreciation for a memoir that details coming both from trauma and from strength. 
Ricardo Ruiz is a poet and author raised in Othello. He said he wrote his book, "We Had Our Reasons" to tell his children the story of their immigrant grandparents. 
"They desire to learn about why their grandparents came, and why they speak English and live in the United States and not Spanish in Chihuahua," Ruiz said.
But their stories gained meaning for an entire community and mirrored the lives of many, including a retired truck driver who got the book from his daughter.
"For her, she said it was one of the first times in her life as a grown woman to see her dad reading and to engage in conversations about the stories on why he came and not alone reading but reading poetry," Ruiz said.
Ruiz is receiving the 2023 Washington State Book Award for Poetry.
His book collects stories of immigrants. All of them evolved from interviews with storytellers — family, friends and other community members — into poems … part of a collaborative, documentary, poetry project.
"My parents, the ladies who raised me, are not poets, are not classically trained poets," Ruiz said. "But to be able to work in collaboration really elevates that voice, and that representation that stories matter, your truth matters, your humanhood matters."
Ruiz said the goal is also to create connections. And the author is already working on his next project — focusing on stories of veterans like him, who served in Iraq and Afghanistan.
"It is one of my purposes in life to raise marginalized voices to provide space for marginalized voices to be heard, and to share stories of people who are sometimes forgotten," Ruiz said.