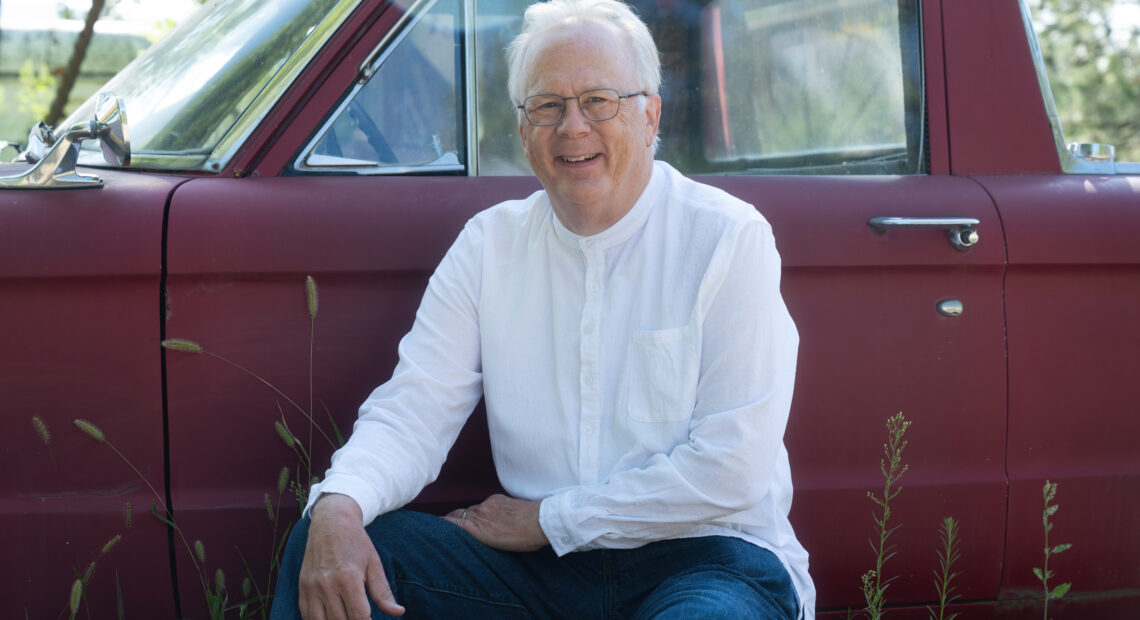 Q&A: Northwest writer Jeffrey Dunn on his novel "Radio Free Olympia"
"Radio Free Olympia" is a novel about a handful of characters, one of whom, Petr, is raised on the Olympic Peninsula. Without traditional parents, he's raised by the landscape. Petr guides readers through folklore of the peninsula by broadcasting spirits on a homemade radio. Reporter Lauren Gallup sat down with Jeffrey Dunn, an author living in Spokane, to discuss what inspired this surreal story about the Pacific Northwest. 
GALLUP: When I was reading "Radio Free Olympia," it's like I was hearing it, as if the book was speaking the story to me – was that purposeful?
DUNN: Well, yes and no. Sight is a very objective thing and sound is very internal. It dawned on me that, 'Wouldn't it be really cool if you had somebody with very little history, who was born [in] and of the woods, and didn't know much about the outside world and somehow figured out how to do a pirate radio in a backpack?' What happens if you go into this magical, scary place — with all of its history that Europeans like me want to ignore — and broadcast the spirits? 
It took me 20 years to figure out how to make that work for a reader. It was way fun to write. You take your imagination, and you walk along a trail and whatever comes to you, comes to you; and then you write it all down.
GALLUP: That character, Petr, is found washed up in a petroleum barrel, a swaddled infant alone in the world — do you want us to know where he actually comes from?
DUNN: In 18th century novels, foundlings are a big deal to start a book because you have a blank slate. You're not stuck in a box. I wanted him to literally be raised by the peninsula. His mother's a transistor radio because, I mean, he has to talk like a radio, because he's gonna be a radio broadcaster.
GALLUP: You said it was life-changing, living on the Olympic Peninsula. Can you tell me a little bit more about that?
DUNN: I just think I was born a Northwest kid — it's like nature on overload. Just the thickness of the forest. There's no place else. The air is fresh. The fish aren't all dead. When I grew up in Pittsburgh, my mom, every morning, got up to sweep the "fly ash" — eighth of an inch of black grime — off the porch. 'Cause they would blow out the steel mill and the power plant stacks — all the coal dust — at night so you didn't see it … and then it would rain. It would rain black.
GALLUP: The other main character, Baie, speaks through journals and poetry —
DUNN: I felt it would be inauthentic if I wrote her in third person. I thought if I was going to make this real, because I'm a man, that I needed to be serious, and either succeed or fail, based on my ability to create her voice. She's like a wild cranberry bush who can't be transplanted. That's the thing that this is just where she belongs. It's place, it's all about place. 
GALLUP: This book feels like it takes place a little bit outside of our patriarchal structures. 
DUNN [The Olympic Peninsula is] a place where the spirit isn't diluted by human consciousness and spirituality. The folklore is that spiritual response, in concert with the peninsula, as opposed to what my relatives did, [which] was bring their own ideas and apply it: cut all the trees down, put in lots of roads."
"Radio Free Olympia" will release on October 10. 
This interview has been condensed and edited for clarity.