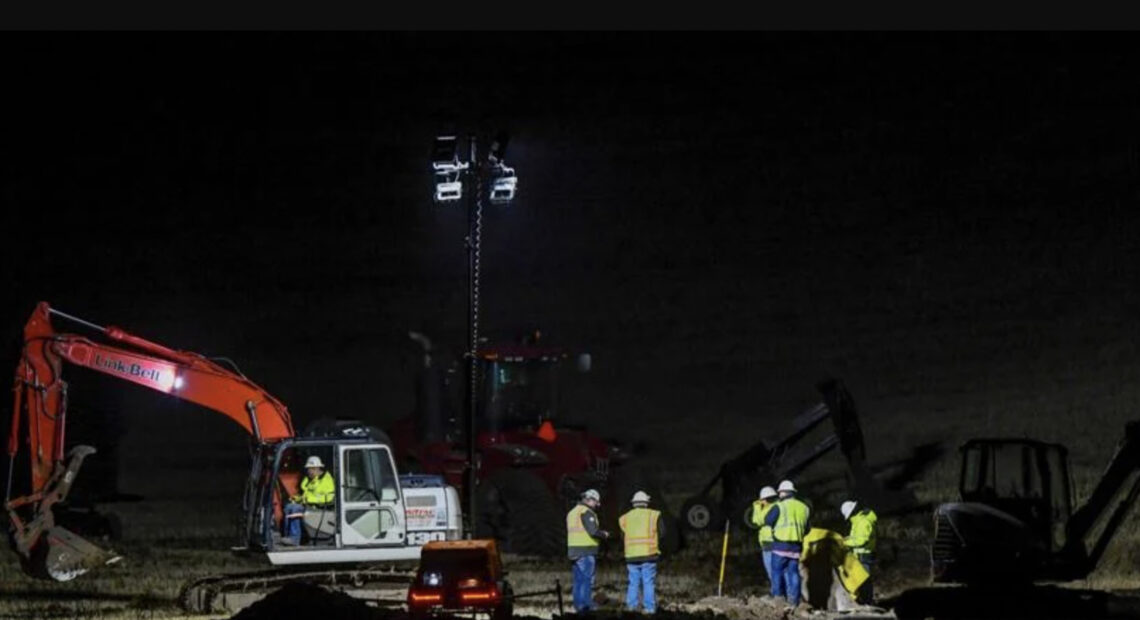 Gas shutdown strikes region near Pullman
Underground pipeline north of Pullman accidentally ruptured, resulting in interruption of natural gas service; outage 'could last several days'
By Matt Baney, Kaylee Brewster, Emily Pearce and Anthony Kuipers Of the Lewiston Tribune
More than 36,000 residences, businesses, schools and other buildings in the region are without natural gas following the rupture of a pipeline Wednesday afternoon north of Pullman.
The gas interruption happened after a worker running an excavator damaged an underground pipeline around 12:40 p.m. Crews from Williams Companies, an energy company that owns the pipeline, were on the scene 4 miles north of Pullman working to fix the damage into the night Wednesday.
Within hours of the rupture, gas service began to wane in southeastern Washington and north central Idaho. According to Avista Utilities, which provides gas service, the communities affected include Pullman, Moscow, Albion, Palouse, Uniontown, Colton, Genesee, Troy, Bovill, Deary, Asotin, Lewiston and Clarkston, the company said on its Facebook page.
No gas means no heat for Avista customers who have gas-powered furnaces. And those with gas hot water heaters will be without hot water.
The utility company said the outage "could last several days."
As for a more specific timeline, "that's something we're hoping to get our arms around tomorrow," said Jared Webley, Avista's senior communications manager.
Starting at 5 a.m. today, Avista crews will be manually shutting off gas lines in a house-by-house process, Webley said. Workers won't need to enter residences to turn off the lines. The company is also providing customers with instructions for shutting down their own gas lines.
This will be done so the system can be "purged," Webley said. The gas can't safely be turned back on until the system is purged.
Williams said in a news release that it anticipates the ruptured line being fixed this afternoon. But that probably won't mean an immediate resumption of gas service.
Once the system is purged and the gas is turned on, each appliance will have to be relighted. That task must be done by an Avista worker — not customers, Webley said. The workers will have to enter each building to relight furnaces and water heaters.
Word about the gas outage quickly spread Wednesday afternoon. Stores in the Lewiston-Clarkston Valley sold out of electric heaters. Restaurants closed for the night. Some schools announced they will be closed today.
The public kindergarten through 12th grade schools in Lewiston, Clarkston, Moscow, Genesee and Garfield-Palouse announced they will be closed Thursday. The University of Idaho will also be closed. The city of Moscow announced all of its nonessential business offices will be closed Thursday. Lewis-Clark State College announced classes will go forward as normal today, with school officials working on "temporary campus solutions."
Washington State University doesn't anticipate any changes to its operation, said Phil Weiler, vice president for marketing and communications. Many buildings on campus are heated through a steam plant that is normally fueled by natural gas, he said. After the institution was alerted by Avista about the outage, it converted the steam plant to diesel fuel.
Residents in the Lewiston-Clarkston Valley flocked to area businesses to purchase heaters for their homes or their relatives.
Jake Kehret, of Lewiston, bought two heaters at Costco, one electric and one gas, to help his wife and teenager children stay warm. They also have plenty of blankets to help keep warm.
"Our house doesn't have a fireplace, which we were looking for (when buying a home) for this exact reason," Kehret said.
He said the experience will be like "doing a little indoor camping."
Steve Trimmell, assistant general manager at Costco, said business at the Clarkston store was normal until about 1 p.m. or 2 p.m., then people started coming in.
"We sold every portable heater we have," he said.
The pipeline near U.S. Highway 195 was "accidentally damaged by a third-party," Williams said in a statement to the media. There were no injuries, fires or explosions as a result of the accident, the company said.
The weather forecast over the next few days in the area affected by the gas outage shows high temperatures in the upper 50s and lows right around the freezing point of 32 degrees. That will mean chilly nights for those without an alternate source of heat.
Baney, Brewster, Pearce and Kuipers can be contacted at [email protected].