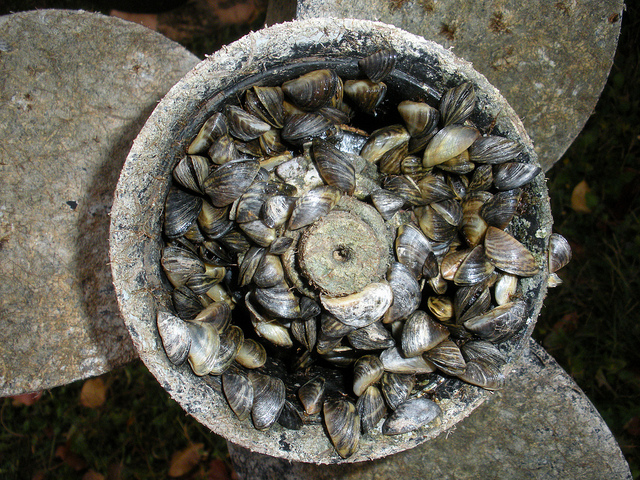 Invasive mussels inching closer to the Columbia Basin, federal report says more could be done to stop them
Fast-spreading invasive aquatic mussels are hitching rides on boats, kayaks and jet skis. So, people are working to keep them out of the Columbia River Basin, the only major river basin in the U.S. without an established quagga mussel population.
"This is probably the most significant invasive species event in this generation," said Justin Bush, the aquatic invasive species policy coordinator with the Washington Department of Fish and Wildlife.
A new federal report finds the U.S. Army Corps of Engineers could do more to help prevent the spread of quagga and zebra mussels.
They can wreak havoc on things like pipes and dams and can also damage ecosystems.
"If these species come (to the Columbia Basin), wow, it could really be devastating," said Cardell Johnson, the director of the Federal Lands and Water resources oversight work for the Government Accountability Office, or GAO.
Johnson estimated the cost of infrastructure to the rest of the country dealing with these mussels is about $180 million per year in repairs.
Once these mussels, freshwater bivalves, attach to substrates and establish in water bodies, they can clog and ruin anything that relies on that water, like irrigation and municipal water pipes.
"This has an impact to, really, everybody in the basin that knows and loves and uses water resources," said Nic Zurfluh, the invasive species bureau chief at the Idaho State Department of Agriculture.
Zurfluch spoke during Wednesday's Northwest Power and Conservation Council meeting.
"Then, on the environmental side, being a filter feeder, removing plankton from the water column. That has a detrimental effect on food web processes and anything that lives in and interacts with the water," he said.
This fall, routine monitoring detected quagga mussel larvae in the mid-Snake River near Twin Falls in southern Idaho.
With the mussels inching closer to the Columbia River Basin, Congress asked the GAO to look into whether state-run watercraft inspection and decontamination stations are keeping the mussels out before Congress doles out more funding for the program.
The U.S. Army Corps of Engineers has a cost-sharing program with the states, which means states must put up the same amount of money they receive from the Corps.
The GAO found there wasn't enough data to conclude whether the stations worked, mainly because there's not much data sharing, Johnson said.
"To really stop the spread, there has to be good information sharing between the states and the federal government," he said.
That's complicated, he said, because some states raised privacy concerns. But, he said, information would only be used to track contaminated boats, kayaks and jet skis that the mussels hitched rides on.
It's not that all the information has to be shared – just the important stuff, he said.
"If you know that there is a boat that has been in waters or areas that might have an infestation of species, sharing that data license plate information with the next state that they may be coming to would be helpful because then they know they can do a targeted stop," he said, to help with decontamination.
The report recommends the Corps consult with Washington, Oregon, Idaho and Montana to share information between states in a timely, accurate and consistent manner.
The other problem, the report found, was that the Corps hasn't developed a strategic plan that would identify clear goals, targets and milestones within all river basins the agency protects.
In an emailed statement, a Corps spokesperson said it's reviewing the GAO report and will respond to the recommendations.
According to the GAO, states and the Corps said the defensive perimeter created by the inspection and decontamination stations is working – no mussels have established themselves yet in the Columbia Basin.
They're pretty much everywhere else. More than 30 years ago, quagga mussels were introduced into the Great Lakes region. In fact, the invasion was the impetus for the 1996 National Invasive Species Act, which created task forces to prevent the spread of aquatic invasive species, said Windy Schoby, Idaho fish and wildlife policy analyst with the Idaho Department of Fish and Game.
Since then, states have been on high alert. Routine monitoring of plankton on tow lines this September first detected quagga mussel larvae outside Twin Falls, Idaho.
That sent biologists into superpower mode. Within the first 24 hours, they had collected and sent off more samples to double check their findings. The state dove into its rapid response plan, which biologists determined needed to be site-specific, Zurfluch said.
"With invasive species, it's a timeclock," he said. "Very similar to a wildland fire."
They set up decontamination sites in Twin Falls, sampled up and down the river and found one adult – but there had to be at least one more to make the larvae that had been found – and secured it to a rock at the bottom of the water. "A canary in a cage," Zurfluch said, to test treatments.
Then, through lots of collaboration, treated the area, which included using helicopters to bring in two boats to an inaccessible stretch of the river. They treated the 16-mile area for four days, non-stop, took a two-day break, and did it again. In the end, they used about 45,000 gallons of a pesticide.
The pesticide, which is copper-based, was applied at a rate that is fatal for mussels at all life stages but is below drinking water standards, according to a memo sent to the Council.
The adult "canary" mussel died within 48 hours. The larvae they found "were not in really poor condition."
"We've got a long way to go," he said. "When states classify a water body as positive, it can take up to five years before we can remove that water body from the list."
It's still an estimate, he said, but he thinks the entire monitoring and treatment plan cost about $3 million.
He said the Corps was "paramount" to helping the large-scale response.
"This type of project is not cheap and so (it's imperative) to have federal funding, helping to supplement various parts of the program, freeing up state funding to put towards this," he said.
Also of note, he said, federal funds help basically double the state's monitoring efforts, which spotted the first signs of the quagga mussels.
There are other sources of funding, said WDFW's Justin Bush. For example, he said, Washington also receives funds from the U.S. Bureau of Reclamation and the U.S. Forest Service.
"It really is kind of all hands on deck. To be successful in this every organization is able to contribute what it can. And that's the same for our legislature as well – no one organization can fund everything. So, everyone kind of chips in where they can," Bush said.
While the emergency is in Idaho, Bush said Washington is standing by. Once Idaho leaders let them know about the findings, Washington redeployed its detection monitoring teams for several weeks.
They didn't find anything. The department has determined no quagga or zebra mussels are present on Washington's side of the Snake River.
"Invasive species don't respect legal jurisdictions and land ownerships. To address invasive species and be successful, it takes all organizations with legal jurisdiction and resources working together," Bush said.