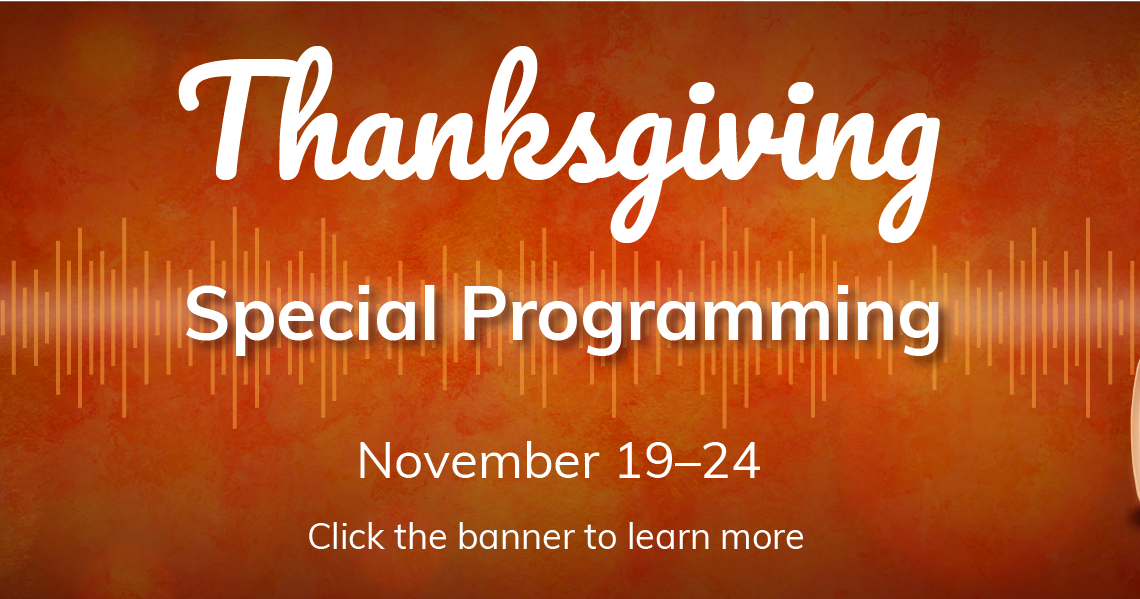 Special Holiday Radio Programs On NWPB: Thanksgiving and Native American Heritage Day 2023
Thanksgiving is a time of gratitude: for food, family, friends, and for the first stewards of this land we call America. This Thanksgiving and Native American Heritage Day, join NWPB for music and stories that reflect the meaning of tradition and gratitude.
Here's a list of special programs coming your way this month.
No Small Endeavor Thanksgiving Special: Conversation & Gratitude:
NWPB News Nov 19 9am & Nov 22 7pm 
This Holiday, No Small Endeavor brings you four conversations to tee you up for a successful and meaningful time with family and friends. We hear from 4 guests—Amy Grant on gratitude after a bike accident, CNN hero Diane Latiker on the gratefulness that comes from serving her community, Heather Holleman with practical tips on how to have a meaningful conversation, and Oliver Burkeman on contemplating life's finitude to be more present. 
Giving Thanks
NWPB Classical Nov 23 9-11am & 8-10pm
Giving Thanks sounds the way Thanksgiving feels: inviting, warm, and festive. No clichés about pilgrims and pumpkin pies. Instead, it's a contemporary, thoughtful celebration of spirit of the holiday. For listeners up early in the kitchen, on the road to a family gathering, or relaxing after the feast, Giving Thanks provides the perfect atmosphere for Thanksgiving: the warmth of great music, and truly memorable words. This year's show presents the best moments of a quarter century of great guests, including Stanley Tucci, Deepak Chopra, Billy Collins, Michael Tilson Thomas, and more.
Turkey Confidential
NWPB News Nov 23 9-11am
Turkey Confidential is The Splendid Table's annual Thanksgiving show. Francis Lam takes calls and comes to the rescue of Thanksgiving cooks, kitchen helpers, and dinner guests during the biggest cooking day of the year.
This Land – Thanksgiving with The American Sound:
NWPB Classical Nov 23 2pm & 10pm
This land, the physical land called the United States of America, is a home and a source of sustenance for people of a broad spectrum of ethnicities, cultures, races, creeds, and genders. Join host Jennifer Hambrick for a musical celebration of the diversity of this land in America – the varied natural topographies and biospheres, and the many communities that make this land exceptionally rich. Including works by William Grant Still, Barbara Harbach, Jerod Impichaachaaha' Tate, Reena Esmail, and more.
Reclaiming the Sound Waves with Connor Chee:
NWPB Classical Nov 24 3pm & 9pm
Navajo pianist and composer Connor Chee has embarked on a mission to translate traditional Navajo vocables to the modern piano. Host Scott Blankenship talks with Chee about his artistic process, the importance of preserving Navajo music for future generations, and the Land Back movement. Music includes solo piano compositions from Chee's recordings, plus the premiere of Unbroken: Music for the Navajo Code Talkers, commissioned by American Public Media. 
Things That Go Boom: Against The Grain:
NWPB News Nov 24 7pm
When we think of weapons and war, we usually think about that final 'bang' or 'boom.' But just getting ready for war has a huge cost for our land, our water, and our food. In this special, we'll take you to to a Whole Foods in Harlem, the shrubsteppe of Washington State, and a suburban Maryland parking lot, to hear about some of the ways that people are pushing back on some of those impacts.  

(Find the NWPB radio frequencies map here, stream online from anywhere or with the NWPB app.)