Fundi: The Ella Baker Story
February 3 @ 7:00 pm

-

11:00 pm

$75.00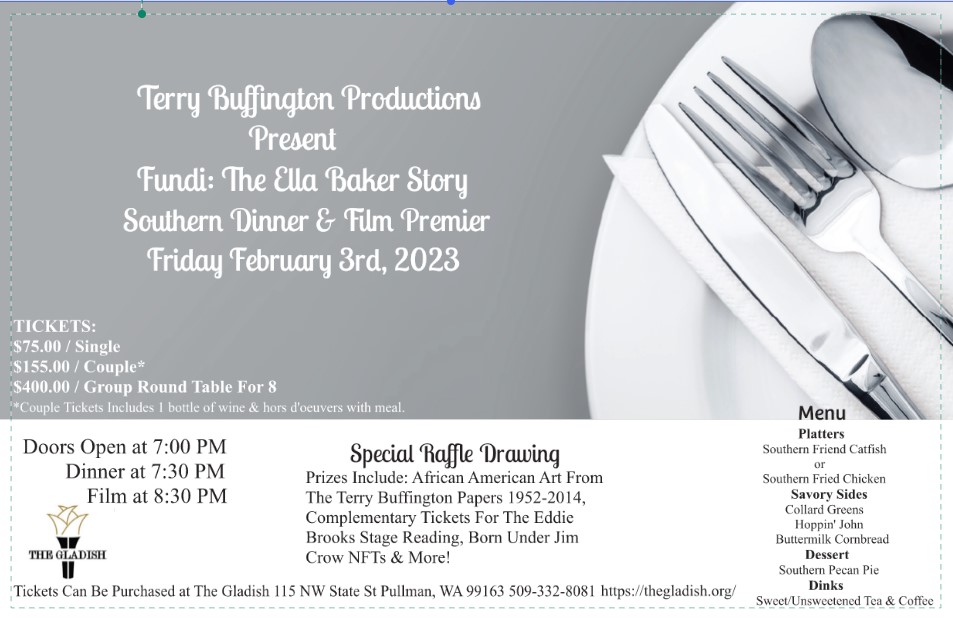 We hope all is well and we thank you for your time, for we know that you all are quite busy at this time of year. It is wonderful to know that you support our upcoming projects, and we are excited to have your involvement! Before I get into the details about moving forward, I would like to update you about our business. As of last week, with the help of our attorney we filed with the state of Washington the articles of incorporations for Terry Buffington Productions LLC & The Terry Buffington Foundation 501c3 as well as an EIN from the IRS. Knowing we can now operate as a legitimate enterprise is resounding especially if there is any paperwork for us to sign. Currently we are making great progress with the Ella Baker film dinner at the Gladish and The Eddie Brooks stage reading with PCT. We plan to have a production meeting next week to work out the specifics. Before I continue, we just want to double-check with you that your support means that WASU will help cater the dinner and help promote via KJEM? If this is the case, we are fully prepared to help make the collaboration seamless as possible. We already have the catfish and chicken onsite and in storage and all of the dry ingredients and beverage.
We would like the Hospitality Business Management Program staff/students to fry the fish and chicken, bake the cornbread and make the sweet tea. The rest of the menu we have covered.
To make the transition I will email H.B.M. director, Nancy Swanger next week to fill her in on the details and to arrange a meeting. I will also email, Justin Barnes about student PR and student workers for the event as well as Sueanne Raella of NWPB about promotion and an interview.
As mentioned in our meeting, in exchange for the catering help I will do community engagement speech for WASU, March 2023 or if there is space in the MLK 2023 program perhaps I can be a keynote speaker during the week long event? If this is something that you believe the MLK Program would be interested in please let me know and I will contact Allen Sutton to make further arrangements. Lastly, we want to thank you once again Dean Pinkleton for your consideration, understanding and assistance with our vision and commitment to the community and university.
Deeply sincere regards,
Terry & Kwasi Buffington
Related Events