Wear Orange for Gun Responsibility
June 4 @ 11:30 am

-

12:30 pm

Free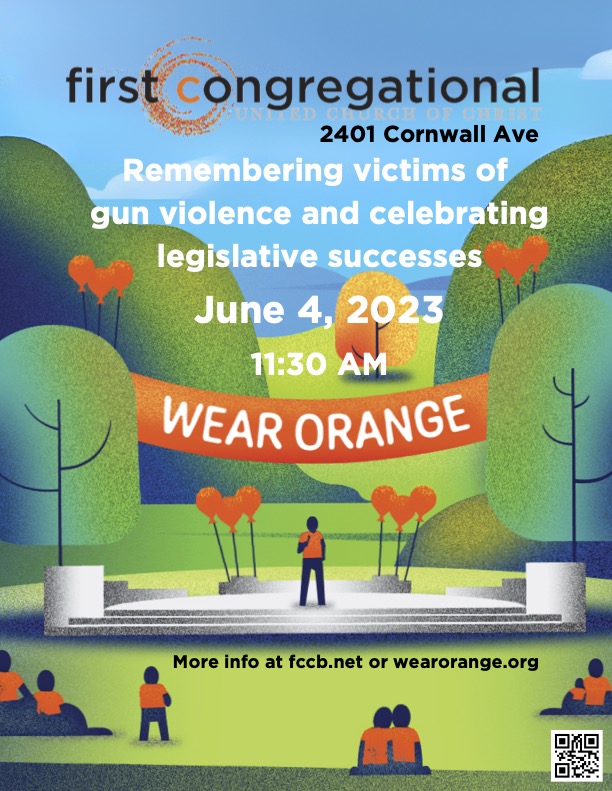 The Committee for Gun Responsibility at First Congregational Church of Bellingham, 2401 Cornwall Ave., will host a "Wear Orange" rally in the church parking lot to remember gun violence victims and celebrate state legislative successes on Sunday, June 4, at 11:30 a.m.
Washington State Senator Sharon Shewmake and Donnell Tanksley will be among the guest speakers, and Havilah Rand will perform.
Gun violence has become the leading cause of death for children and teens, and the crisis seems to worsen week by week. More than 780 people are killed by guns annually in Washington, according to the Alliance for Gun Responsibility (gunresponsibility.org).
Wear Orange was started in 2013 after 15-year-old Hadiya Pendleton was shot and killed in Chicago just one week after she performed at President Obama's second inauguration. After her death, her friends and family chose to wear orange on her birthday, June 2, to honor Hadiya and the tens of thousands of lives lost to gun violence every year. They chose orange because it was her favorite color and it's the color that hunters wear to protect themselves from gunfire. The gun violence prevention movement has carried on their efforts by making orange its signature color and wearing orange the first weekend in June (learn more at wearorange.org).
The June 4 event will be the first time a local organization in Bellingham has hosted a Wear Orange event.
Media contact: David Fayram ([email protected])
Related Events