>> Many events and concerts have been cancelled due to COVID 19.   Check with the organization prior to attending to make sure the event is still happening.

Past Events
Events Search and Views Navigation
February 2021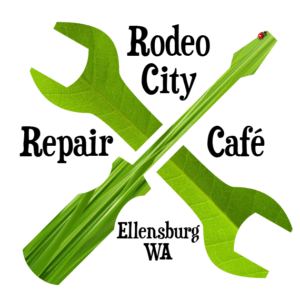 Rodeo City Repair Cafe is a community supported group of volunteers donating their time to help with the repair of household appliances, lamps, tools, furniture, bicycles and clothing, to keep these items in service and reduce landfill waste. Our volunteer repair staff offers a wide range of repair skills and knowledge and we have a good selection of tools on hand. Our events are held at the IOOF Cemetery Shop, off of Brick Rd. in Ellensburg.
Find out more »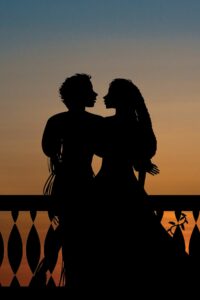 Relive the timeless story of Romeo and Juliet with excerpts from Prokofiev's score alongside all new visuals, curated by Maestra Sarah, Gabe McPherson and Timothy Little. Viewable on the Symphony Tacoma Youtube page. Sarah Ioannides, conductor Libby Patsiga, Romeo Annabelle Daniel, Juliet Westly Hackler, Mercutio Alexandra Vilenius, Tybalt Gabriel McPherson, Speaker
Find out more »
Palouse Choral Society presents an evening of Virtual Performances to celebrate Valentine's Day. The URL to the concert will be available on Sunday, February 14th on our website.
Find out more »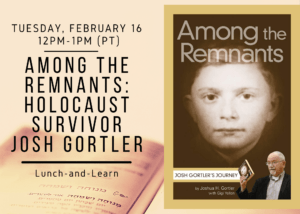 A Lunch-and-Learn Virtual Program presented by the Holocaust Center for Humanity When 3-year-old Joshua Gortler and his family were forced from their hometown in Poland during World War II, they scrambled for safety border over border, finding refuge at least in Europe's Displaced Persons Camps. Undocumented and unschooled, Gortler spent his adolescence learning to survive. When his family eventually relocated to the U.S., Gortler found himself starting over as teenager in a foreign land with only his spunk and sharp… Continue Reading "Among the Remnants": A Talk with Holocaust Survivor and Author Josh Gortler
Find out more »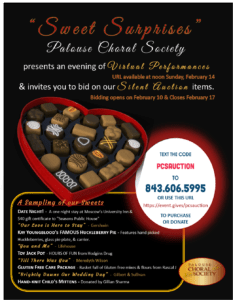 The Palouse Choral Society invites you to bid on our Silent Auction items. Between February 10 and February 17 you can place a bid by texting the code PCSAUCTION to 834.606.5995, or using Tijs URL: https://event.gives/pcsauction
Find out more »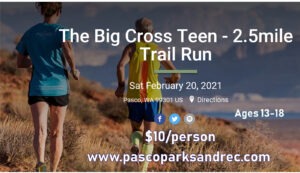 At a time when Cross Country seasons have been postponed or canceled and State competitions would have already taken place, here is an opportunity for teens to participate in an in-person cross country trail run with at least some form of in-person competition. FORMAT: According to state guidelines for timed races, participants will start in waves of 10 people and waves will be one minute apart. There will be two groups each for boys and girls, a 13-15 age group… Continue Reading The Big Cross Teen – 2.5 Mile Trail Run
Find out more »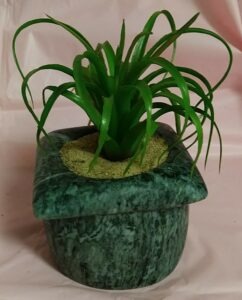 When it comes to carving stone, Sandra Matthews-Sarve is a rock star. The Walla Walla artist works with marble, soapstone, and alabaster to create unique sculpture that is sinuous and elegant. From garden ornaments to pen holders, from tiny plant pots to jewelry dishes to a mini Zen garden (complete with tools), Matthews-Sarve's stone and rock work is a visual and tactile delight. Wenaha Garden is showcasing her work in an Art Event through February 22. (The gallery closes early,… Continue Reading Stone Carving by Sandra Matthews-Sarve
Find out more »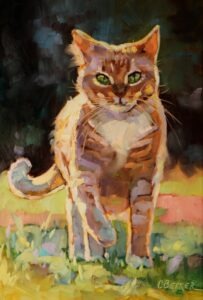 Impressionist paintings present the world with its edges softened, a place where beauty is highlighted through expressive use of brush strokes. Kennewick oil painter Carol Betker paints with the idea of capturing "the Creator's little treasures" that come into her view. Her Alla Prima works include florals, landscapes, animal portraits and equine art.
Find out more »
A little relaxation and touch of luxury are never amiss, especially these days. Biker B's Bathworks of Dayton, WA, specializes in all things bath: hand-crafted, artisan soaps; roll-on fragrances; beard oil; bath salts and truffles; reed diffusers; shaving kits; cuticle care; and soy wax candles in fragrances that range from Dark Chocolate to a Walk in the Woods. Owners Meredith and Gene Bretz have been creating bath art since 1997, and are on a continuous quest for new, exciting, sensuous,… Continue Reading Artisan Soaps and More by Biker B's Bathworks
Find out more »
Looking for some entertainment to fill your Wednesday nights? Every week on Wednesday from 8pm-11pm, The Emerald of Siam offers an open-mic style, Jazz music experience, open to anyone, and no entry fee! We also offer a delicious, late night menu during the event, featuring customer favorites such as Emerald Butterflies, our Pahd Thai, and plenty of different curry bowl options. The bar is available with ID. Every Wednesday night, 8pm-11pm @ The Emerald of Siam in Richland, WA All… Continue Reading Wednesday Night Jazz Jams
Find out more »
+ Export Events