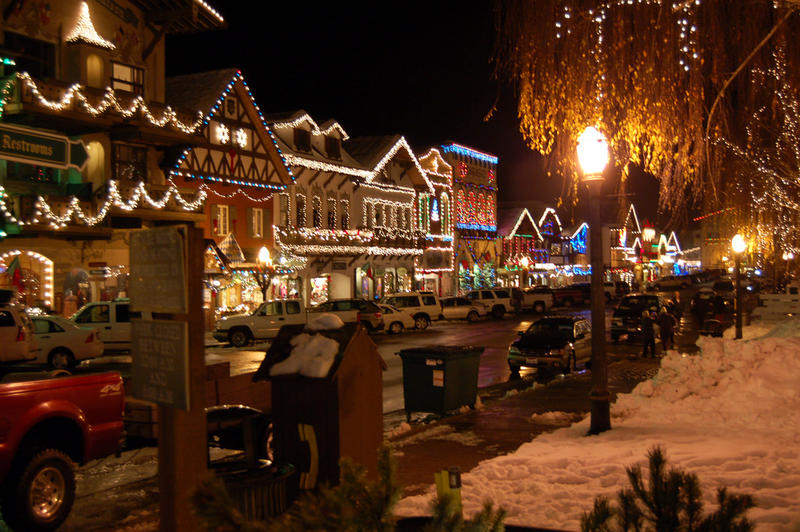 Five Neat Things To Know About Christmas In The Northwest
Results of the Christmas Flood of 1964. The city pictured was not labeled by the photographer. U.S. ARMY CORPS OF ENGINEERS
A well-lit Christmas in Leavenworth. CHRIS JAGER / FLICKR
Snow in the Cascades. Rain in Seattle. Both on the Palouse. It must be another Northwest Christmas. Looking for something to do, or just want to learn a bit more about this amazing region? Here are five things to know, from Christmas lights to Christmas-time disasters.
Residents of Lake Union decorate ships instead of trees. The annual Christmas Ship Festival lights up the lake at night with a parade of decorated vessels. A tradition for more than 60 years, the star is the elaborately decorated Spirit of Seattle. For a fee, you can follow along in another boat, but anyone can see the festival from the shore.
Christmas in the Northwest isn't just a good time. It's also a popular album series. The collections of Northwest-themed novelty songs and holiday classics are easy to recognize with their distinctive covers. One standout: Christmas in the Northwest 6, which shows a wind-surfing Santa Claus. It might be less efficient than reindeer, but it does seem more fun.
Leavenworth goes all out each year with their Christmas lighting festival. The town says they use more than half a million lights, which might make it the most Christmas-y place outside the North Pole. It's a great place for a dazzling holiday experience — if you can handle the Cascades cold. If you can't get there, or you just want to stay in the warm, check out this video from ABC News.
For some Northwest Native American tribes, the new year happens before Christmas. The Umatilla Tribe celebrates the new year on December 20, just before the winter solstice. The celebration, kimtee inmewit, recognizes the return of three culturally significant foods: salmon, deer and a bitter root they call "sliiton."
In 1964, much of the Northwest didn't get a snowy Christmas. Instead, the region saw a massive flood in four Northwest rivers. The worst of the flooding, around the Willamette River Basin, stretched all the way to California. 47 people died, and the flood did $514 million in damage — almost $4 billion, adjusted for inflation according to the U.S. Geological Survey. The Times-Standard, of Eureka, Calif., gathered the stories of people who survived the flood.