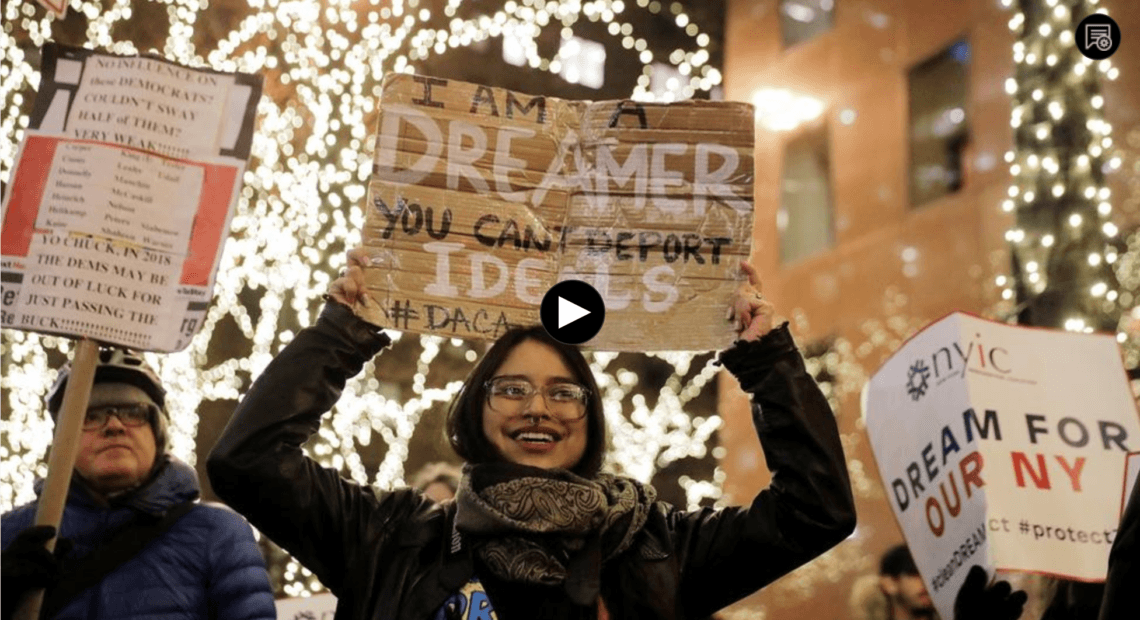 DACA To Resume After Court Blocks Trump Administration
The Department of Homeland Security on Saturday said it would resume accepting renewals for DACA, the Obama-era program that protects young immigrants from deportation. This follows last week's decision by a federal court blocking the Trump administration's plan to end the program. Josh Gerstein, a POLITICO reporter who has been following the DACA story, joins Hari Sreenivasan to discuss.
HARI SREENIVASAN:
Politico reporter Josh Gerstein has been following the DACA story. He joins me now from Washington D.C. So what is the status of DACA application today?
JOSH GERSTEIN:
Well, people that want to renew their expiring DACA permits, which are basically work permits, allow them to work legally in the United States, are basically getting another chance to do that – either if they missed the earlier deadline or if they're among those people whose permits are set to expire after March 5th, which was really when the bulk of the shutdown of this program was going to begin to kick in as ordered by President Trump. Those people now can go ahead, send in a check for $ 495 and renew their DACA status, which could get them another two years of protection from deportation as well as the right to work legally in the U.S.
HARI SREENIVASAN:
I'm assuming, that the administration is unhappy with this particular court's findings and that they will challenge it. So is there a possibility that this process could be frozen again?
JOSH GERSTEIN:
Yeah, it definitely could be halted again. The administration has said they're going to continue to fight the litigation which led to this court order restoring the DACA program but curiously so far we haven't yet seen an appeal or request to stay the order. It sounds like at least for the foreseeable next few days or few weeks they're going to begin offering these renewals again while the Justice Department decides on a legal strategy to keep fighting this.
HARI SREENIVASAN:
Put this in context of the conversations that are happening on Capitol Hill between members of Congress and trying to hammer out something? And of course where the president stands?
JOSH GERSTEIN:
Well you know not all immigration advocates were really excited about this decision from the judge restoring the DACA program. In part because they felt that it might undercut the impetus, the momentum on Capitol Hill, towards cutting a deal. You had business leaders weighing in over the course of the past week saying it was essential to resolve this DACA issue. And so kind of it was a mixed bag of reaction when the judge's order came out. Of course, there's a third possibility and that is that we sort of roll into this March 5th deadline that the administration had set and the president has suggested that he might take some further executive action to to protect DAKA recipients. So all those options seem to be on the table right now.
HARI SREENIVASAN:
And at the same time there seems to be pressure on the left and from the progressive wing of the Democratic Party to say, take this as a clean deal on its own. Don't bundle up DACA and Dreamers and their fate with border protection and temporary protection status and the wall?
JOSH GERSTEIN:
Yeah I've heard a lot of liberals including some of the people behind the litigation which led to the court order. The attorney general of California, Xavier Becerra, come out and say yeah, don't take a bad deal Democrats – you know we should just do a clean renewal of DACA, maybe something could be done on border security but we shouldn't be doing a wall. And I think even more controversial is what the Trump administration wants to pull into this in terms of addressing the chain migration or family reunification policies. If you get into that area you're really talking about a pretty dramatic revision to laws that have been in place for 50 years here in the United States governing immigration. And you know Dianne Feinstein, senator from California and others have said to try to open that up on the very tight timeline of trying to do a DACA deal could be very difficult but that is the administration's official position.
HARI SREENIVASAN:
Finally, how unusual is it that the judge lays out this order on a Tuesday and then on Friday, he sort of takes a look at the possible motivations and says that perhaps President Trump's, you know what he says, racist views or race based views on these things could have played a role in this.
JOSH GERSTEIN:
It was really interesting to see the judge come in with his second order particularly because Trump's racial views had been back in the news at the very top of the national agenda again as a result of his comments about countries overseas. Certainly a very interesting injection of the racial issue into the national debate.
HARI SREENIVASAN:
All right Josh Gerstein, senior White House correspondent and reporter for Politico, thanks so much.
JOSH GERSTEIN:
Thank you. Anytime.