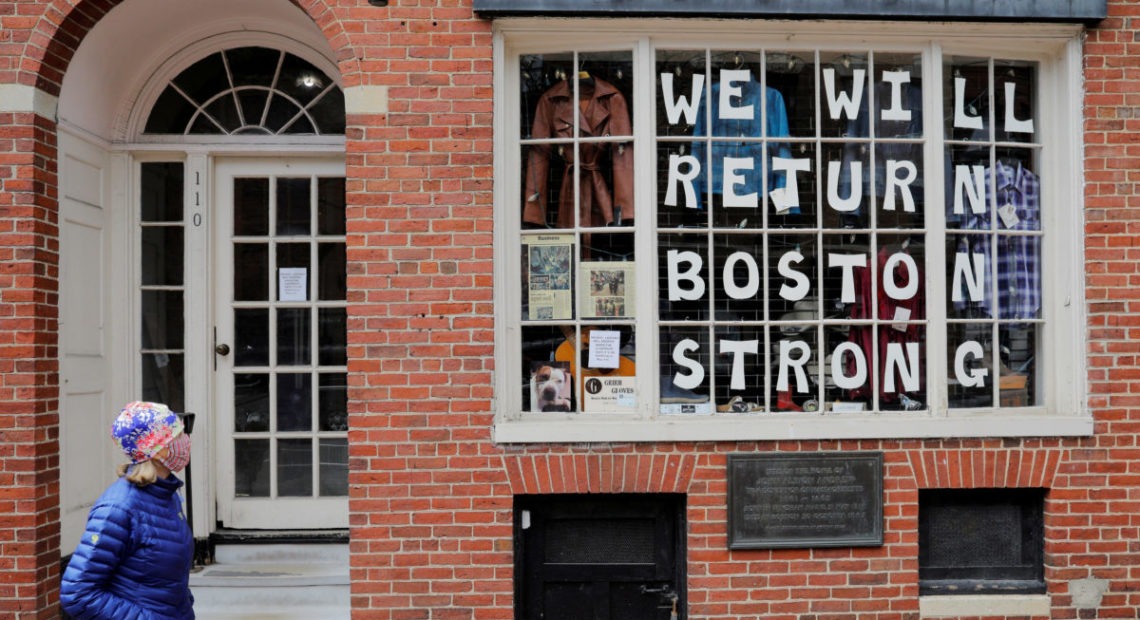 Here's Who's Being Hit Hardest By The Economic Downturn
BY CANDICE NORWOOD / PBS NewsHour
The United States lost more than 20.5 million jobs in April, bringing the national unemployment rate to 14.7 percent, according to the Bureau of Labor Statistics report released Friday. The figures paint the most comprehensive picture to date of the economic impact of shutdowns meant to quell the coronavirus pandemic. But while the data shows people across the country, from all backgrounds and industries, are being affected, specific sectors and groups have been particularly hard hit by stay-at-home orders that have forced restaurants to close their dining rooms and retail stores to shutter.
The current estimated unemployment rate far exceeds the 10 percent peak reached in the Great Recession in 2009. It is the most devastating loss of jobs since the Great Depression, when economists estimate the unemployment rate reached 25 percent in 1933. The most significant job losses came from the leisure and hospitality industry, making up nearly 40 percent of the total with 7.7 million jobs lost.
The report also notably highlights other job losses across the economy, including education and health services, which lost 2.5 million jobs; and professional and business services, which shed 2.1 million jobs. Employment in retail also declined by 2.1 million jobs, according to the April data, underscored by reports of major retailers filing for bankruptcy this week.
The widespread nature of the losses indicates a more significant challenge for the labor market to recover as states begin to reopen businesses.
Leisure and hospitality among hardest hit industries
The leisure and hospitality industries, including food services and hotels, have been the hardest hit throughout the pandemic, accounting for more than 60 percent of job losses in March and about 37.5 percent of the losses in April. The unemployment rate for leisure and hospitality workers hit 39.3 percent last month, compared to 4.5 percent in April 2019.
In January 2020, the unemployment rate for workers in these industries was 5.9 percent. It dropped to 5.7 percent in February, ticked up to 8.1 percent in March, and then in April jumped to 39.3 percent, the highest by far of any of the sectors measured in the BLS report. The numbers officially reported for March actually span from February 12 to March 12, so they do not reflect the impact of widespread stay-at-home orders, the first of which went into effect on March 19. April's report is the first to reflect the impact of shutdowns.
MORE: Minorities hit especially hard by pandemic-driven unemployment
The next worst hit sector was "other services," which includes roles ranging from administering religious activities to pet care services. For April, the unemployment rate for "others services" was 23 percent, compared to 2.5 percent in April 2019. Wholesale and retail trade had the third highest unemployment rate at 17.1 percent, compared to 4.3 percent in April a year ago. And the construction industry follows at fourth with 16.6 percent unemployment, compared to 4.7 percent in April 2019.
The report also indicates job losses are increasingly spreading to white collar workers. In March, the BLS reported that about 7 percent of the month's losses, or 52,000 jobs, were in professional and business sectors, a category that includes accounting, engineering, advertising, and legal services, among others. In April, professional and business job losses were 40 times higher, reaching 2.1 million and representing 10 percent of total job losses for the month.
How the downturn is impacting people of color
Black and Latino or Hispanic workers represent a disproportionate share of the leisure and hospitality industry hit hardest and earliest by the pandemic. But taken as a whole, the latest numbers, reveal that the rise in unemployment has impacted people of all races at similar rates. From March to April, unemployment among white workers increased from 4 to 14.2 percent, increased from 4.1 to 14.5 percent for Asian workers, from 6 to 18.9 percent for Hispanic or Latino workers, and from 6.7 to 16.7 percent for black workers.
The black unemployment rate is typically about twice the rate for white workers, said Darrick Hamilton, an Ohio State University professor who studies race and economics. Communities of color are also typically hardest hit by recessions and job losses, he said.
During the Great Recession, the unemployment rate reached a peak of 10 percent, but the peak for white workers was about 9 percent while the peak for black workers was 16 percent.
The current economic downturn is not a normal recession, owing to a pandemic rather than underlying economic weaknesses, which could explain why unemployment isn't following its usual patterns. However, it's also important to note the BLS unemployment rates are imperfect because the government's definition requires people to actively be looking for work. It also does not account for people who are technically employed, but have had their work hours significantly reduced.
Fu