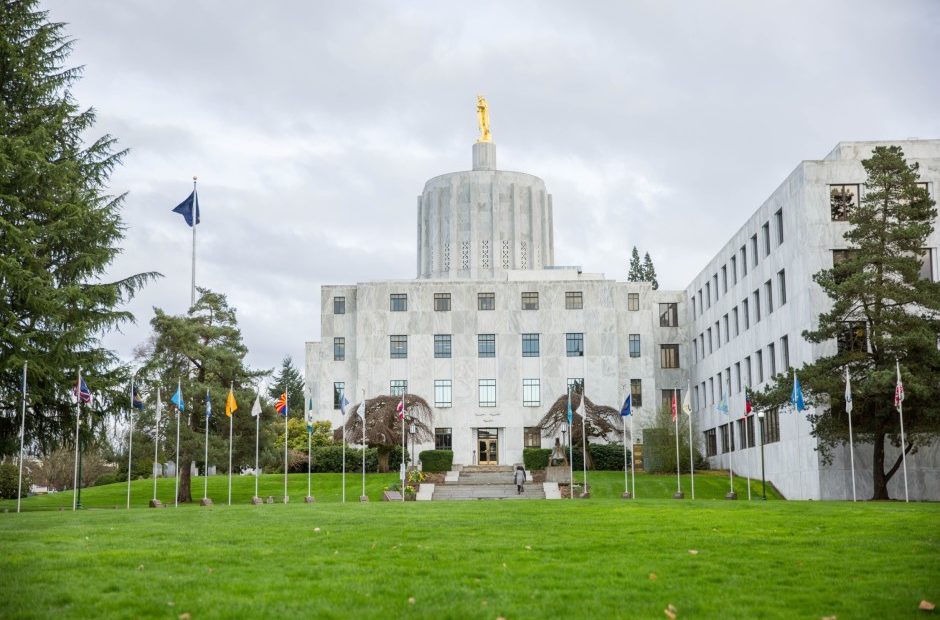 Oregon's Carbon-Reducing Cap And Trade Bill May Not Get A Full Vote Until 2019
Oregon House Speaker Tina Kotek is proposing an amendment to a controversial cap and trade bill that would allow the Legislature to delay voting on key details until next year.
The amendment, developed in coordination with co-sponsors of the bill, would allow the lawmakers to vote on the "cap" for greenhouse gas emissions this session while delaying a vote on the "trade" portion of the bill until next year.
The legislation, known as the Clean Energy Jobs Bill, would cap the state's greenhouse gas emissions in 2021 and launch a trading system for emissions permits. About 100 companies in the state's largest industries would be required to buy pollution permits to cover their emissions.
The bill requires permits for any business that emits more than 25,000 metric tons of carbon dioxide equivalent. That includes a variety of large manufacturers, paper mills, fuel distributors and utilities.
Over time, the cap on emissions would come down and there would be fewer pollution permits available. So companies would have to reduce their emissions, spend more on permits or buy credits to offset their emissions.
The ultimate goal is to reduce emissions to 80 percent below 1990 levels by 2050.
The bill has House and Senate versions, both of which have had public hearings and passed into rules committees last week.
Rep. Karin Power, D-Milwaukie, said the amendment acknowledges an urgent need to act on climate change while offering "another option to consider" for lawmakers who say they need more time to study the details of the bill.
"Not all of them have significant environmental policy expertise," Power said. "I think this is responsive to the concerns that we've heard. In that sense, I hope it would gain support from my colleagues to pass this year."
Power said Oregonians are already seeing the effects of climate change across the state, and lawmakers have spent years vetting ideas for reducing the state's greenhouse gas emissions.
"We've done a tremendous amount of work and we have a lot of answers," she said. "I think if we were to have the interim to continue discussing this issue … I think we'd be able to have more individual conversations around the projects we need to engage in around climate change."
The amendment stipulates that if lawmakers fail to approve a cap and trade program by the end of next year's legislative session, the Oregon Environmental Quality Commission will adopt one instead.
Early responses indicate the amendment won't satisfy critics of the original bill.
Food Northwest President David McGiverin said the proposal "makes a mockery" of the calls for lawmakers to slow down.
In a statement, he suggested lawmakers were handing state regulators the power to develop a cap and trade program rather than negotiating with critics of the bill.
Copyright 2018 OPB