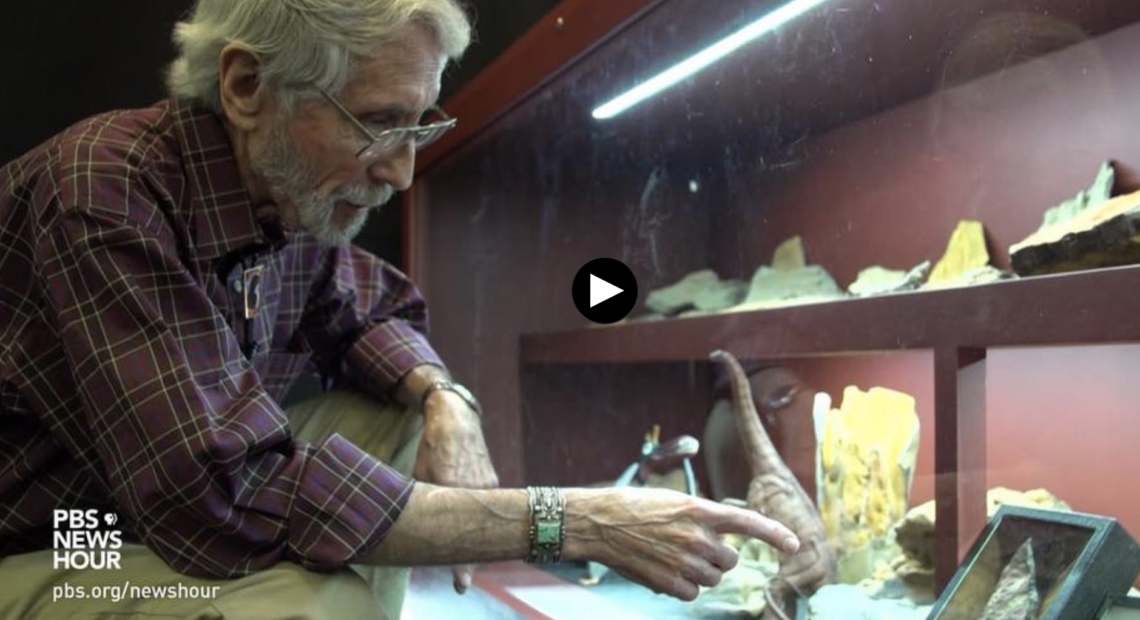 How A Self-Taught Fossil Hunter Made His Biggest Discovery
In this PBS NewsHour Shares moment of the day, this self-taught paleontologist has been looking for dinosaurs in creek beds and rivers for more than 30 years, and has become something of a legend in the field. Then, outside a NASA building, he hit the jackpot: over 100 tracks belonging to numerous mammals, dinosaurs and flying reptiles.
John Yang:
Now to our "NewsHour" Shares, something interesting that caught our eye.
Ray Stanford has been looking for dinosaurs in creek beds and rivers for more than 30 years. Despite being a self-taught tracker, Stanford is something of a legend among paleontologists.
As the "NewsHour"'s Pamela Kirkland reports, six years ago, he made his biggest discovery to date.
Ray Stanford:
 There's part of a track down to the lower right, too.
Pamela Kirkland:
When it comes to tracking dinosaurs, Ray Stanford is a natural. Stanford is a self-taught paleontologist known for his talent for finding dinosaur fossils from the Cretaceous era, 140 to 65 million years ago.
In 2010, while visiting his wife, Sheila, an information specialist at NASA's Goddard Space Flight Center, he noticed a loose rock.
Ray Stanford:
 This is the theropod track that led to ultimately the grand discovery.
Pamela Kirkland:
On a separate visit two years later, a rock on the hillside, not far from the first track he found, caught his eye.
Ray Stanford:
 If you had told me this, I would never have believed that I was going to find something like this.
Pamela Kirkland:
This time, it was the footprint of a nodosaur, the Cretaceous period's version of an armadillo.
Beneath the ground, there were more tracks Stanford couldn't see. After years of analysis, it turns out he'd stumbled upon one of the best fossil trackways in the world.
Ray Stanford:
 Over 100 tracks, over — or nearly 40 mammal tracks of at least three and probably five species of mammals, at least three species of dinosaur tracks, and probably two or three species of flying reptile tracks.
Pamela Kirkland:
At least 110 million years ago, these dinosaurs sauropods and nodosaurs, small mammals, and flying reptiles, like the pterosaur, crossed paths on the 8.5-foot slab of sandstone.
Because none of the prints overlap, experts think the tracks occurred over the course of few days or hours. They remained untouched until now. This replica is displayed in Goddard's Earth Science Building in Greenbelt, Maryland. The original sits in a warehouse for further study.
If not for Stanford, the discovery might have been lost to construction. At the time, NASA had planned to build on the site.
Compton Tucker:
I had walked by that place probably 30 or 40 times, and I had no idea there was something so cool right there.
Pamela Kirkland:
Compton Tucker is a climate researcher at NASA and oversaw the excavation of the four-ton stone. NASA tapped Tucker for his experience working on archaeological digs to find buried ruins.
Compton Tucker:
We found where the sandstone was. We organized a team of volunteers to come in on weekends. And we dug out all of the rocks we found in our survey, and one of those rocks is the amazing rock which has the track Ray Stanford found.
Ray Stanford:
 These people are used to looking into space, not into ancient time, looking down.
Pamela Kirkland:
Stanford has been looking at tracks for over 25 years, thanks to his 10-year-old son's curiosity in dinosaurs.
Ray Stanford:
  Joel (ph), who at a secondhand bookstore said, "Daddy, let's get this book on tracking dinosaurs."
And we began to find dinosaur tracks in the stream, although we'd read another book that said that nothing had been found in the D.C.-Maryland area.
Pamela Kirkland:
Since then, Stanford has tripled the number of dinosaurs and winged reptiles identified in the state of Maryland. One of his finds, a hatchling of a baby nodosaur, the only hatchling of an armored dinosaur in the world, sits on display at the Smithsonian National Museum of Natural History.
Ray Stanford:
  This is my favorite footprint possibly of all of them.
Pamela Kirkland:
He and his wife, Sheila, estimate they have collected over 1,000.
Ray Stanford:
 In the middle of this, we have the adult theropod dinosaur.
Pamela Kirkland:
For Stanford, fossil hunting is second nature.
Ray Stanford:
  It's a gift. It's a habit that grows. And the more you do it, the better you get at it.
Pamela Kirkland:
After unearthing his largest find, the 79-year-old is still searching for the next big discovery.
Ray Stanford:
 You get addicted, I confess. You just keep on tracking.
Pamela Kirkland:
For the "PBS NewsHour," I'm Pamela Kirkland in Greenbelt, Maryland.