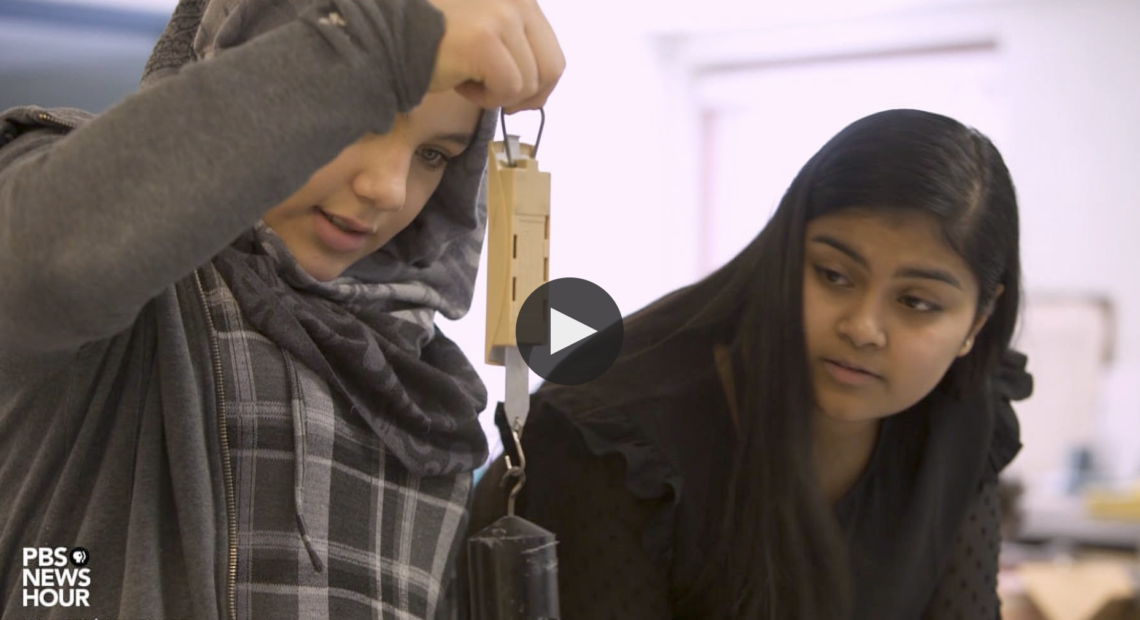 What The U.S. Could Learn From Canada About Integrating Immigrant Students
In Canadian public schools, the children of new immigrants do as well as native-born children within three years of arriving. There kids don't just get language and academic support; their home cultures are celebrated as they are integrated into classes. And strong social services and healthy education funding help too. Special correspondent Kavitha Cardoza of Education Week reports.
Judy Woodruff:
But first: The United States a Canada have a lot in common. But when it comes to education outcomes, the two are very different.
Unlike the U.S., Canada is one of the top performing education systems in the world. It does a good job educating its English-language learners. Within three years of arriving in Canada's public schools, children of new immigrants do as well as native-born children.
Kavitha Cardoza with our partner Education Week looks at Canada's approach for our weekly series Making the Grade.
Kavitha Cardoza:
 When 13-year-old Andre Cordeiro moved from Portugal to Canada, the only English words he knew were hi, bye and hot dog. Now he's thriving.
Andre credits the small class he attends every morning with other English learners.
Andre Cordeiro:
I feel equal. Like, I don't feel as much pressure if I make a mistake.
Kavitha Cardoza:
Teacher Ann Woomert brings in props, speaks slowly and tries to make lessons meaningful.
Ann Woomert:
The visual cues and that opportunity to talk about what we're doing is really important. So, they need to see the relevance. How does it connect to my life?
Kavitha Cardoza:
Three-fourths of the 500 students at Islington Junior Middle School speak a language other than English at home, including Somali, Korean, and Russian.
It mirrors the diversity of Toronto, where almost half the population was born in a different country. Every afternoon, all English learners join regular classes. This intentional integration is meant to help them feel part of the larger school.
And if they find the class difficult? Their teacher, Woomert, is available to help.
Hyam Al Tarifi came to Canada in 2015 as a refugee from Syria. She hasn't been to school regularly for years, but, here, she's quickly catching up.
Hyam Al Tarifi:
It's a very nice country, and very kind. And they don't make you feel that you're different.
Kavitha Cardoza:
Students here don't just get language and academic support. Through books, posters and school traditions, their home cultures are celebrated.
Teacher Janet McCarol keeps a tea set handy.
Janet McCarol:
Many of my students come from the Middle East. Tea is a very important part of their culture. We invite families to join us. So, sometimes, moms or dads will come. And we will set up the tables. The kids can serve tea. It gives them a sense that, this is my classroom, this is my space, this teacher respects that this is kind of part of my upbringing.
Kavitha Cardoza:
 In Canada, newcomers are selected mainly based on their ability to support the economy. They get points for job skills and education.
This is unlike the U.S., where immigration is largely based on reuniting families.
But, Andreas Schleicher, an expert in international education, says while those policy differences do give Canada an edge over U.S. schools, it doesn't fully account for why immigrant children do so well.
Andreas Schleicher:
Wealthy, immigrant children in the United States, they will do a lot worse than the same kind of immigrant children in Canada. There's a lot that Canada does to enable those immigrant children to achieve similar results.
Kavitha Cardoza:
John Malloy is head of Toronto's school system. It's the largest in Canada with almost 25,000 students.
And you're an immigrant yourself from the U.S.?
John Malloy:
Yes, I'm an immigrant. I moved here to Toronto in 1991 from Cleveland, Ohio.
Kavitha Cardoza:
 Malloy says a key difference between the two countries is funding. In the U.S., the amount of money each student receives can vary a lot between school districts because it is based on local property taxes.
In Canada, all the money collected from taxpayers is routed through the provincial government, so every student in Ontario gets the same per-pupil funding.
John Malloy:
And that grant is pretty healthy compared to many other parts of the world that I'm aware of.
Kavitha Cardoza:
 I have never heard a school leader say the amount per pupil they get is healthy.
John Malloy:
 It's healthy.
Kavitha Cardoza:
Schools in Canada also receive extra money for each English learner.
Linda Darling-Hammond, a professor at Stanford University, has written extensively about international education systems. She says becoming a teacher in Canada is very competitive.
Linda Darling-Hammond:
Everyone gets a very high quality of training, which they have been improving and increasing over time. And mentoring is more widely available for teachers.
Kavitha Cardoza:
Teachers' salaries and jobs are not tied to student test scores. Darling-Hammond says what you find in Canada also happens in the U.S., but not systemically.
Linda Darling-Hammond:
Not for all kids, not for all teachers, not for all school settings. I think what Canada has shown us is that you can much more equitably provide a high level of education across entire provinces and even across a country.
Kavitha Cardoza:
Strong community partners and outside social services help. In a darkened classroom at a nearby high school, students practice breathing. It's their lunch break.
This class promoting mental health is popular.
Aslam Azami from Afghanistan is a senior.
Aslam Azami:
All the stress builds up from the subjects, all — also the homework, tests, and then applying for universities.
Kavitha Cardoza:
 Nicole D'Sousa, who runs the class, says they also make slime and draw posters to de-stress.
Nicole D'Sousa:
And not knowing the language or how the school system works, sometimes, parents want something, and you want something different, and the culture around that.
Kavitha Cardoza:
 But D'Sousa is not employed by Toronto schools. She works for one of Ontario's many community centers, mostly funded by the government. They support students through mentoring, tutoring, and after-school clubs, allowing Canadian teachers to concentrate on teaching.
These services are not just for young people.
Malini Singh:
We have every service that a newcomer arriving to Canada will need.
Kavitha Cardoza:
Malini Singh coordinates services at the Neighbourhood Organization. They served almost 22,000 newcomers at this one center last year through a range of services.
Malini Singh:
Some of the larger things are finding employment, housing, connecting to social services. We also do smaller things, like teaching parents how to dress your kids for the winter.
Kavitha Cardoza:
 Professor Louis Volante, with Brock University, says having a strong safety net is necessary for strong educational outcomes.
Louis Volante:
You can't really divorce education policies from broader social protection and economic policies.
Kavitha Cardoza:
 Canada has traditionally been welcoming to newcomers, in part because they're seen as necessary for the country's economic success.
Shoppers at a popular mall downtown overwhelmingly say immigrants make Canada better.
Woman:
Immigrants are the backbone of our country.
Man:
It makes Canada a more interesting place.
Kavitha Cardoza:
It's easy to see how this positive social climate can help new immigrants thrive. But Canada has not been immune to the growing anti-immigrant sentiment that has been becoming more pervasive in the U.S. and European countries in recent years.
Woman:
It's become an issue with controversy and conflict between people.
Woman:
I think immigration has just such a negative connotation nowadays.
Kavitha Cardoza:
But students like Andre Cordeiro are still sheltered in the classroom. His reading and math are improving dramatically, as well as his English.
Andre Cordeiro:
I think I know how to answer some questions now.
Kavitha Cardoza:
Andre hopes to be in mainstream classes soon.
And while Canada is now home, he still misses friends and family back in Portugal. "Maybe I will buy a house there one day," he says. "I can visit during Canadian winters."
Judy Woodruff:
 And Kavitha Cardoza joins me now.
Thank you, Kavitha. What an interesting piece.
So, the U.S. education system often compared to other countries. Why did you look at Canada?
Kavitha Cardoza:
Well, Judy, often, we look at countries like Finland, New Zealand, Singapore.
And I think it's a little unfair, because these countries are way more homogeneous, they're very small, or often they have a different form of government. Like you said earlier, Canada and the U.S. have a lot in common.
What made them particularly intriguing is that they have a higher percentage of immigrant students, so about 30 percent of their schoolkids have an immigrant background, compared to about 20 percent of ours.
Judy Woodruff:
 And are you saying — we saw some really interesting successful techniques — that this could work in the U.S.?
Kavitha Cardoza
I definitely think we have a lot to learn from them, but I don't want to leave viewers, Judy, with the impression that Canada has all the answers, because, even in Canada, there are variations between provinces.
And, even within a province, you see a gap. And so I definitely don't want to leave people with that impression.
Judy Woodruff:
 But, nevertheless, it is so interesting to see what they're doing. Just a little touch, serving tea.
Kavitha Cardoza:
 Something tiny, but so significant and meaningful.
Judy Woodruff:
Kavitha Cardoza, thank you.
Kavitha Cardoza:
Thank you.