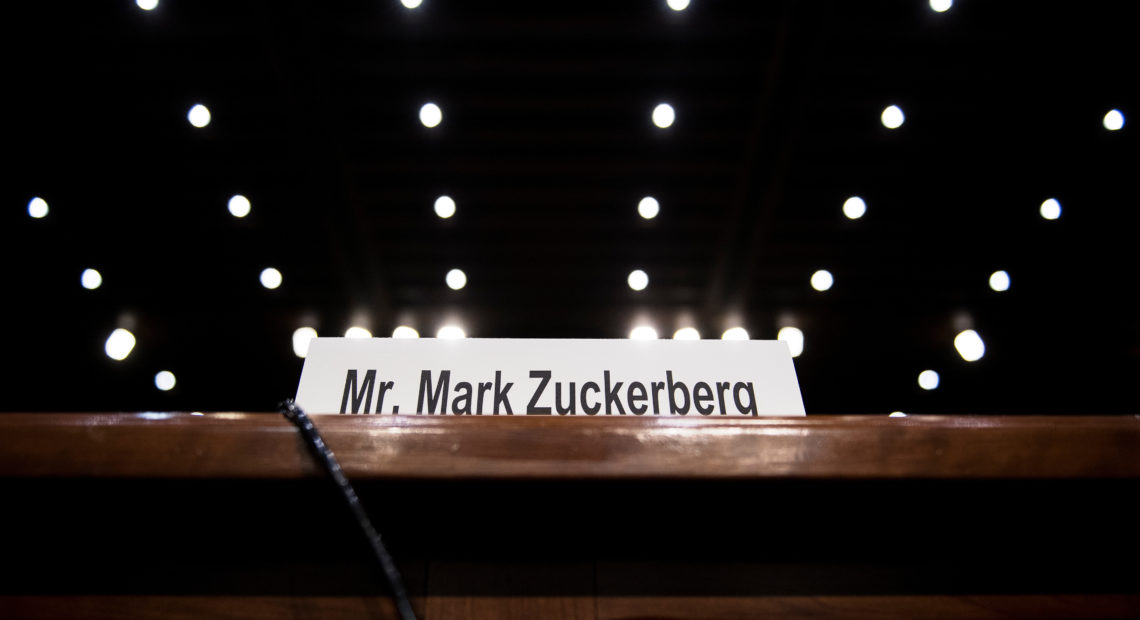 'I'm Responsible For What Happens' At Facebook, Mark Zuckerberg Tells Senate
PHOTO: The witness table is seen before Facebook CEO Mark Zuckerberg's appearance at a joint hearing of the Senate Commerce, Science and Transportation Committee and Senate Judiciary Committee on Capitol Hill on Tuesday. 
BY CAMILA DOMONOSKE
Mark Zuckerberg is facing dozens of senators — and the American television audience — to take "hard questions" on how Facebook has handled user data and faced efforts to subvert democracy.
"We didn't take a broad enough view of our responsibility, and that was a big mistake. It was my mistake, and I'm sorry," the co-founder and CEO of Facebook, uncharacteristically wearing a suit, said in his opening remarks. "I started Facebook, I run it, and I'm responsible for what happens here."
Zuckerberg is testifying Tuesday before a joint session of the Senate commerce and judiciary committees.
You can watch the video live above, and we'll update this post with highlights from the proceedings.
The leaders of the committees, in their opening remarks, signaled that the status quo was not satisfactory and called for changes — voluntary or mandatory — to promote transparency and prevent abuse.
Sen. John Thune, chairman of the commerce committee, said the days of deferring to tech companies on questions of regulation may be ending — and that in his testimony, Zuckerberg has the opportunity the speak to supporters and to skeptics.
"We are listening," he told Zuckerberg in his opening statement. "America is listening. And, quite possibly, the world is listening too."
"If you and other social media companies do not get your act in order, none of us are going to have any privacy any more," Sen. Bill Nelson, ranking member of the commerce committee, said bluntly.
The remarkable hearing — expected to be a bit of a spectacle, at least by Senate committee hearing standards — is Zuckerberg's first appearance before Congress. He is the only witness in the hours-long joint session and will also be testifying before the House Energy and Commerce Committee on Wednesday.
Facebook is reeling from the Cambridge Analytica scandal, after news publicly broke that millions of Facebook users' data had been improperly shared with a data analytics firm that worked with the Trump campaign. The Federal Trade Commission has confirmed it is investigating how user privacy has been handled at Facebook.
On Tuesday, the company began informing users who were affected. You can check this page on Facebook's help site to see if you're among that number.
Nelson asked Zuckerberg why Facebook didn't inform users back in 2015, when it first discovered that data had been sold to Cambridge Analytica.
"When we heard back from Cambridge Analytica that they had told us that they weren't using the data and deleted it, we considered it a closed case," Zuckerberg said. "In retrospect, that was clearly a mistake. We shouldn't have taken their word for it."
Facebook did not inform the FTC of the improper data sharing, Zuckerberg says.
But Zuckerberg is also being grilled on a wide range of other topics. Lawmakers are keenly interested in how Facebook handled — or mishandled — Russian election interference during the 2016 campaigns, as well as questions over who is behind ads users see on Facebook.
Topics Zuckerberg has addressed so far include:
Informing users about how their data is used: "Long privacy policies are very confusing," Zuckerberg said. "If you make it long and spell out all the detail, then you're probably going to reduce the percent of people who read it."
Why this apology is different than previous apologies from Facebook: "Overall I would say that we're going through a broader philosophical shift in how we approach our responsibility as a company," he said. "We need to take a more proactive role and a broader view of our responsibilities. It's not enough to just build tools. We need to make sure they're used for good. That means we need to now take a more active view in policing the ecosystem."
Policing harmful language: Zuckerberg noted that Facebook has had success using artificial intelligence tools to police and enforce communication by blocking terrorist propaganda, but he says it's more difficult to identify hate speech through AI tools that are available today. "Determining if something is hate speech is very linguistically nuanced," he said, and the error rate is high.
Election security: "There are people in Russia whose job it is is to try to exploit our systems and other Internet systems," he said. "So this is an arms race. They're going to keep getting better at this and we need to invest in keeping on getting better at this too."
Facebook has lost about $100 billion in value since February. As Zuckerberg testified on Tuesday, Facebook stock was up about 4 percent for the day.
In Zuckerberg's prepared testimony — a longer version of his opening comments — he embraces a wider responsibility for user content than Facebook has claimed in the past. He also lays out efforts that he says will help protect users' information and defend against "bad actors" on the platform.
Before the hearing started, NPR's Alina Selyukh and Kelsey Snell wrote a preview of what to listen out for.
They warned that Zuckerberg may not be willing, or able, to provide the kinds of "clear and specific answers" that senators might be digging for.
And they noted that regulation is likely to come up as a central question in these hearings. Some lawmakers are pushing to establish rules for how Internet companies handle ads or user data. And Facebook has signaled that it might be open to some regulation, although the company also argues it is not waiting for laws to be passed to change its own behavior.
But, of course, lawmakers are divided on the question of regulation. Some senators from both sides of the aisle warned that Congress would step in if Facebook can't improve security. But Sen. Orrin Hatch, R-Utah, and Roger Wicker, R-Miss., cautioned against overregulation in response to the scandal.
Copyright 2018 NPR.