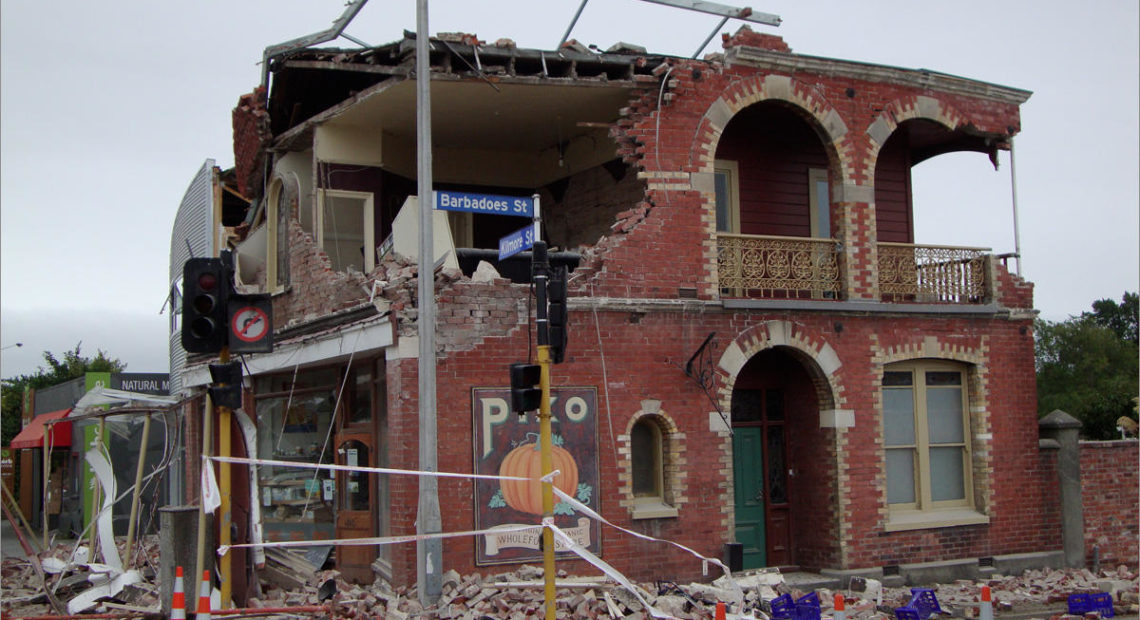 Portland City Council Postpones Mandatory Quake Fixes For Old Brick Buildings
Portland may become the first city in the Pacific Northwest to require all owners of old brick buildings to make earthquake safety upgrades. But being on the leading edge is not a comfortable place.
The Portland City Council Wednesday night postponed an expected vote on mandatory retrofits. The same issue is sidetracked in Seattle as officials scrounge for financial incentives to sweeten a mandate.
Portland city planners identified more than 1,600 old brick or unreinforced concrete buildings that could crumble in an earthquake. Seattle is close behind with an estimated 1,150 vulnerable old buildings. You can find others in pretty much every historic city core from Bellingham to Medford.
These structures are mainly commercial buildings, apartments, churches and schools constructed before 1950 or so.
"I'm proud to say my buildings are occupied by happy residents and small businesses paying below-market rents," said Jim Atwood, who owns a portfolio of rental properties, mostly in Portland's Old Town.
Atwood recognizes seismic upgrades for old buildings would save lives. But he said the cost and lost rents don't pencil out for him.
"If these buildings have to be upgraded, they'll basically be demolished and these people will be put out on the street," Atwood said.
Building owners such as Atwood, along with tenants, packed a Portland City Council meeting Wednesday. They came to warn that the affordability and historic character of the city could fade away if the council proceeded.
But Portland's fire chief also spoke up. He painted a stark picture of the monumental search and rescue task if The Really Big One happens sooner than later.
Northeast Portland resident Alex Roth urged the council to aim high so that he doesn't someday end up dead under a pile of bricks as some unlucky Californians have in past earthquakes. 
"We have an opportunity now to require meaningful upgrades that will protect Portlanders in the future when the earthquake comes," Roth said. "I believe that if we don't take that opportunity, a time will come when we will regret that."
The proposal in front of the Portland council would require owners of old, risky buildings to add reinforcements such as tying together walls, floors and roofs, and bracing cornices and parapets to prevent the raining of bricks and stones onto the sidewalk below. Mom-and-pop building owners could get up to 20 years to make those safety upgrades.
Mayor Ted Wheeler said financial incentives will be offered, though those details are still sketchy.
"I've heard over and over in the last few weeks that this is not the right time," Wheeler said. "I have got to tell you, there is never going to be a good time. We have to move forward. The question is how do we do it and how do we minimize the fiscal impact on people who own and the people who lease the properties we're discussing."
Wheeler then said the council needs more time to reach consensus. He announced the expected vote on mandatory earthquake retrofits would be postponed for weeks or longer.
"It's been a real challenge to figure out how to balance life safety and resiliency with the potential financial burden on building owners and impacts on affordability," Commissioner Chloe Eudaly said during Wednesday's meeting. "I think if there's any consensus in the room today it's that we haven't figured that out yet."
Policymakers in Seattle are closely following the developments in Portland as well as in California. Seattle's Office of Emergency Management is working on a revised earthquake retrofit proposal that probably won't come before the city council until next year.
Deputy Director Laurel Nelson said the staff is mindful of unintended consequences if the cost of required upgrades is too high.
"For instance in Los Angeles they actually mandated it with no financial incentives," she said. "They lost 19 percent of their historical buildings as well as demolition of buildings."
That would not be acceptable in Seattle, Nelson told the governor and state officials earlier this spring. Before going further, her office is trying to cobble together financial incentives and grant money.
Both Portland and Seattle officials plan to ask their state lawmakers to provide more financing options in the 2019 sessions to make buildings earthquake safe.
The California Legislature long ago set into motion requirements for building owners to retrofit older buildings to survive big earthquakes. By 2010, some 134 jurisdictions had mandatory retrofit ordinances.
Copyright 2018 Northwest News Network