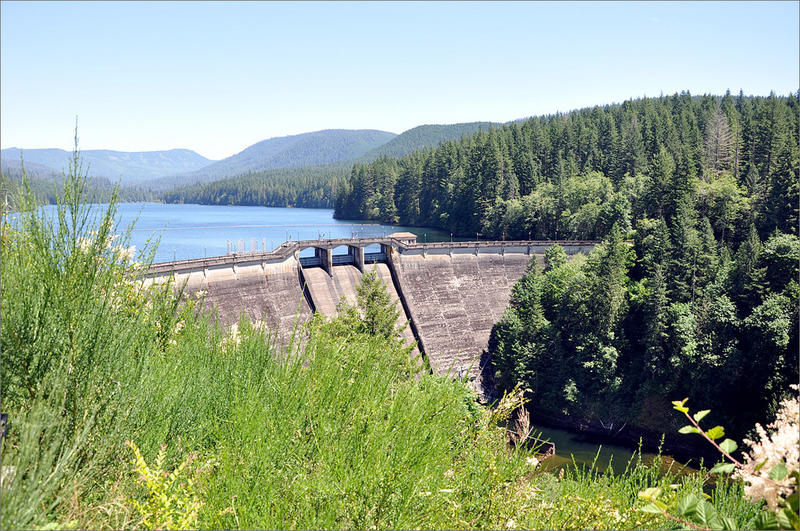 Nearly 100 Oregon Municipal Water Systems Will Test For Algae Toxins
Nearly 100 public water systems around Oregon—including the state's largest—will be required to begin testing for harmful contaminants from algae blooms under new rules unveiled by the Oregon Health Authority.
As Salem officials continue to experiment with a new treatment system to address worrisome cyanotoxins in the city's water, the OHA says it's time to ensure all similar water systems have safeguards.
"Failure to immediately take rulemaking action would leave public water suppliers and the Authority without sufficient data to provide adequate actions to ensure safe drinking water and protect public health," the OHA said in an administrative order filed earlier this week, and released Friday.
Under the new rules, nearly 100 water systems around the state will begin collecting samples of the raw water flowing into their treatment facilities every other week, and continue testing through October. The list of affected systems includes the City of Portland's, the largest in the state serving nearly 1 million Oregonians.
If the bi-weekly tests turn up cyanotoxins above a certain threshold, systems will be required to conduct weekly tests. And if any amount of cyanotoxin is detected in a system's treated water, tests would increase to be required daily. Water providers will be required to issue do-not-drink advisories if toxins are detected above health guidelines in treated water.
The OHA decided to require water providers to conduct tests if they met one of a handful of criteria, such as taking their water from from a source where harmful algae blooms have occurred or are at risk of occurring, or from a source downstream from where algae blooms have occurred.
In addition to the 98 systems that meet those criteria, roughly 75 providers that purchase water from those systems could also be required to conduct testing if cyanotoxins are detected, Emme said.
The rules, in effect until December 27, are partly cribbed from similar regulations in place in Ohio. It's an attempt to get a handle on the emerging issue of algae blooms as Oregon temperatures rise.
While Salem became the first water system in the state known to have cyanotoxins in its treated water this year, officials say blooms are becoming more persistent.
"As harmful algal blooms become the norm in Oregon, as they are around the country, we must address this emerging threat to our drinking water supplies," OHA Director Patrick Allen said in a news release. "These temporary rules close a gap in regulations and will help us protect our drinking water systems so everyone in Oregon is kept safe from exposure to cyanotoxins."
Cyanotoxins from blue-green algae can have a number of health effects, from gastrointestinal problems, to organ damage, to death. Young children, pregnant and nursing mothers, and pets are especially susceptible.
Yet the contaminants aren't currently regulated under federal law, and systems in Oregon have not been required to test for them. That will change next month.
"We had a voluntary system of monitoring for cyanotoxins but it was just that," said Dave Emme, manager of the OHA's Drinking Water Program. "When contaminants were detected in Salem's water, it made that gap in regulation apparent."
While preparing its temporary rules, the OHA addressed a big concern for many of the state's water systems: the cost of testing.
As of today, water systems that test for cyanotoxins send samples to out-of-state labs, sometimes paying thousands of dollars for the diagnosis. So the state's decision earlier this month to begin requiring testing caused concern.
"We didn't have an opportunity to budget for this," Brian Kelly, of Tri-City Water and Sanitation told OPB on June 15. Kelly's Douglas County water system serves more than 1,500 households.
But the OHA says cost won't be an issue. The agency is partnering with the Oregon Department of Environmental Quality, which will conduct water testing for providers free of charge, the OHA says. It's not immediately clear how much that testing will cost the state.
Reached Friday, Kelly said the OHA's rules had quelled his concerns.
As it moves forward with the new temporary rules, the state will work to create more permanent ones, which it hopes to have in place by the end of the year, Emme said.
While the new rules usher in unprecedented testing for Oregon's water systems, they won't change the situation on the ground in Salem. As of Friday, the city was still under a drinking water advisory for vulnerable populations, stemming from an algae bloom in Detroit Lake.
And Detroit Lake was under its own warning, with swimmers and boaters being warned the algae-tinged water could be dangerous.