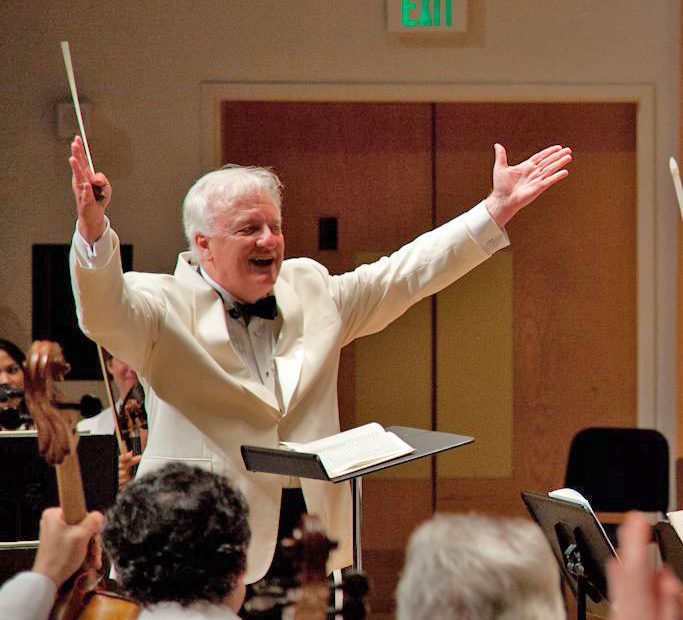 Celebrating 25 Years Of The Bellingham Festival Of Music: A Conversation With Michael Palmer
This summer, a Northwest classical music staple celebrates a milestone. 2018 is the Bellingham Festival of Music's Silver Anniversary season, and for 25 years the musicians of the festival have been delighting audiences with world-class performances under the direction of Maestro Michael Palmer. Anjuli Dodhia spoke to him about the festival and his years of experience.  
ANJULI DODHIA: I wanted to start off by saying congratulations on your 50th anniversary as a conductor of course 25 years with the festival. What drew you to conducting in the first place?
MICHAEL PALMER: The first time that I saw a conductor live, when I was four or five years old, I was very entranced. In my very young life I lived down a few blocks from the city park. In the summertime the city band would play. After that it went from something of a child's dream to reality pretty quickly. I've known I've wanted to conduct the orchestra since I was eight years old. At age eleven, Izler Solomon, the director of the Indianapolis Symphony Orchestra, took an interest in me and took an interest in my development. From there it just went.
DODHIA: Let's talk about the Bellingham Festival of Music. You're one of the founding members, so you've been with the festival all 25 years. Can you give us an origin story? How did the festival come to be?
PALMER: In 1980, some friends brought my former wife and I up to the San Juan Islands for a day trip and we were absolutely stunned by the experience. We went back to Seattle that night, called up a real estate agent, put our house on the market, bought property in the San Juan Islands, and built right away a home with a separate studio for me; a study place, where we could go in summertime and I could really prepare my scores for the next season. I thought, "It's so beautiful here, so gorgeous, surely there's a music festival around here," and I found that there wasn't really.
I started looking for a summer festival home for this European touring orchestra I led. Bellingham suggested itself to me as being the largest city between Seattle and Vancouver, with a wonderful music school there at Western Washington University, and I knew there was a fine audience here for classical music. So I wrote a letter to the head of the music department. We went into a meeting with the Dean who, lo and behold, was one of the great chamber music cellists of the time, Robert Sylvester, who had come out of the Marlboro Summer Festival. It was spectacular, because I didn't have to sell this to him, he knew what I was talking about. We began putting things on paper, met some supportive people in Bellingham, and after many cross-country trips on my part, this very brave and intrepid group decided in April 1993 to put the first festival on in August of that year. And it's just been a great story ever since then.
A good bit of the last half of these 25 years we've received a significant and consistent recognition from the National Endowment for the Arts and the festival has grown now to be a major summer music festival in the Pacific Northwest. We expect our audience to grow regionally, nationally and internationally. Eventually, we're going to need a larger space to perform in. That's exciting to contemplate.
DODHIA: I noticed that many orchestra members also make that cross-country journey. They come from all over the country and even parts of Canada. How does that affect the dynamic of the group?
PALMER: One of the things that I have done as a Artistic Director that some festivals don't do, in fact they do the opposite, is that I try to keep the personnel of the orchestra stable from year to year. It's like a big family reunion. A wonderful artistic reunion, because these are all high-level players in very major orchestras across the country.
DODHIA: So after this huge milestone, 25 years, what does the future hold for the Bellingham Festival of Music?
PALMER: It's my hope that the legacy we've established here will be carried forward in terms of the level of artistic accomplishment, and the continuing work that the festival does year-round in the community. Aiding public schools with their music programs and providing opportunities for talented youngsters in this area to have outlets to present their talents.
Bellingham, is an amazing community, both for the support it's given the festival over all these years, and also for the talent that it engenders right from this city. Even the violist of the Calidore Quartet grew up here and went to school.
DODHIA: Are there any moments or performances that stand out from the last 25 years as significant or really special to you?
PALMER: Last year's Eroica Symphony comes to mind because it was fairly recent. That's a piece I've been doing for decades, as any conductor would. It's a very deep, very profound, and a difficult work from many standpoints. I felt like that year we pretty much hit it on the nail. It's not often that one speaks of being proud of one's performance, but I think this one really made it happen.
I'm also enjoying working with the younger generation. Stefan Jackiw and Simone Porter join us to help celebrate our 25th anniversary this year, and the fabulous Calidore String Quartet, which is our string quartet in residence. They are taking the chamber music world by storm. They've pretty much won every award and grant you could possibly win. We've actually commissioned some works for them to do. That's also very something very special.
DODHIA: One more question just for fun. If you would meet up with any composer from any era for lunch, who would it be?
PALMER: Though he had a difficult side to his personality, I think I would have enjoyed knowing Gustav Mahler because he was a great composer and a great conductor. He had an incredible passion for the art. I teach conducting, and I say to my students at the very beginning, "If you're not willing to give up your life to this don't do it," because it requires that. You have to give yourself totally to it.