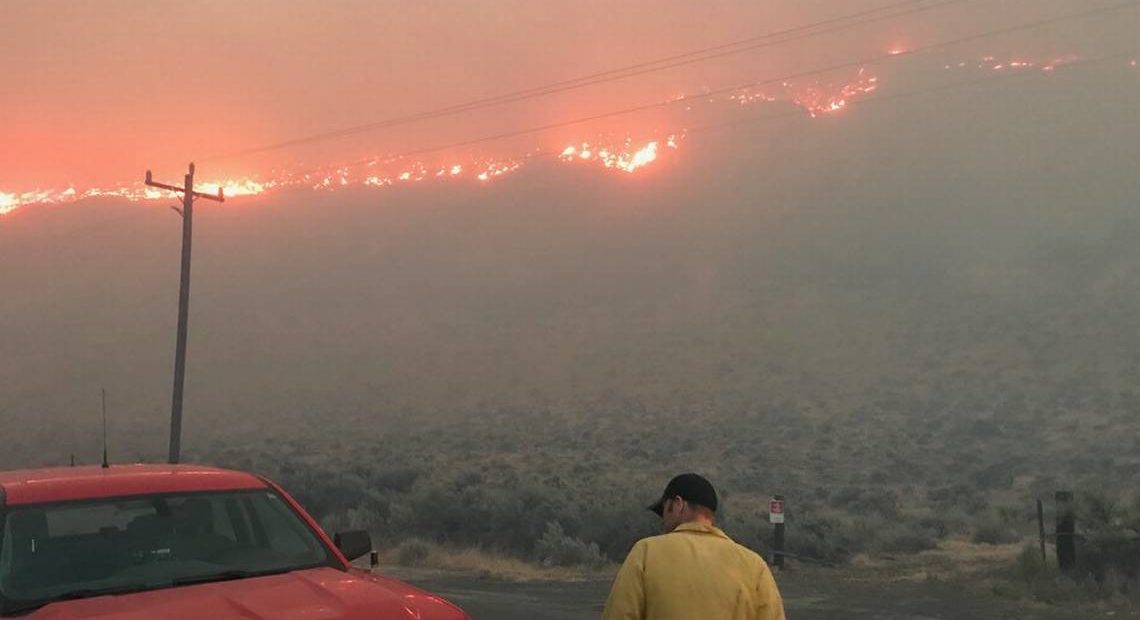 UPDATES: Central Washington Fires Make Travel Tough In Vantage – Ellensburg Corridor
BY ANNA KING & SCOTT LEADINGHAM
Three major wildfires are burning in central Washington near the Columbia River in Kittitas and Grant counties. And the fires could make getting to a big three-day Phish concert at the Gorge Amphitheater more difficult.
UPDATE, Friday, July 20, 10 p.m.: All eastbound and westbound lanes of I-90 are back open between Vantage and Kittitas, according to the Washington Department of Transportation and State Patrol.
All I-90 eastbound lanes are open from MP 115 (Kittitas). The eastbound Ryegrass rest area (MP 126) will remained closed. Please use caution if you observe fire crews working on or near the shoulder of the roadway. https://t.co/o7DW5zIizW

— Trooper Brian Moore (@wspd6pio) July 21, 2018
BOYLSTON FIRE (EAST OF ELLENSBURG)
The so-called Boylston Fire is burning east of Ellensburg and had closed I-90 eastbound between Kittitas and Vantage. One eastbound lane is now open as of 4 p.m. Friday.
Westbound I-90 lanes were reopened Friday morning after being closed Thursday afternoon through the night. The Vantage Highway is open as an alternative route.
It marks the third time in two weeks lanes of I-90 between Vantage and Kittitas have closed due to fire activity in the area.
Opening delayed for another 15-20 minutes (approx. 3:50 pm). Thanks for your patience. We want to do this as safely as possible. https://t.co/oWPIZICrDK

— Trooper Brian Moore (@wspd6pio) July 20, 2018
Last week, most of Vantage had to evacuate east across the Columbia River due to another fire.
So far, the Boylston fire has charred an estimated 70,000 acres with expected growth on the U.S. military's Yakima Training Center.
BUCKSHOT FIRE (NEAR MATTAWA)
Another fire is burning nearby Mattawa in the small Columbia River community of Desert Aire in Grant County.
The Buckshot Fire has burned at least 1,000 acres as of Friday afternoon.
L-ROAD (VERNITA BRIDGE/HANFORD REACH)
Yet another fire nearby is burning a little further south along the Columbia River at the Vernita Bridge. That fire started across the river from the Hanford nuclear cleanup site. Called the L-Road Fire, it's burnt nearly 30,000 acres as of Friday afternoon and had spread to the Hanford Reach National Monument.
Fire officials say winds were lighter Friday compared to yesterday when the fires started and spread quickly. But they're still concerned because the sagebrush and grassland fuels are so dried out.