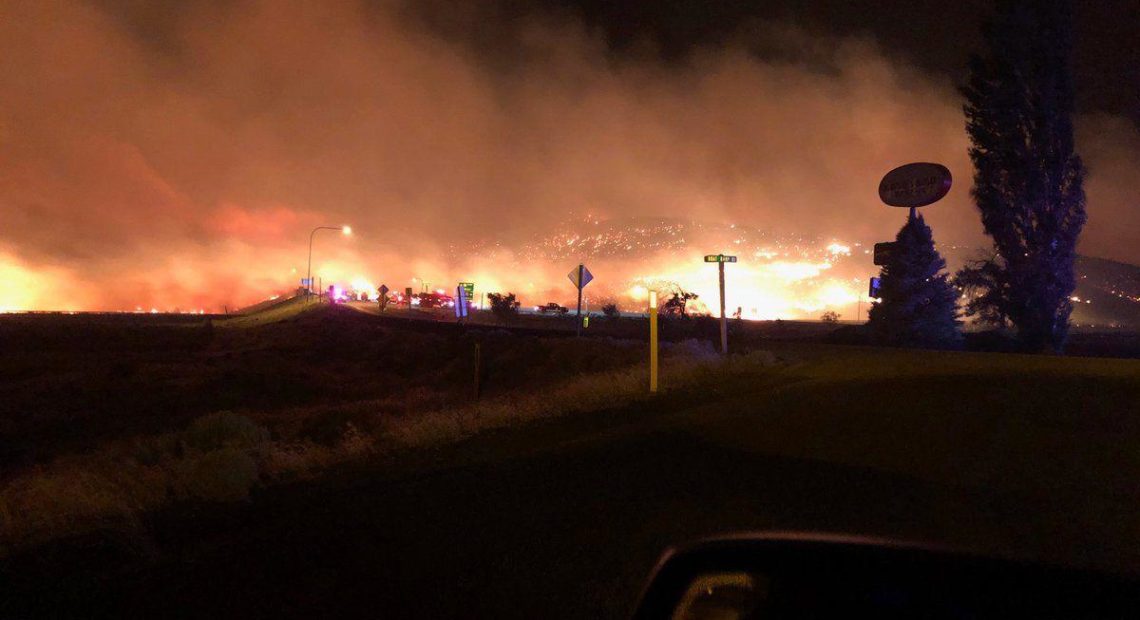 Resources Stretched Thin As Northwest Fire Season Intensifies; Pacific Crest Trail Closed In Places
Fire officials say this year is on par with 2014 and 2015 – two of the worst seasons on record in the Northwest. Things are ramping up nearly a month earlier than previous years, and resources are stretched thin.
In Washington alone, nearly 95 percent of the state is facing high or extremely high fire danger according to the Department of Natural Resources. Three quarters of the personnel who work permanent or seasonal fire jobs for the department are already assigned to fires.
Governor Jay Inslee declared a statewide emergency Tuesday, so the state could call on the National Guard for help.
The Washington National Guard has since stationed two Black Hawk helicopters at Fairchild Air Force Base near Spokane to aid the firefighting efforts.
Prep work has begun for @WANationalGuard helicopter crews as they load up and paint helicopters for activation to the #SheepCreekFire #wawildfire north of #Spokane pic.twitter.com/FueZOU2svn

— WA National Guard (@WANationalGuard) July 31, 2018
In Oregon, things aren't much different. There are at least four fires that have grown beyond 20,000 acres in the last week. Air quality from smoke across southern Oregon has caused unhealthy conditions.
Rachel Pawlitz is the public affairs officer for the Columbia River Gorge National Scenic Area.
"We're now officially at Preparedness Level Five," she said. "Which is an indication of how many resources are available to help out on major fires and incidents."
Pawlitz said resources are already taxed.
"It is just really early in the season for us to be seeing this."
The Northwest Interagency Coordination Center is tracking at least 21 large fires in Washington and Oregon, with additional ones of concern in Idaho and southern British Columbia. Currently the fire are all fully staffed. NICC spokesperson Carol Connelly said those firefighters will be re-assigned as new fires start.
"We're kind of doing like a lend-lease type of situation," Connelly said. "If one fire needs a hot shot crew for an operational period, then another fire will loan them that crew to get their mission done."
Connelly said the public will start to see more outreach in an attempt to limit the number of human-caused fires.
To date, Oregon has seen more than 600 wildfires this year, and close to 75 percent of them have been human caused.
In Washington, people are responsible for 85 percent of wildfires. According to the state Department of Natural Resources, more than half of those are started intentionally or due to negligence.
"It's not just about putting a campfire out," said Connelly with the Northwest Coordination Center. "It's just about being smart. Sparks from a drag chain of towing a boat can start a fire. There's lots of different things that can happen."
Burn bans have been issued in every county in Washington.  Nearly all state-managed lands in Oregon are facing a level of significant fire potential.
MILEPOST 90 FIRE – Columbia River Gorge (Washington Side)
One fire is burning at least 14,000 acres and was about 60 percent contained Wednesday night near the small community of Wishram on the Washington side of the Columbia River Gorge east of The Dalles.
The Milepost 90 fire had cause evacuations in the central Gorge around Wishram and the Maryhill Winery and concert venue.
It started Tuesday, July 31, leaving a wide swath of charred wheat and brush land around the Columbia River Gorge National Scenic Area.
A Red Cross shelter had been set up at Goldendale High School for at those evacuated, which at one point Wednesday was nearly houses.
The owners of the popular Maryhill Winery and concert venue in the Columbia River Gorge had a close call early Wednesday.
These photos come from Craig Leuthold, owner of the Maryhill Winery. They show the #MilePost90Fire as it reached the top of a nearby ridge line. The fire reached the edge of his vineyard, but he says nothing was damaged. #LiveOnK2 pic.twitter.com/ODgnrHMFWr

— Keaton Thomas (@keaton_thomas) August 1, 2018
Maryhill churns out about 80,000 cases of wine per year and hosts more than 10,000 people for concerts each summer.
Craig Leuthold said around 10 p.m. Tuesday, the fire crested the hill behind the winery, and things started to get really scary.
"It looked like lava flowing down the hill," Leuthold said. "It was so dramatic because it was just this rolling wall of flame coming down the hillside and it literally just looked like the face of a lava stream."
Leuthold owns Maryhill and lives on the property. He says soon after, firefighters arrived and did a back burn to help protect his winery. That worked, and on Wednesday afternoon his winery, vines and equipment were all OK.
MIRIAM FIRE (White Pass – Highway 12)
Further north, in Washington's south-central Cascades, a fire near White Pass close to Highway 12 caused four summer camps to evacuate Tuesday evening.
While the level three "Get Out Now" evacuations were precautionary, 400 kids were transported with help from the Naches School District near Yakima; 25 adults from the camp staffs were also evacuated.
Officials believe the so-called Miriam Fire began with a lightning strike during a storm the previous weekend. The fire is burning through conifer forest with a lot of dead wood, in steep, rugged terrain that's hard for fire crews to access. By Wednesday afternoon it had burned an estimated 240 acres and was zero percent contained.
Nancy Jones with the U.S. Forests Service reminds the public that the Okanogan-Wenatchee National Forest has a campfire and outdoor burning ban in effect.
For hikers on the popular Pacific Crest Trail, which crosses Highway 12 at White Pass and ascends into the Goat Rocks Wilderness where the fire is burning, there's a detour with more information available from the U.S. Forest Service.
Another fire, in Washington's North Cascades, was affecting trails and blocking hikers on the northern section of the Pacific Crest Trail between Rainy Pass and Cutthroat Pass. That fire, burning in heavy timber near Highway 20 about 13 miles west of Mazama, had burned about 25 acres as of Wednesday.
Reporting contributed by Emily Schwing in Spokane, Anna King in Richland and Esmy Jimenez in Yakima.