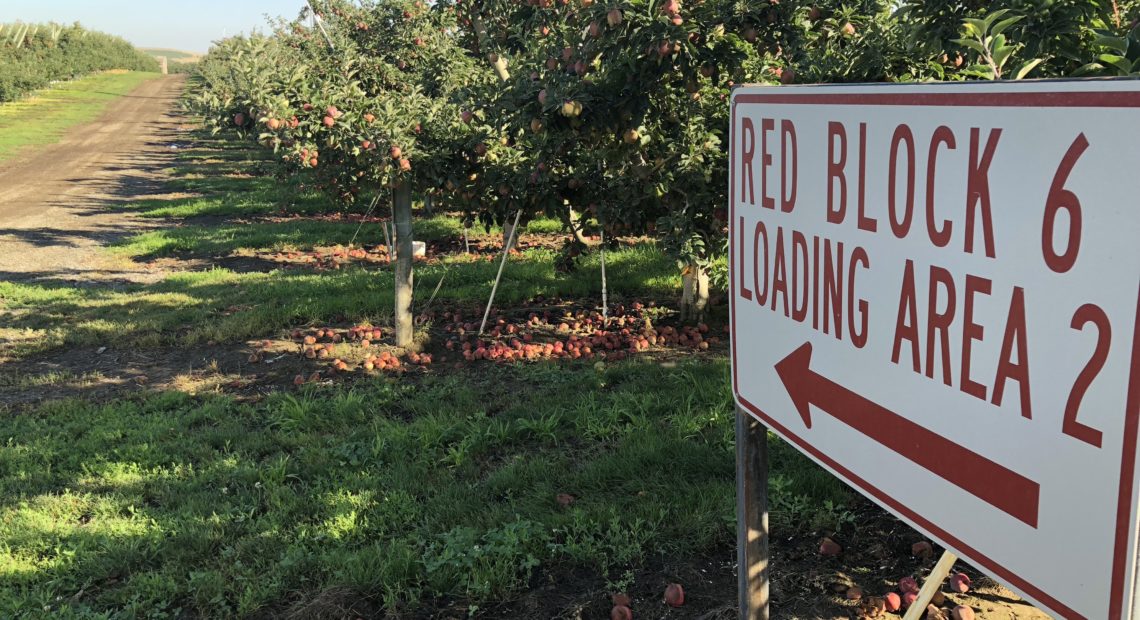 India Loves Washington's Red Delicious, But New Tariffs May Upset The Export Apple Cart
At Rooster Ranch outside of Othello, the apple harvest is nearly here.
Rolando Martin walks through a massive block of Red Delicious apples. He supervises this orchard, and several others around the Columbia Basin. In the morning shade, he reaches out to gingerly hold one apple that catches his eye.
"The Coca Cola bottle," Martin explains. "This is what you want to see: typy-ness. This is a typy-Red Delicious. So a little elongated, nice broad shoulders."
He means the more the apples look like a Coke bottle, the more money they make.
Washington state now ships more apples to India than nearly anywhere else, besides Mexico. For last season, which runs roughly August to August every year, Washington shipped 7.9 million cartons of apples to India, mostly Red Delicious. And that's about 70 percent more than the season before.
But this month, India may impose retaliatory tariffs on American products – including apples. And that could upset the export apple cart.
A Good Export
Red Delicious is a good export apple because it grows easily and handles well for shipping. But it's sort of at the bottom of the barrel for prices.
"The last few years it's been hard to make money off Red Delicious," Martin says. "Having less market and an abundance of fruit is not good."
In India, Red Delicious is highly desirable for several reasons. Red is an auspicious color in India, so apples are often given as gifts. And Red Delicious is similar to the variety of apples that India grows, so consumers are used to it. And Washington's iconic apple travels well. When it reaches open-air markets or road-side stands, it can last several days without refrigeration.
"That is a huge advantage compared to any other apple or variety," says Sumit Saran, the top marketer for the Washington Apple Commission in India.
Saran says if India ends up imposing a 25 percent tariff, on top of some of the tariffs already in place, it will hurt Washington growers. He says there's no way to make it up, and it will likely push a lot of apples back on the domestic market or to other export markets, lowering prices.
Saran says importers and fruit vendors in India are nervous.
"There is, of course, worry, and people are anxiously waiting for a solution."
Piling On
Todd Fryover says he and the Washington Apple Commission that he leads as president are very concerned about the potential tariff being imposed anytime soon.
Fryover, who represents the state's growers domestically and abroad, says there are already tariffs on Washington apples going to Mexico and China. And if India piles on, that will mean half of all Washington apple exports will have new tariffs.
And Washington growers are expecting a good crop this year. But Fryover says most of the largely conservative apple farmers might not be ready for a lower price per bushel this fall.
"I think that from the grower community standpoint, I don't think (farmers) know the specifics," Fryover says. "So they're not talking about India and what the impact is going to be. Or they don't really realize it's such an impact to Red Delicious alone."
Washington farmers have tended this upcoming crop for nearly a year: pruning, pruning again, pollination, spraying, thinning the fruit – and now comes harvest.
But with more tariffs possible, it's not quite clear if these ripening Red Delicious will be a profit or a loss.