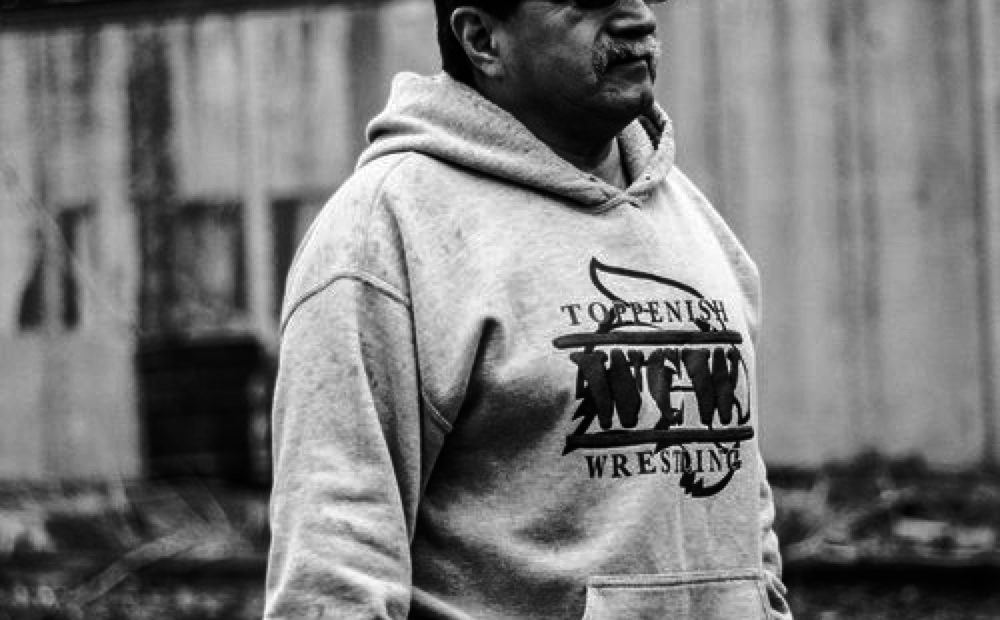 Fresh NW Voices: Armed Educators
Student Producers:
Thomas Amato | Shay Dingfelder | Jacob Granneman
At a tiny nook near a local highway, Superintendent John Cerna pattered a blank white canvas will bullet holes from his Taurus Millennium G2 pistol.
Equipped with ear plugs and vests, Cerna led a brief gun safety course to two others.
Keep your finger off the trigger.
Point the gun down.
Be aware of your surrounding.
"I believe we're one of the safest school districts in the country," said Cerna, superintendent of the Toppenish School District.
Toppenish is one of just a few districts in the state of Washington in which armed administrators walk the grounds. The Yakama Indian Reservation, within which Toppenish lies, grants the school district the power to implement such policy, according to the Washington State Office of Superintendent of Public Instruction.
As the country debates how to protect students, Toppenish has been a tiny experiment in what may has become a national issue: arming employees in schools. President Donald Trump supports the idea, which has been opposed by the majority of members of the National Educators Association. Seventy-four percent of its educators oppose arming teachers and school staff, according to a new poll commissioned by NEA.
In 2014, 13 administrators volunteered to carry concealed weapons under a new policy Cerna and the school board initiated. After six months of training, those administrators were carrying firearms on the Toppenish campuses, but the district does not publicly identify any of them except Cerna. The decision began to attract media attention in 2015.
"We weren't looking for any publicity," Cerna said. "The last thing I wanted to do was bring attention to Toppenish. Once it got out there, we got more attention than we ever wanted."
From the outside looking in, Toppenish High School doesn't look much different than any other high school. In fact, from the inside, it doesn't look much different either.
While class was in session, Cerna walked two cameramen and a reporter around the premises. There is a plaque in the attendance office acknowledging stellar test scores. A trophy case carrying football and wrestling state championship trophies stretches across the main hallway. In the library, a leadership class was hard at work preparing for an upcoming spirit rally.
Principal Shawn Myers said he and Cerna were talking earlier about the teachers getting raises, which he said was long overdue. After that, he spoke about the different engineering courses the school provides. It was a normal day for an almost-normal school.
Cerna said it was the Sandy Hook shooting in 2012 that inspired him to create a policy allowing administrators to carry concealed pistols on a volunteer basis. The Toppenish School District Firearms Policy and Procedure is a nine-page policy that covers the rules and regulations for firearm carriers, as well as what kinds of guns, ammunition and holsters they are allowed to use.
Among a myriad of other regulations, administrators carry some form of a 9-mm handgun. Cerna said he carries either a Taurus or Diamondback 9mm, but most administrators typically go with a Glock. Long guns are approved and available for use by security, but it is mandatory they be stored in an approved gun safe during school hours.
According to the policy, administrators looking to carry must "undergo an extensive background check that includes fingerprinting, polygraph and psychological screening." All equipment used for school security activities are inspected annually. Training standards for Toppenish School District must meet or exceed the standards of the local municipal police department, and live fire situations that require shoot-don't-shoot decision making are required. All staff that carry must train and qualify at least three times a year.
"We train twice a month for two hours," Cerna said. "Our people shoot pretty well."
At a local gun range last month, Cerna and others trained on safety and accuracy. Cerna followed verbal instructions from another licensed carrier as they shot in synchronized fashion toward the targets. Cerna would fire a couple of rounds, lower his weapon, side-step to the right in accordance with the command, re-aim and shoot again. On a rainy, muddy day in Toppenish, the white canvas didn't stand a chance.
Cerna said with the recent Stoneman Douglas Shooting, his policy has gained traction across the state. He said that even Washington Attorney General Bob Ferguson has asked for a copy.
"I'm a sharing person," Cerna said. "I've had hundreds of people contact us and I've given our policy away because it's virtually bullet-proof."
Despite feeling the schools he oversees are safe, Cerna said he would rather not have to carry a firearm to school. He said he is open to other solutions.
"Until someone comes up with a better idea to keep our school safe, it's great," Cerna said. "I really don't want to be packing a pistol to keep our kids safe. For now, until the state legislature or federal government comes up with something to keep our schools safe, we're going to do what we do."
Cerna said he believes the move to arm administrators nationwide is going to happen quickly.
"There's going to be more shootings unfortunately," Cerna said. "Until schools and districts harden their campuses … until we take those measures nationally, our kids aren't going to be safe."