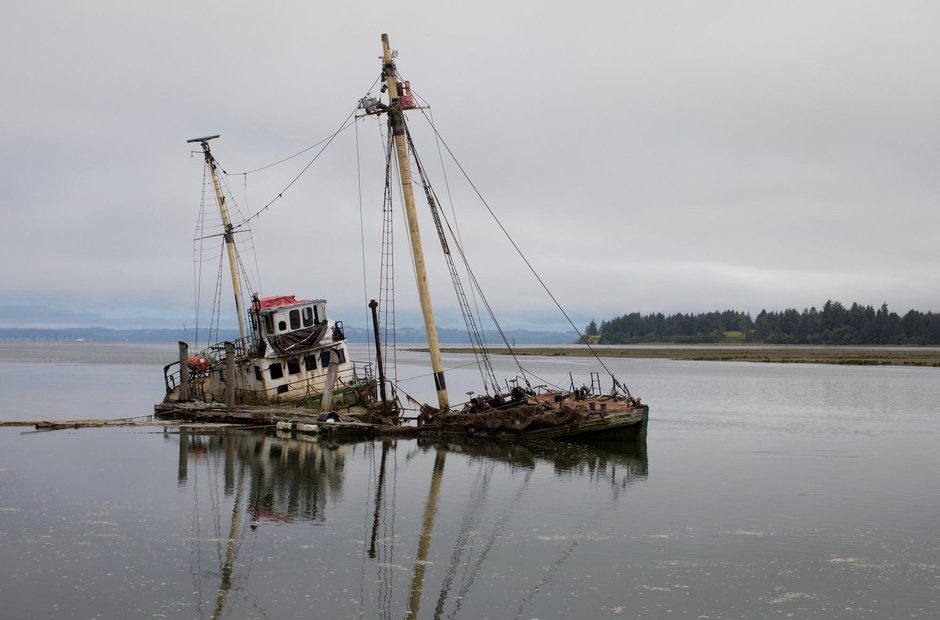 Recycling Washington Ghost Ships Could Turn Trash Into Treasure
BY KNUTE BERGER/CROSSCUT
When a ship owner's dreams die, the vessel may end up as a pollution source. DNR wants to spur cleanups and rural jobs.
On the banks of the Hoquiam River in southwestern Washington, a mostly sunken vessel lies along a bank at an angle with only its mast and the top of its pilothouse marking its resting place. This stretch of river is a misty, placid working patch of water marked with boats, boatyards and Highway 101 bridges. The derelict we're looking at is a wooden fishing boat called the Lady Grace, which turned 90 years old this year. Someone wanted to save it, but age caught up.
This is an example of where owning an old boat ends with reality, a case of folks with "great dreams and aspirations, and no money," says Troy Wood, the man in charge of dealing with derelict vessels in Washington. The unenviable job falls to the Department of Natural Resources, which manages 2.4 million acres of state-owned aquatic lands.
There's an old saying that a boat is simply a hole in the water into which you dump your cash. They can be cheap to buy, but are expensive to maintain, insure, berth, repair and operate. They age, they weather, they often sink.
When they do, they create another kind of money hole: a maritime cleanup project often leaves taxpayers with the bill for removal. It's a problem around the state, but here in southwest Washington there's a plan afoot to deal with derelicts like the Lady Grace. The solution: recycling.
Vessels of all kinds, from dinghies to cruisers, from fishing boats to icebreakers, are often abandoned on public land — commonly on the state-owned shorelines, river and lake bottoms, and tidelands. These abandoned and derelict vessels leak polluting fuels, they scour the bottom and degrade habitat, let loose contaminants like lead paint and asbestos, and they can pose navigational hazards. DNR counts about 160 such vessels across the state — not counting hundreds more on private property or those working their way toward derelict-hood — boats Wood jokingly describes as "future customers." Removing derelicts can be pricey. It can cost from $20,000 to $2 million to raise and dispose of a single boat depending on where it is, how big, and what kinds of hazards it poses. If a dive team is required, that alone can cost $700 per hour. All that is in addition to the costs to the Department of Ecology and the Coast Guard who pump out the fuel when the boat first goes down in order to minimize spills.
DNR gets involved when boats are abandoned on public lands. They have funds to help pay for derelict removal to the tune of about $2.5 million per biennium. Sometimes the Legislature will kick in an appropriation for more funds for an urgent and expensive clean-up. In 2013, some $4.5 million was approved for removing multiple large sunken ships from Tacoma's Hylebos waterway. But such budgets are set only every two years.
DNR's Wood tries to track down the owners of derelicts, which is sometimes impossible. Some boats were never registered, or the ownership chain is unclear, sometimes identifying marks have been removed. Some people just won't communicate or cooperate. Some people dump boats on purpose and run from responsibility.
Even where owners are known and cooperative, the task of removal can be tricky. Boats can fall apart when moved and release additional pollutants.
Every boat has its story, Wood says. There's a concentration of derelicts on Puget Sound where the population center is, but you can find them across the state, even on Eastern Washington's lakes and rivers. Sometimes, someone buys a boat on its last legs for a year or two of commercial fishing, then lets it sink at a marina. Sometimes owners are amateur preservationists intent on saving a chunk of history — think of the saga of the old streamlined ferry Kalakala which traveled from port-to-port before being scrapped.
Once a sinking derelict is raised, how do you dispose of it?
It turns out that challenge is well-illustrated in the complex waterways along Washington's Pacific Ocean coast in places like Hoquiam, Willapa Bay and Ilwaco.
After visiting the Lady Grace, we drove down to the Palix River, which feeds into Willapa Bay east of the Long Beach peninsula. Here is one of the most interesting and dangerous derelicts. Along the river bank, just above the Willapa Bay's vast and productive oyster beds, is the 125-foot, 300-ton Hero, its decks awash, most of its valuables stripped away. The Hero was built in 1968 as an Antarctic research vessel — America's last wooden-hulled icebreaker. Along with diesel engines it was fitted with sails for "silent