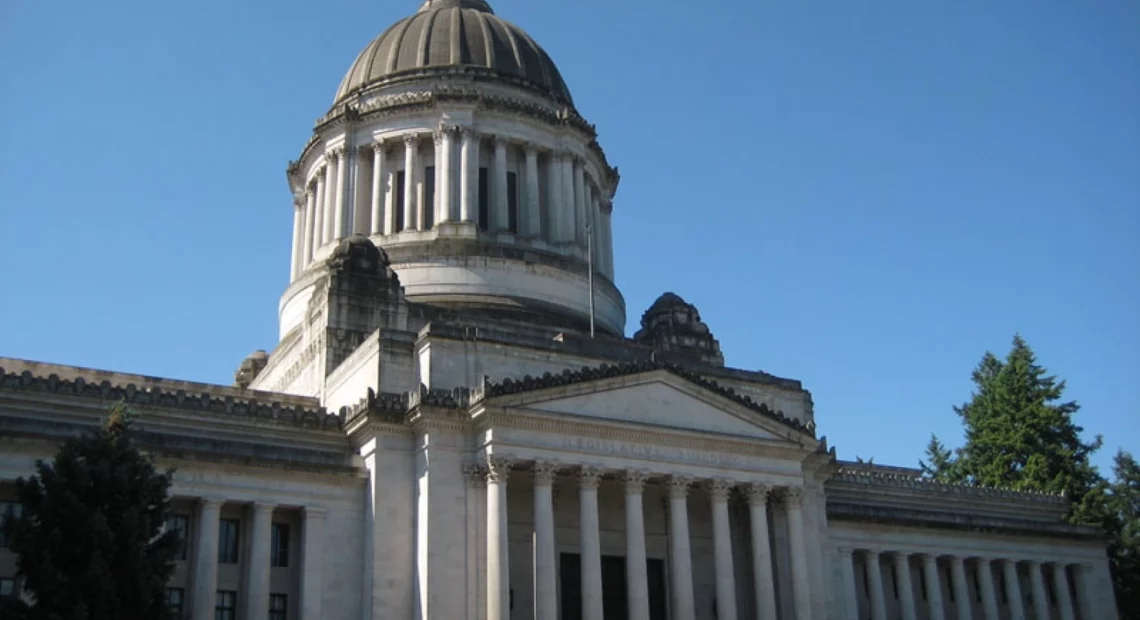 WA lawmakers pass housing, firearm bills ahead of cutoff, leave rent control, recycling bills behind
By Jeanie Lindsay
Washington lawmakers are getting back into the swing of working on legislation in committees following a key cutoff deadline. Wednesday marked the final day for legislators to pass bills from the chamber they originated in, meaning most bills that didn't receive a vote on the floor will no longer be considered this session.
Legislative leaders are celebrating bipartisan progress on bills to increase the supply of housing and support workforce development, particularly among nurses. House Speaker Laurie Jinkins (D-Tacoma) said she's pleased with how the week and a half of full time floor action went, highlighting the high number of bills passed — many with bipartisan support.
"One of the things I asked at the beginning of the session – I asked my caucus – was to focus on common ground," Jinkins said.
But there's a notable split on policy wins and losses among Democrats and Republicans when it comes to bills on topics like public safety, abortion and the environment.
Public safety
Lawmakers took strong opposing stances along party lines as they weighed new regulations on gun sales. In the House, a bill to restrict the use and sale of semiautomatic rifles and other high capacity firearms advanced, as well as a bill requiring safety training and a 10-day waiting period for all gun sales.
Meanwhile, the Senate approved a bill to create legal liability for gun sellers and manufacturers if weapons they deal are used illegally later.
Police pursuits have been a sticking point all session long, with Democratic leadership moving slowly on legislation that aims to loosen the limits on when police can or can't chase vehicles. On the final day before the cutoff, the Senate approved a bill slightly easing the parameters around police pursuits, which keeps the debate alive. Republicans say that bill doesn't go far enough, and are hoping it can be changed even more as it goes through the House.
"We're on a decent track when it comes to public safety – still much work to be done but the process is working after some hiccups," said Senate Republican leader John Braun (R-Centralia).
Despite support from both sides of the aisle, some traffic safety measures didn't make it through, including a proposal to lower the breathalyzer threshold to convict someone for drunk driving. Traffic safety measures that are still alive include one to authorize photo radar speed enforcement in highway work zones. State senators also voted by a wide margin to extend up to the age of 25 the requirement to complete a driver's education course to get a license.
A bill to enhance drug possession penalties and build up the state's infrastructure for addiction treatment is another high profile bill still moving forward. Senate Bill 5536 comes in the wake of the so-called "Blake Decision" made by the state supreme court in 2021, which ruled that the state's felony drug possession law was unconstitutional. Lawmakers quickly passed minor drug possession penalties the following year that some said didn't go far enough. This year's bill increases penalties and pairs them with a number of changes to create more opportunities for drug treatment and diversion from the court system.
Lawmakers are also setting the stage to legalize the use of psilocybin – a chemical compound found in "magic mushrooms." The Senate bill passed with some key changes compared to the version that was initially introduced. Instead of immediately allowing some use of psilocybin, the bill would create a task force and work group for the state to set the stage for its use in therapy, something lawmakers have said they'll likely build on in the next year or two.
Housing and the environment
Meanwhile, lawmakers have dubbed this session the "big one" for housing, with a bipartisan and bicameral coalition of legislators working to pass a suite of bills to boost the number of housing units available in the state. Bills with widespread support would ease regulations for lot-splitting, building Accessory Dwelling Units, and diversifying the types of homes that can be built in different neighborhoods.
"This is a good year for housing," said House Republican Leader J.T. Wilcox (R-Yelm)."I think both sides had a commitment to getting the bills out that would build livable space."
Democrats also proposed several bills aiming to control or limit rent increases, but despite ongoing interest, none of the rent control bills passed before the deadline. Rep. Joe Fitzgibbon (D-West Seattle) and other Democrats say this year's debate could lay the groundwork for action in future years instead.
"It's the kind of thing that is a really good starting point for a more successful effort on rent regulation in a future year," Fitzgibbon said.
Environmental protections are another dividing line among lawmakers, with Republicans raising concerns that a climate change planning bill passed by the House will slow housing construction and undo some of the effort to streamline building regulations.
A bill to protect Southern Resident Orca pods that passed the Senate has split lawmakers too. It would increase the size of the no-boat buffer zone around the endangered whales, requiring whale watchers and other boaters to stay at least 1,000 yards away from them. Lawmakers opposed to the bill worry the distance is too far to see the whales at all and that the distance would be difficult to gauge – it's about a half a nautical mile. Meanwhile, supporters say it's a big step to protect the whales from human disruptions to their feeding and hunting patterns.
Legislation to overhaul the state's recycling system never came to the floor for a vote, despite it making progress through the committee vetting process. The bill, commonly referred to as the WRAP Act, was ultimately left to die at the deadline.
Healthcare and education funding
Division remains within the realm of healthcare as well, as Democrats push forward with bills to protect abortion access and gender-affirming care. Senate Bill 5599 would allow shelters to call a state agency instead of a child's parents if they run away seeking gender affirming care or reproductive health care services, something overwhelmingly opposed by Republicans. While Democrats had hoped to pass legislation that would amend the state constitution to protect abortion, that effort ultimately didn't gain enough traction to come to fruition. Instead, Democrats have approved bills to protect Washington providers and patients from out of state lawsuits on abortion or gender-affirming health care access, as well as another piece of legislation to reduce the cost to patients seeking abortion services.
Lawmakers continue focusing on building up the state's workforce of nurses with a group of bills taking aim at the issue as hospitals struggle with shortages. Among them is a hospital nurse staffing bill that was negotiated at length to resolve disagreements between nurse unions and hospital administrators. A compromise version was passed by the Senate to strengthen the state's oversight and enforcement of hospital nursing plans.
Special education and the funding for it has also been a key point of conversation in the legislature. A bill passed unanimously by the Senate will create more oversight and accountability for nonpublic agencies that provide special education services, following an investigation by The Seattle Times and ProPublica. Lawmakers have also moved forward with a couple of bills to increase state special education funding sent to schools.
Several other bills remain on the path to becoming law, like legislation to reshape the state's handling of domestic violence, remove the statute of limitations for child sex abuse civil cases, and provide more students free meals at school. In the coming weeks lawmakers will also deliberate revenue proposals, including a proposed wealth tax. The House heard a nearly identical bill in mid-February. Senate Majority Leader Andy Billig (D-Spokane) says there's a lot of energy around the wealth tax measure.
"There is certainly among Democrats – and probably broader than that – just unanimous opinion that a fundamental flaw in our state's tax code is that it is regressive," Billig said.
Republicans and Democrats in both chambers will also unveil their budget proposals following a state revenue forecast later this month.