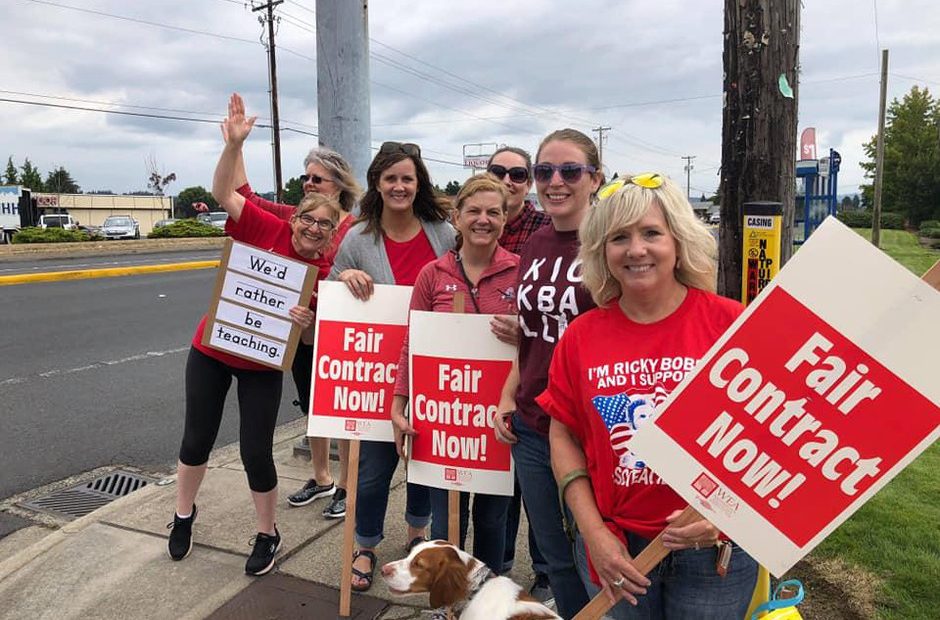 Judge Orders Striking Longview Teachers To Return To Work
A Cowlitz County Superior Court judge has ordered striking Longview, Washington, teachers and other district staff back to work. The unions haven't yet decided whether they'll comply.
Longview teachers have been on picket linessince before the district's scheduled school start date of Aug. 29. That's meant the district's 6,700 students are not currently in school.
"Today's decision is a step in the right direction to refocus our collective efforts on the children we serve," Longview Public Schools Superintendent Dan Zorn said in a statement. "By getting school back in session, we are fulfilling our duty to provide a consistent and quality education for kids in our community."
Washington law says it's illegal for public employees to strike. Still, three unions that make up the bulk of the district's employees are all on strike.
Teachers in Evergreen and Battle Ground also remain on strike. Schools there remain closed and contract negotiations are on-going. Longview is the first school district in the Southwest Washington to take its teachers to court.
Ray Clift, president of the Longview Education Association that represents roughly 430 of the district's teachers, said the unions were disappointed in the judge's ruling, but also encouraged the judge didn't impose any fines against the unions.
"About 95 percent of our district right now is on strike," Clift said. "We think the district is kind of doing the bully move of trying to force people back (to work)."
The unions are scheduled to meet Sunday and vote about whether they'll comply with the judge's order and return to work. "They're the ones who decided to go on strike and they'll be the ones to decided whether they're going back," Clift said.
He added the district's decision to take the unions to court gets in the way of the bargaining. Still, the district says the mediation process is ongoing. It's currently offering teachers an 8.2 percent salary increase.
Teachers in school districts across Southwest Washington have been on strike over disagreements about pay raises following a decision last year by the Washington legislature to send an additional $1 billion to school districts, specifically for teacher pay. The legislature acted after a landmark ruling by the Washington Supreme Court, in a case called McCleary, which found the state was underfunding education.
The flurry of teachers strikes across Southwest Washington, which marked the beginning of this school year, has subsided in recent days.
On Thursday morning, Washougal teachers unanimously approved a new two-year contract where teachers will see a 23.6 percent increase in total pay. The district planned to start school Friday. Teachers in Hockinson, Vancouver, Ridgefield, Camas also ratified new contracts earlier this week.
In 2015, the Kelso School District used a similar court injunction against its teachers after a strike went on for eight days. Teachers continued to picket, even after a judge ruled in favor of the district.
OPB's Molly Solomon contributed to this article.