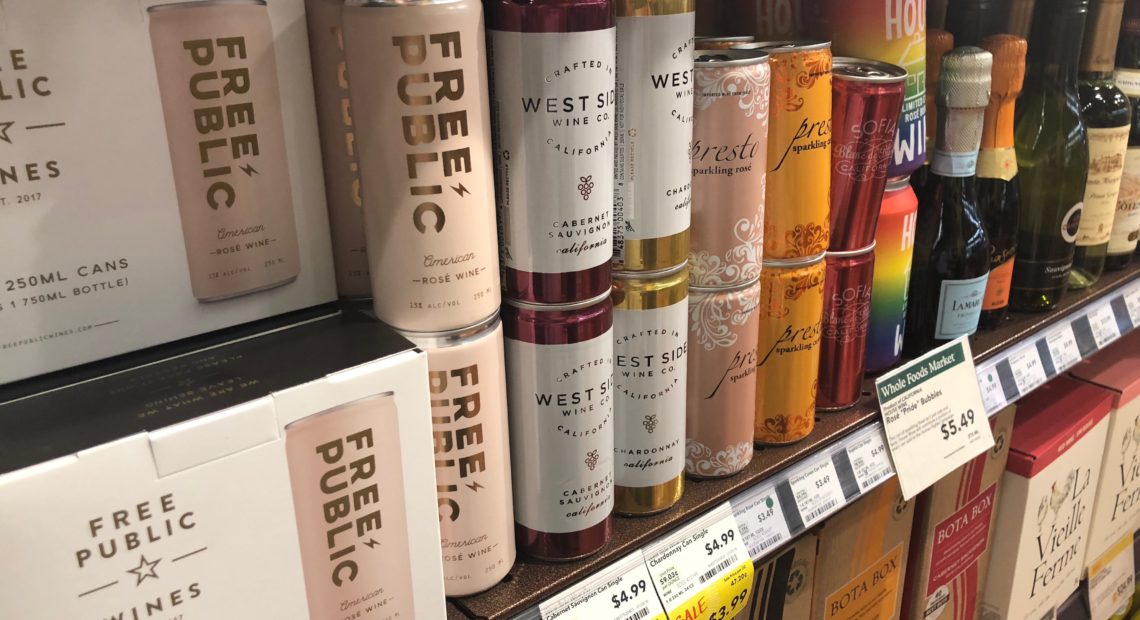 The 'Beerification' Of Northwest Wine: Putting It In Less-Fussy Cans
Many Northwest winemakers are trying to make wine a little less fussy by putting it in aluminum cans.
Some winemakers are calling it the "beerification" of wine. Sleek aluminum cans that look like a soda or Red Bull are popping up in hip Northwest restaurants or in local groceries.
"We're trying to tie the joy of a good wine to like the bloom of a flower," says Michael Etter, the president and creative brains behind Portland-based Free Public wines.
Winery owners like Etter are trying to appeal to a different kind of consumer – one who's on the go but still wants a red, white or rosé. He wants his wines to show up in everywhere: concert venues, beach bonfires, art events.
He says his wines won't be tied to an estate vineyard or a specific terroir. And to heck with a stuffy tasting room, which he says "feels like a very 90s experience."
Free Public, and some other canned wines, aren't tethered to a specific winemaker, or vineyard. Rather, the makers buy surplus fermented juice from other wineries across the West, and then they can it.
Ryan Harms is one person doing a lot of that canning. He's excited to show off his new Sacmi filler-seamer, a critical piece of wine-canning equipment. It's only run a few times, and it glistens like a shiny European sports car. It's part of a new $3.5 million facility just built for his Union Wine Company outside Portland.
"This line has the ability to do 650 cans a minute," he says.
Harms was one of the first to put wine in cans about five years ago.  
"I think in the early days when we first launched wine in a can, it was the excitement that kept us going," Harms says.
He used to produce only a small amount of wine ahead of what he could sell, thinking that this might be a short-lived trend. But now, with the final parts still being soldered on his massive canning line, Harms says he's producing double the amount of canned wine as last year: 244,000 cases. And he plans to scale-up his company again this year. He's already shipping across the U.S. and internationally.
And other wine companies are crushing in close behind.
Sean Sullivan is a top Northwest wine expert and contributing editor to Wine Enthusiast magazine.
"One of the things I like about wine in a can, is it makes wine more accessible to people in a whole variety of different ways," Sullivan says.
He says cans might really appeal to a growing market of millennials now coming of age.
"They're less expensive wines, also you don't need a particular style of opener in order to get at the wine as you do with a traditional wine bottle," he says. "And so I think there is a great ease of use to them."
Sullivan thinks consumers might come around to cans faster than they did to boxed wines or screw-capped bottles.
Heavy-weights in the Northwest wine scene are also starting to can, including: Ste. Michelle Wine Estates, Pacific Rim, Goose Ridge and House Wine. And Sullivan says he thinks an increasing variety of Northwest wine brands will be canned up and available soon.
Copyright 2018 Northwest News Network