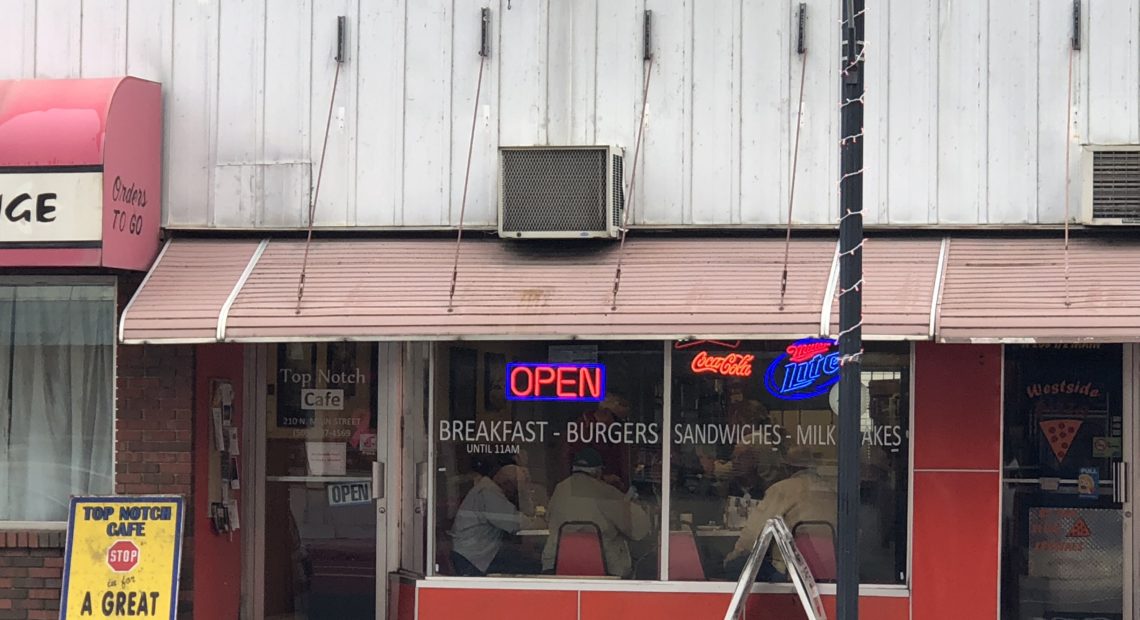 Black Coffee Served With Anticipation On Election Day In Eastern Washington Wheat County
At the Top Notch Café in Colfax, in Whitman County, Wash., eight retired farmers and small-town guys drink black coffee every morning.
Some travel near 100 miles round-trip just for the caffeine and chatter. On election day, plates overloaded with eggs, sausages, biscuits and waffles clatter onto a long table — and the guys dig in. Grit-stained cowboy hats and bright WSU Cougar sports caps tip low over the table as the hungry men scrape up their hash. They talk about Washington State University's upcoming football game, winter wheat and politics.
Chuck Lyman, a 73-year-old federal crop adjuster, says today he's hoping for red to wash over the country.
"A country that don't protect their borders can't be a country," Lyman says. "In my opinion. No, we need Trump and we need someone standing there at the border."
The men at this table range in age from 68 to 93. They're all Republican.
"I hope we don't end up in a civil war the way it's going with what you hear the rhetoric on the advertisements with with these candidates and what they're saying about each other," says Joe Henderson, 92, of Colfax. "I think you just have to close your ears and not listen to it. Don't believe everything they tell you."
Henderson forks down a full breakfast with two sausage patties. He's a retired John Deere tractor salesman. He says he hopes everyone votes. He thinks from the sounds of those around him, that this election is going to be a big turnout.
The men at this table say they want the best for their country and their small town in the middle of Washington's Palouse farm country. They've voted. Not much to do now, but wait. And be thankful for a recent half-inch of rain on the winter wheat surrounding town.