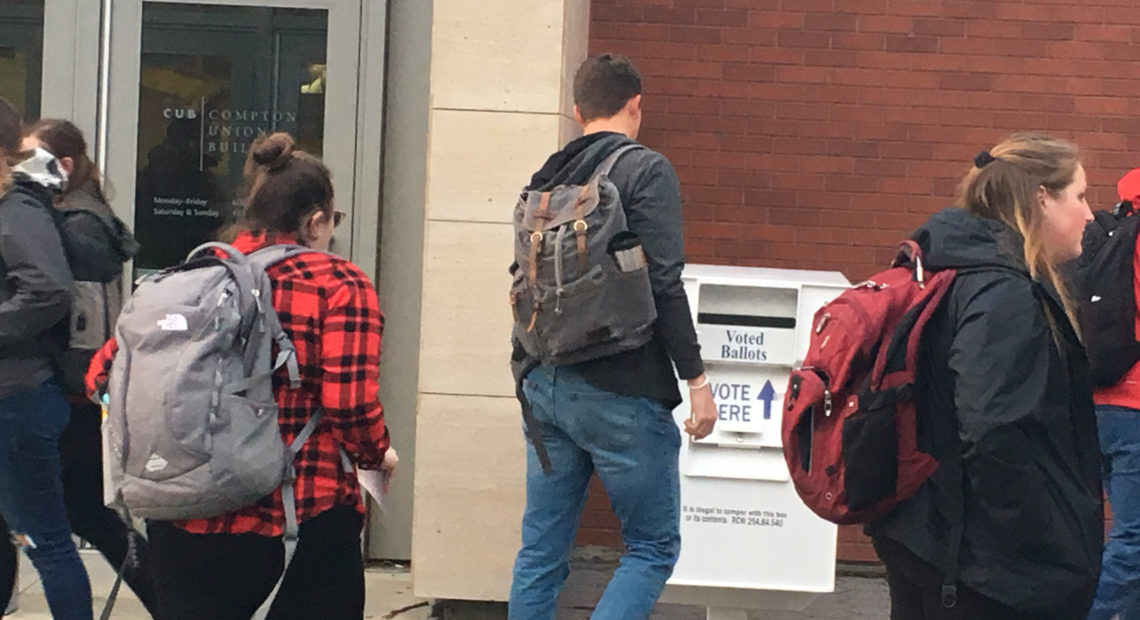 With Control Of U.S House At Stake, Eastern Washington Race Could Hinge On College Students
UPDATE, Nov. 6, 2018, 10 p.m.: Republican Congresswoman Cathy McMorris Rodgers has won reelection to her 5th District House seat. Democrat Lisa Brown conceded the race after 9 p.m. Tuesday night in Spokane.
ORIGINAL STORY:
Lisa Brown's campaign embarked on a campus tour in September, visiting colleges and universities throughout eastern Washington in an effort to register student voters in Washington's 5th Congressional District.
Brown fell 8,000 votes short of incumbent and fourth-ranking Republican House leader Cathy McMorris Rodgers in August's primary. But that was before tens of thousands of students returned to campuses across the district – a demographic that could play a crucial role in the race for the eastern Washington seat.
Political pollster Stuart Elway says younger voters – those up to age 35 – tend to favor Democrats. He said while they are enthusiastic and show up to rallies, they also typically vote at a much lower rate. He said this has been a constant source of frustration for Democrats, who can't get support to the polls in proportion with their numbers.
One thing Elway said could mobilize voters is content or discontent with the current president – or in the case of McMorris Rodgers – congressional leadership.
"If you're Lisa Brown, you are trying to do what you can to mobilize the student vote, they can definitely make a difference. By all accounts, it looks like it's a close race," Elway said. "If it's really down to a few thousand votes one way or the other, then young voters could make the difference."
WSU Young Democrats President Quinton Berkompas said their organization had 20 volunteers registering students on campus up until the October 8 deadline. He said they have an ongoing social media effort to ensure students take to the polls.
"Students have so many parts of their lives affected by the government because we're just getting our feet underneath us. Other people that are in their 50's and 60's, they might be voting at a higher rate, maybe they've lived here for 40 years, but they're more stable. They're not relying on the government as much to figure out where they're going," Berkompas said.
Berkompas said WSU student government turned had turned in over 2,100 paper registrations.
WSU College Republicans President Amir Rezamand said their organization did not take place in any large-scale voter registration drives.
Brown said, if elected, students will be at the top of her list and higher education is a crucial investment. She said students have the opportunity to determine the country's direction on everything from climate change to affordable higher education.
"Students have the option to register where they are going to school, and I think that is a very important opportunity they have because after all they are living in the community and we're not just talking about the national level here, but also local issues and statewide initiatives they can be a part of," Brown said.
With Brown needing to make up four points from the August primary, FiveThirtyEight is giving McMorris Rodgers a 75 percent chance to win.
McMorris Rodgers' campaign did not respond to requests for an interview.