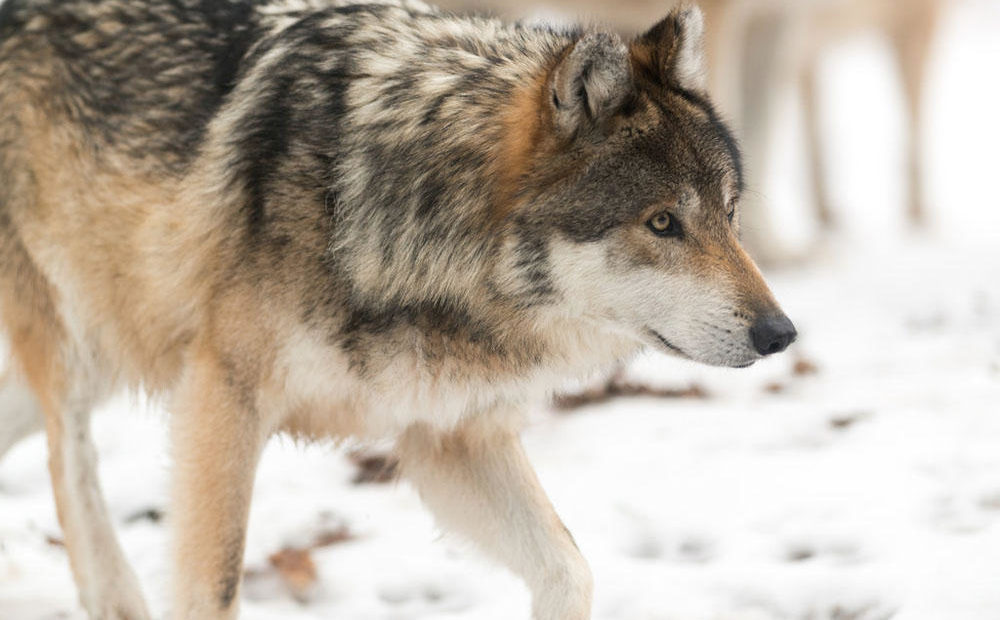 Conservationists Worry As U.S. House Votes To End Wolf Protections, Senate to Consider
The U.S. House passed a bill Friday that would end federal protections for gray wolves in the Lower 48 states. For wolves in the Northwest, that would mean protections fall to state agencies. Conservation groups say that could spell trouble for the controversial predators.
Conservation groups say wolves are on track to meet recovery goals in the Northwest — they're just not there yet. Rob Klavins, with Oregon Wild, said the state's wolf plan is outdated and inadequate.
"What we've seen with [the state's] wolf plan, is a plan that leads to more dead cows, more dead wolves, and more angry people. Instead of what we think our shared goals should be, which is less dead livestock, less dead wolves, less angry people, and killing wolves as an option of last resort," Klavins said.
Wolves are considered federally endangered in the western two-thirds of  Oregon and Washington.
An earlier budget rider in 2011 removed protections for gray wolves in the Northern Rockies. That group of wolves included those in the eastern third of Washington and Oregon, where most wolves are found. That was the first time Congress used legislation to delist a species.
In 2015, Oregon removed wolves from its list of endangered or threatened species that warrant state-level protections from activities such as hunting or habitat disturbances. In Washington, gray wolves are still considered endangered by the state.
Wildlife managers have more options to kill wolves that attack livestock where the federal protections are no longer in place.
Conservation groups have long said killing wolves that attack livestock worsens the problem.
"When you kill carnivores, you often make the problems you're trying to solve worse, especially when you're talking about an animal like wolves that have these complex social structures," Klavins said.
At the start of this year, Washington had 122 wolves, 22 packs, and 14 successful breeding pairs. In 2017, Oregon biologists reported 124 wolves, 12 packs, and 11 successful breeding pairs.
This bill would not allow groups to challenge it in court.
Traditionally, the process to delist threatened and endangered species is not a decision made by lawmakers, but by a scientific review from the U.S. Fish and Wildlife Service. The service is currently reviewing the status of gray wolves. It was supposed to issue a status update, "if appropriate," by the end of the year.
"This is a decision that should be made by science, not by lame-duck politicians who are desperate to please people who see our native wildlife as an impediment to easy profits," Klavins said.
Washington Republican Representatives Dan Newhouse and Cathy McMorris Rodgers, co-sponsored the bill.
"The recovery of the gray wolf is a success story for the Endangered Species Act, and the best available science must determine whether species remain listed," Newhouse said in a statement.
The representatives said states are better prepared to manage wolves and their longstanding controversy.
"By delisting the gray wolf, we can allow people in our state and community to use science-based management practices that will benefit both our endangered and native animals while protecting farmers and ranchers," McMorris Rodgers said in a statement.
Conservation groups also worry this bill could weaken the Endangered Species Act — and the protections it provides to other controversial species, like grizzly bears and greater sage grouse.
Since the 2011 budget rider that removed protections for some gray wolves, more than 350 pieces of legislation have attempted to remove endangered species protections, said Noah Greenwald, endangered species director for the Center for Biological Diversity.
"I think the Endangered Species Act got it right," Greenwald said. "If we allow Congress to step in and let politics dictate whether we let species survive or not, we're going to see a lot more species go extinct."
The bill now moves to the U.S. Senate.