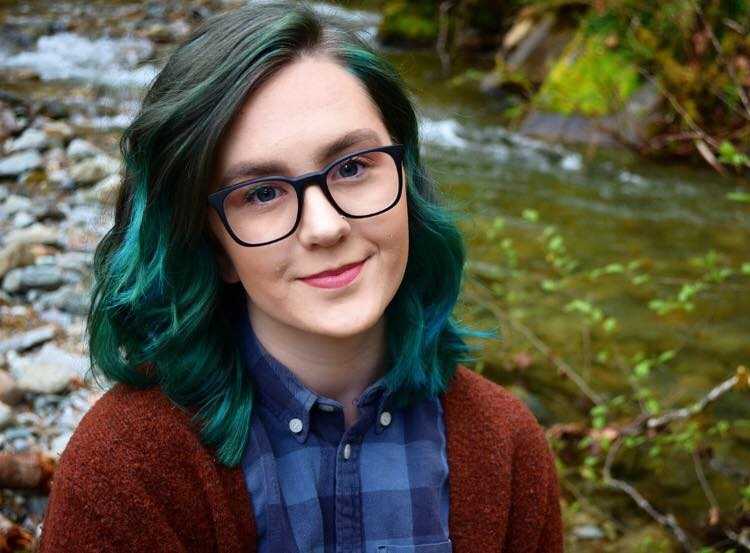 Pulled Into Poetry: Northwest Poet Savannah Slone Releases First Book
The old joke is about being a poet and not knowing it. When Savannah Slone started her undergraduate degree in creative writing, she resisted poetry.
"I was mapping out my classes, I requested that I take as few poetry classes as possible, as I hated poetry. I didn't understand it and it made me feel inferior," Slone said of her enrollment at Central Washington University in Ellensburg. "All of my attempts had left me feeling bad about myself, so I just wanted to opt out and dive further into fiction."
After finishing her degree in CWU's Professional and Creative Writing program and an MFA from Lindenwood University, the 23-year-old Slone is releasing her first chapbook, Hearing the Underwater, on January 4 with Finishing Line Press.
Having accepted the guidance of regional poet and CWU professor Maya Zeller, Slone re-engaged with poetry.
"Maya pulled me into the poetry world and it felt kind of enlightening, like a veil had been lifted from my eyes. I began writing loads of poems and haven't stopped since," she said.
Slone writes from her home in Skykomish, Wash., where she grew up, although she and her mother moved around the country in her youth.
"It's always strange returning at first, being so secluded. It feels like another world. A grocery store and movie theater-free world, at that," Slone said. "However, it is a gorgeous area, and it's hard to feel anything other than in awe of my surroundings. You get used to commuting anytime you need anything. It's always weird, but nice at the same time, to know every single person."
The natural beauty of her home has become vital to her poetry, just as vital to her being as raising her autistic son and living with her fiance, Tegan.
Slone's poem, loving her, captures the nature around her as well as her connection to Tegan:
endlessly celebratory breaths
the vinyl spin of your mermaid song.
chicory tucked tight into your mane
shaking hands with myself for the first time.
"There is a sort of silence that you don't get when you live elsewhere. There is a lot to observe and take-in in nature. And a lot of people from Seattle and other more metropolitan areas travel up this way to take a break from the noise and bustle to experience it," Slone said. "When I'm elsewhere, it is overwhelming at first. With so many people and so much going on, it feels kind of tense."
The seclusion and motherhood led Slone to the online degree programs offered by CWU and Lindenwood.
"There is no way I would be where I am without distance learning. Maybe when my son is older, I might have been able to find night classes somewhere, but I don't know if I would be able to afford childcare or go full time. I'm beyond grateful that I am living in a time where this is an option," Slone said.
But while distance learning worked for her, Slone is careful to point everyone to it as an easier option to traditional classes.
"You have to be dedicated and driven, with a desire to manage your time well and stick to your schedule. It is difficult and overwhelming at first, but once you figure out the process, it becomes second nature," Slone said. "You'll start to find the best times to get your work done, and you'll find a balance. However, it will still feel impossible at times and that is why it is important to also factor self-care time in for yourself, so that you can still offer your best self to your child, as well as to your school work."
Slone wasted no time in getting her work out as a poet, an editor for multiple literary journals and now also a publisher and editor-in-chief. Along with the January 4 release of her own book, Slone will release the first issue of Homology Lit. Issue one of the journal dropped on New Year's Day. The journal accepts work from a wide variety of marginalized writers.
"I just wanted to create a space that was as inclusive as possible for multiple groups of people