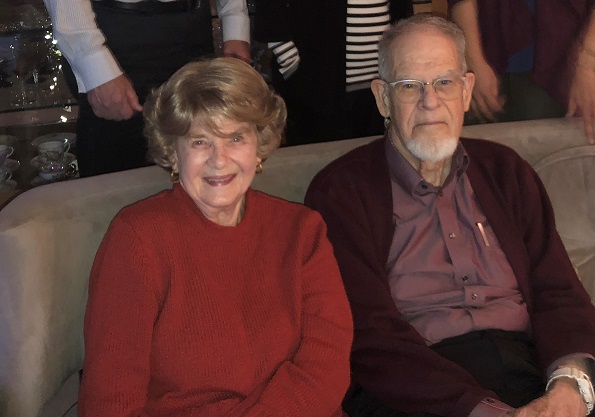 Don And Marianna Matteson Provide For Musical Future At NWPB
With their donation of $100,000, Pullman-based listeners Donald Matteson and Marianna Merritt Matteson have created a permanent public radio music fund. The endowment will provide ongoing support for classical music with a focus on the music library.
"This is a gift to everyone across the Northwest," said General Manager Marvin Marcelo. "Don and Marianna have given classical music to people of all ages, all walks of life, and helps keep classical music playing well into the future. We are tremendously grateful and honored."
Both Don and Marianna are retired WSU professors. Don, an accomplished chemist, and Marianna, likewise accomplished in language education, said their gift is an extension of their interest in, and enjoyment of, music. In their early years, Don studied violin and Marianna, piano; they also participated in choral groups during their K-12 years. Don even wrote a symphony while in college—and still has a vinyl recording of one of the movements!
"Classical music continues to be an important part of our lives," said Marianna. "We have our own personal library and we count on NWPB for additional enjoyment as well as exposure to new material."
From physical CDs to digital
At NWPB, the move away from a library of physical CDs began in 2014. Then Music Director Jessie Jacobs said, "It may seem like a simple undertaking, but it was a daunting task with many questions to consider before starting: what metadata should be included? How do we categorize our music for optimum retrieval? What can we do to ensure the best listening experience for our listeners?"
We started in 2014 and within six months we were running our own music overnight, thanks to the digital library, saving funds from national subscriptions and making the programs more suited to Northwest audiences. We have since transitioned to a completely digital library for on-air use.
Recognizing that having established a library is not the same as ensuring its future, Don and Marianna created their fund to keep it maintained and updated as new works are added and as technology changes. They invite music lovers to contribute to the fund so that all aspects of public radio music can be assured a long and stable future.
In 2018, the Music Machine shrank distance between studios
Along with the Sundquist Family in Yakima, who provided additional funding for the music library, the Matteson's donation allowed NWPB to purchase the "Music Machine": a computer with special software for joint operations in Tacoma and Pullman to access the digital music library.
Here's why the Music Machine is a big deal: two hosts, Gigi Yellen and Steve Reeder, work out of the Tacoma-area studios—a day's travel from the main studios in Pullman; the music library was in Pullman, so Steve and Gigi were operating with a limited music library and less access to resources as a result of their satellite location. Now we have closed the distance for the classical music team and established an overall steadier sound. The music team can work better as a unit, sharing ideas, music, and support, regardless of the 300 miles between us.
"Endowments sustain us for the future; they provide perpetual, annual funding for important causes," said Marcelo. "Yet already the Mattesons' gift has made an impact."
Don and Marianna: accomplished and generous
Donald Matteson and Marianna Merritt Matteson are both natives of Kalispell, Montana, where both of their fathers taught in the high school, and were acquainted from early childhood through the ninth grade. They both became faculty members at WSU by independent routes, where they found each other again and were married in 1971.
Donald Matteson received a B.S. degree at the University of California, Berkeley, in 1954, and a Ph.D. in chemistry at the University of Illinois in 1957. After one year with the du Pont Company in Wilmington, Delaware as a research chemist, he joined the WSU faculty as an instructor in 1958. He was promoted to assistant professor in 1960, associate professor in 1965, and professor in 1969. Don has served as thesis advisor for 30 Ph.D. students has supervised five M.S. Students. These students as well as 29 postdoctoral research associates, have received financial assistance from his research grants. He is the author or coauthor of more than 200 technical publications, including two books and five patents.
Marianna Merritt graduated from the University of Montana, Missoula, in 1954, and received an M.A. in Spanish at the State College of Washington in 1956. After teaching in the public schools at Parkersburg, West Virginia for a year, she taught at the University of Idaho. She joined the WSU faculty in 1965 and completed her Ph.D. in Spanish at the University of Washington in 1968. She is the author of two books and 10 research articles, has achieved the rank of professor, and served as Chair of the Department of Foreign Languages and Literatures for 10 years.
In retirement both Donald and Marianna have remained active with WSU. They have created funds that support faculty and students in both chemistry and foreign languages. Donald still maintains lab space in chemistry. They listen to Northwest Public Broadcasting's radio services regularly, as they have for years, appreciating both the news and the classical music.