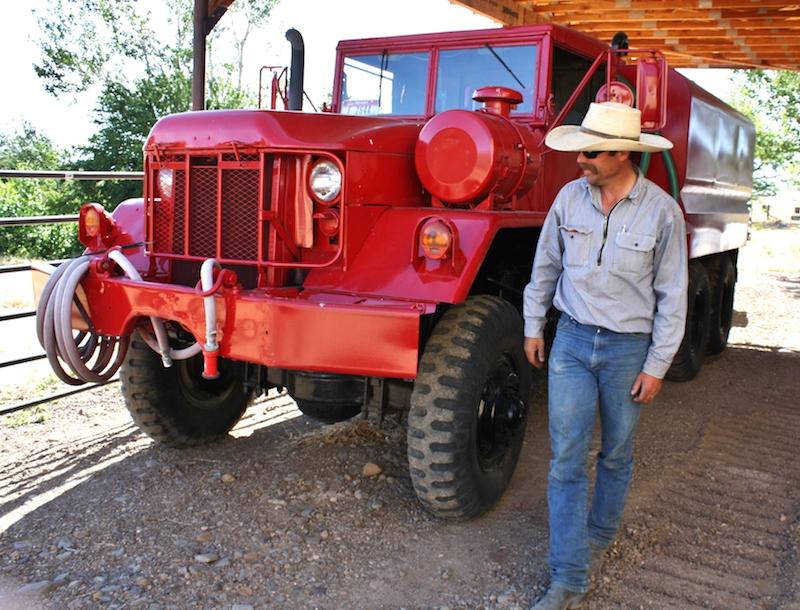 Washington May Rope In Ranchers To Help With Wildfires — As Oregon And Idaho Already Do
Washington state may soon copy a rural wildfire fighting strategy that Oregon, Idaho and Nevada already employ: letting private ranchers attack range fires before the blazes get big.
Ranchers in remote corners of the West have formed all-volunteer crews and gotten permission to fight range fires when professional firefighters are far away. These "neighbors-helping-neighbors" provide initial attack — and consequently don't suffer the helpless feeling of having to stand by while valuable forage for grazing burns. When the authorities arrive to take over the locals can continue to help out, but they would not be in command of the fire.
George Geissler, who supervises wildfire operations for the Washington State Department of Natural Resources, said the strategy could work to protect rangelands in pockets of Eastern Washington.
"We have to ensure that they are trained adequately, that they have the proper equipment and that they can coordinate with the fire service and with us when they're out there," Geissler cautioned. "Otherwise, all we're doing is putting them and our own firefighters at risk."
The formal name for these rancher and landowner-led groups are Rangeland Fire Protection Associations. Last fire season saw nine in Idaho and 20 in Oregon provide the initial response across several million acres of grass and sage lands. 
The volunteer fire crews typically attack fire starts with modified or repurposed ranch vehicles such as flatbeds with "slip-on" water tanks, pickups equipped with water sprayers, decades-old water tenders and dozers. In Idaho, Oregon and Nevada, these associations are usually self-funded, but can be eligible for government grants and surplus equipment.
A bill to authorize such groups to fight fires in Washington state will be heard by the Legislature next week. The legislation is sponsored by state Rep. Tom Dent, a Republican from Moses Lake, who said ranchers and cattlemen brought the idea to him.
"They probably know the topography better than anyone else. They want to be engaged," Dent said in an interview Thursday. "The number one need we have to fight wildfire better is initial attack."
Washington State Commissioner of Public Lands Hilary Franz also included authorization of Rangeland Fire Protection Associations on a list of high priorities to improve fire suppression when she unveiled a 10-year strategic plan for wildland fire protection in Olympia on Thursday.
"There are areas of this state that have no [fire] coverage whatsoever. They're not within a local fire district," Franz said. "We can't continue to allow no man's land to exist in Washington state. We have to make sure every single corner of our state is covered."
The state House Rural Development, Agriculture and Natural Resources Committee scheduled a work session on Friday to discuss rancher-led firefighting groups.
One of the presenters Friday will be Oregon State University Professor Emily Jane Davis. In a 2017 report she co-authored on rancher firefighter groups, Davis noted that back in the early and mid-20th century rancher firefighting was common — even encouraged. That changed in the 1980s and '90s because of safety and liability concerns. 
"At the same time, ranchers were often closest to many fire starts, able to respond quickly, and deeply invested in protecting forage, cattle, and other values," Davis and her co-authors wrote. 
The University of Oregon report said that when ranchers were excluded or discouraged from attacking wildfire on grazing lands, confrontation and "extensive frustration" followed.
A year-end summary of Rangeland Fire Protection Associations' performance to Oregon's Department of Forestry noted another motivation for federal, state and rural ranch interests to work together: a shared goal to prevent sage grouse habitat from being burned and further endangering the rare birds. 
The Washington bill to authorize rangeland fire protection associations is scheduled for a public hearing in front of the House Rural Development, Agriculture and Natural Resources Committee next Wednesday. 
Clarification: Emily Jane Davis' university affiliation has been changed to Oregon State from the University of Oregon. Davis does have an affiliation with the University of Oregon, but Oregon State is the primary affiliation.