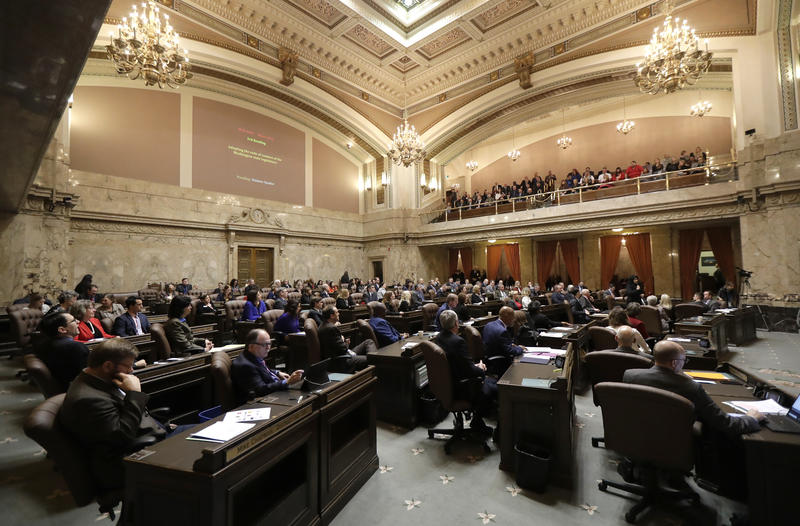 New Code Of Conduct To Shift How Washington Legislature Deals With Sexual Harassment
The handling of sexual harassment in the state Legislature will evolve following a new code of conduct that has already passed one chamber.
The unanimous resolution was passed in the House, and it's the first bill of the 2019 legislative session to change the chamber's workplace culture in the wake of the #MeToo movement.
It's also the first policy to come out of the Workgroup on Prevention of Sexual Harassment, which was started in the House after 200 women signed a letter demanding that legislative leadership address the issue of workplace culture. 
Since that letter, four state lawmakers have resigned or been voted out following allegations of misconduct.
The new code asks lawmakers, lobbyists and staff to agree on a set of expectations that excludes bullying, harassment or other intimidating behavior that runs anathema to a safe legislative space.
An identical measure is expected to be voted on in the Senate next week. By passing both, members of the Capitol hope to establish a uniform approach to sexual misconduct in the Legislature.
"If we can't protect our staff in the House and Senate how do we have the moral authority to tell state agencies and private business and local governments how to protect their workers?" state Rep. Nicole Macri, D-Seattle, said in favor of the new code.
Capitol-goers who refuse to sign the code would also face penalties.
For policymakers, that includes losing access to their some of their staff. Lawmakers and staff would similarly be allowed to refuse meeting invitations from lobbyists who don't sign.
The House workgroup also is recommending the creation of a new, independent entity that helps investigates complaints and offers consulting to people who question the behavior of colleagues.
Any new agency would require legislation — and funding to back it — which is why the chamber is contracting out those duties until policy is drafted.
Staff in the House also have revised their workplace policy to clarify acceptable behavior and how complaints should be handled.
The Senate, meanwhile, has created a new position to address inappropriate conduct that is temporarily being filled by the same person who investigated allegations of sexual harassment against former state Rep. Kevin Ranker.