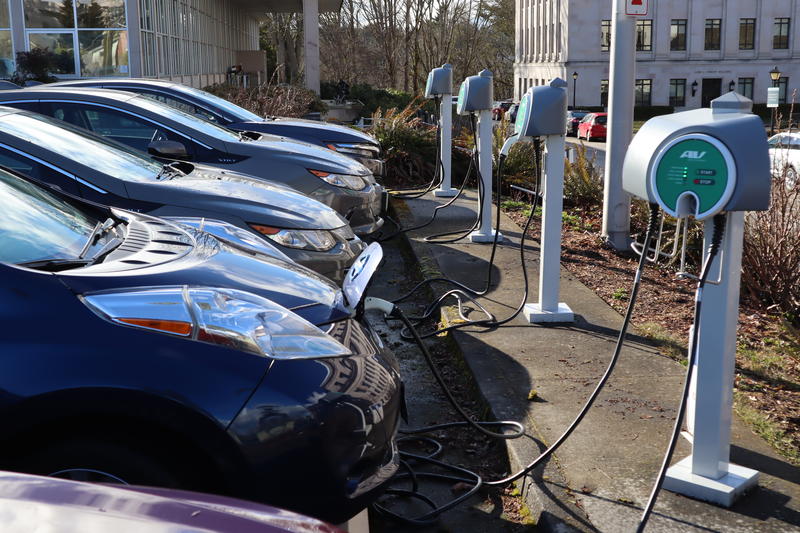 Incentives For Electric Car Buyers? Yes In Oregon, Maybe In Washington
Democrats in the Washington Legislature want to revive a tax break for buyers of electric cars, which critics view as wasteful and unnecessary. Meanwhile, a publicly-financed rebate for battery-powered cars in Oregon is finding thousands of takers.
A valuable state tax break for buyers of fully-electric and plug-in hybrid cars in Washington state expired last May. Despite the expired tax break, sales of electric cars have accelerated in Washington since, according to vehicle registration data from the Washington State Department of Licensing — mainly because of brisk deliveries of the Tesla Model 3.
Now, state Senate Transportation Committee chair Steve Hobbs (D-Lake Stevens) says many lawmakers want to bring back a tax incentive in order to widen the adoption of electric cars.
 
"It shouldn't just be for people who are well off," Hobbs said in an interview. "We're hoping with an electric vehicle incentive perhaps those in lower incomes and middle incomes will be able to afford an electric vehicle. We want to give that opportunity."
Republicans, who are in the minority in the Washington Legislature, argue the previous tax incentive was purposely designed to sunset after electric cars emerged from their infancy and should not be continued now.
"This isn't what people want," argued state Sen. Curtis King (R-Yakima) during committee debate Wednesday. "We're picking winners. We as a legislature shouldn't be doing that."
Todd Myers, environmental analyst for the conservative-leaning Washington Policy Center think tank, criticized the proposed return of an electric vehicle sales incentive as "an extremely wasteful and ineffective way to reduce CO2 emissions."
"The logic of electric vehicle advocates in Olympia is this: EV buyers are willing to pay $39,000 for a new car, but not $40,000," Myers said. "This is absurd, and the history of EV sales in Washington state demonstrates this."
Democratic Gov. Jay Inslee, who is now running for president on a climate action platform, supports the revival of an electric vehicle sales tax break. Outside groups such as Climate Solutions, the Union of Concerned Scientists and car maker Nissan are pressing for passage too.
"To meet our carbon reduction goals, we need to increase EVs on the road ten times from what they are now by 2035 – an average annual increase of about 15 percent," said Michael Mann, a lobbyist for Nissan as well as for the Portland-based trade association Forth. "Our one concern is the level of incentive for the passenger vehicles. A $1,000 sales tax exemption may not be a strong enough market signal to achieve the 15 percent annual growth that we need."
The Washington Senate and House of Representatives currently have slightly different incentives awaiting floor votes. The state Senate plan would exempt up to $1,000 of sales tax on purchases or leases of new or used fully-electric vehicles with a MSRP below $45,000. The House version is more generous by exempting the first $32,000 of the sales price of non-luxury EVs from tax. Depending on the sales tax rate where an auto dealer is located, the value of this exemption could approach $3,000.
In Oregon, drivers who buy or lease a new, non-luxury electric car can apply for a state rebate worth up to $2,500. Those taxpayer-financed rebates were on hold for much of last year until the Oregon Supreme Court upheld their legality in August.
The Oregon Department of Environmental Quality said it had 3,161 applicants between January 2018 when the rebate program started and this week. An agency spokeswoman said the pace of incoming applications seems like it is picking up. Because of the delay caused by the high court review, less than $1 million worth of rebate checks have been mailed out to date.
The state incentives in Oregon and Washington are in addition to a federal income tax credit worth up to $7,500 for buyers of certain models of new all-electric vehicles.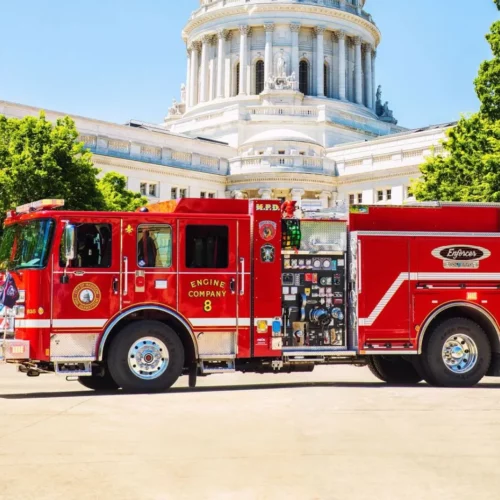 You probably no longer bat an eye when an electric car passes by on the road. More novel battery-powered vehicles are soon joining the parade to help operators achieve their sustainability goals. Electric ferries are coming to Puget Sound and hybrid electric airplanes are being tested in Washington. Now, several Pacific Northwest fire departments have ordered their first electric fire trucks. Continue Reading Electric fire trucks are coming to the Pacific Northwest