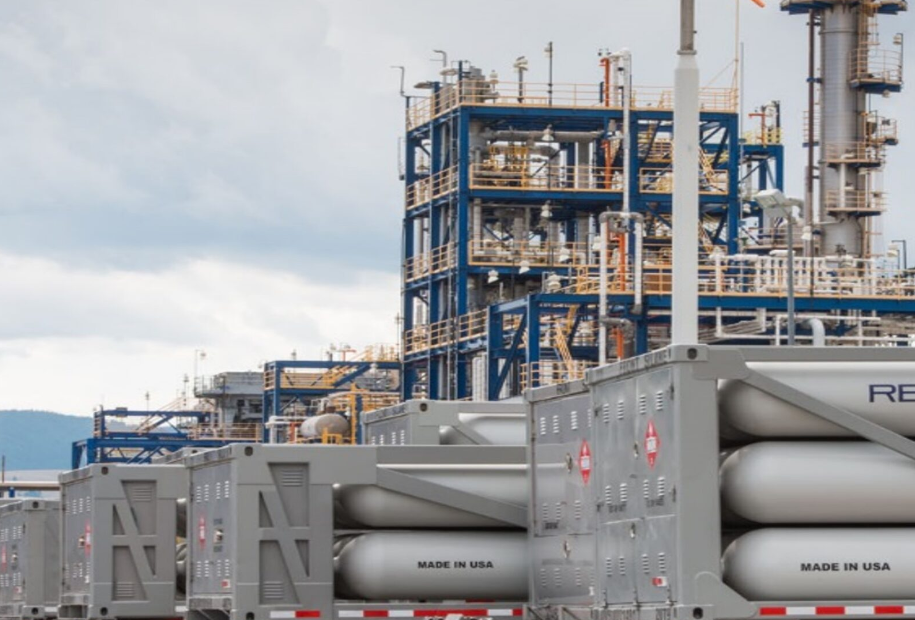 Department of Energy funds new EV battery plant in Moses Lake
Moses Lake is quickly becoming a hub for green jobs in Washington. An electric vehicle battery factory is the newest upcoming project. The next-generation lithium-ion batteries the factory produces could help electric vehicles (EVs) drive farther on a single charge.
The site of the former REC Silicon plant in Moses Lake will soon push out new EV batteries that could be a game changer for drivers.

Chuck Sutton, vice president with Global Marketing and Sales with REC Silicon, said the factory will use its old infrastructure to produce silane gas. Silane gas will then be converted to make the new active materials for EV batteries.
"What they found out is that silicone absorbs, or holds, more lithium, which gives you a greater charge density [and] allows electric vehicles to go further distances," Sutton said.
Silane gas will then be converted to make the new EV batteries.

Gene Berdichevsky, the co-founder of Sila Nanotechnologies, said these batteries are a huge part of Washington's green future.
"We make the next generation battery technology," Berdichevsky said. "We developed a class of materials called silicon composite materials, and in that class of materials we have products that are used as battery anodes in order to replace the existing anode material of lithium-ion batteries … and make the battery store more energy than it would before."

This technology will allow EVs to drive farther on a single charge, Berdichevsky said.

"Right now, you can't buy a small car with a very long range, because you can't fit enough batteries in it, right?" he said. "So, the smaller EVs, which a lot of consumers want to buy because they are cheaper cars, they can't go to the distance yet. And so that's a lot of what our technology enables."
The technology also enables larger SUV's to be lighter – and consumers want SUVs, Berdichevsky said.

He said with lighter batteries and more efficient supply chains, EVs will cost less. The batteries also can be used in consumer electronics, Berdichevsky said.

The EV battery factory will receive $100 million from the U.S. Department of Energy.
Sila Nanotechnologies leaders say they chose the Moses Lake because of its skilled workforce, existing infrastructure and access to clean, hydro energy.

U.S. Senator Maria Cantwell, D-Washington, said access to cheap, reliable hydropower helps Washington stay ahead of the new technology curve.
"This is about the transformation that's going to happen in the automobile sector, where hopefully, we will transition to full electric cars in a mass production for the United States of America and be a leader in that," Cantwell said.

Cantwell said the companies building the new EV battery technology, along with research at Pacific Northwest National Laboratory in Richland, will help the state transform the transportation sector.
The transportation sector is responsible for the most greenhouse gas emissions in Washington state.

Washington has very ambitious zero-carbon emission goals, Cantwell said. Reducing greenhouse gas emissions from transportation will be a big part of those goals.
By 2035, no new gas-powered passenger vehicles will be sold in the state.
"This is a game changer in the sense that our state was already doing great science," she said. "And now we want to continue to lead on the innovation of the battery, the next step that we have to take to get more out of these batteries."
For Moses Lake, this battery factory also will add new green technology jobs. The factory will employ several hundred people and produce batteries for 100,000 electric vehicles.
In the future, these green jobs and industry development will allow kids in Moses Lake to have high-paying careers in Eastern Washington, said Richard Hanover, the director of business development at the Port of Moses Lake.
"When you think of clean energy jobs, people wouldn't necessarily tie that to our region," Hanover said. "But it is something that we're all heavily vested in and wanting to make sure that our industries are part of that new generation of companies that are coming up. That they're part of everything moving forward."
With multiple new developments in the area, at least 2000 jobs will come to Moses Lake, Hanover said
Read more stories about electric vehicles in Washington:
Electric Vehicle Fires and Battery Recycling
Gas Vehicle Ban in Washington Explained