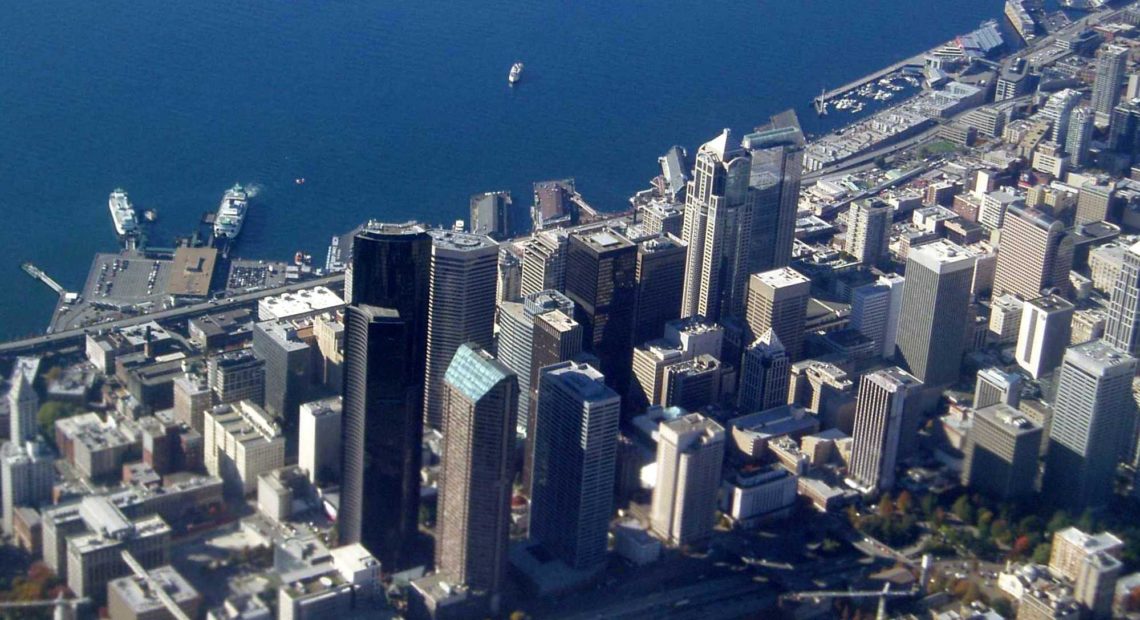 'Bowl Of Jello Effect' Raises Risk Of Tall Buildings Collapsing In Cascadia Quake, Scientists Say
A research project to model the effects from a Cascadia megaquake found higher risk of collapse for modern tall buildings than previously thought.
Seismologists and structural engineers associated with the M9 Project at the University of Washington used supercomputers to run dozens of three-dimensional simulations of a magnitude 9.0 rupture of the offshore Cascadia fault zone. UW professor Jeff Berman said the modelling showed enhanced shaking in the vast, sediment-filled basins beneath the Puget Sound lowlands and Willamette Valley. Affected cities include Seattle, Tacoma and Everett, as well as Portland and nearby Tualatin, Oregon.
Berman said when "The Really Big One" hits, the geology of these basins could magnify seismic energy through what he called the "bowl of Jello effect."
"If you shake a bowl of Jello, you can get the Jello to move a lot faster than the bowl," he explained in an interview. "That is exactly what is happening in the basin. The ground motions are coming in and you've got this bowl that is not as strong and stiff as the surrounding volcanic rock underneath."
Existing high-rise buildings that were built to minimum code standards have approximately a 20 percent, and maybe as high as 25 percent, probability of collapse, Berman said.
The professor of structural engineering said he is most concerned by swaying in buildings over 10 stories tall from the amplified ground motions. Berman said an acceptable risk of collapse from a "high consequence, low probability" event such as this would between 5 and 10 percent. Berman's research did not address low-rise residential homes, which he said won't move as much.
U.S. Geological Survey researcher Art Frankel said the basin effects could amplify the severity of earthquake shaking by a factor of two or three. The strong shaking from a 9.0 Cascadia megaquake could last two minutes, which will feel like an eternity in the moment.
Frankel, Berman and other prinicipal investigators in the M9 Project presented findings and fielded reactions in front of a packed auditorium at the University of Washington on Tuesday. The presentations were part of a culminating workshop for the research enterprise, which kicked off in 2014.
The National Science Foundation-funded, multi-disciplinary effort sought to figure out what a magnitude nine earthquake might look like in the Pacific Northwest and how people can reduce the catastrophic consequences.
The M9 Project's earthquake simulations have already led the cities of Seattle and Bellevue to strengthen the design standards for new high rises over 240 feet tall. Newly implemented rules require tall buildings to be a little stronger and stiffer.
"We followed the M9 Project with a great deal of interest," said Susan Chang, the geotechnical group supervisor at the Seattle Department of Construction and Inspections.
She said all tall buildings that come in now for design review have to incorporate the latest earthquake science about basin amplification as a result of a director's rule that took effect in December. In response to an audience question, Chang said the City of Seattle did not have any plans to revisit buildings already built.
"There is a lot of work to get this into the building code," she said. "It is a localized effect."
Tens of thousands of people work or live in high-rises in Seattle, Tacoma, Bellevue and Portland that were built to codes that contempleted maximum shaking forces lower than now seen as possible.
The Pacific Northwest regional earthquake and tsunami program director for FEMA, Amanda Siok, expressed concern that this latest earthquake research could create a fatalistic response from the public.
"We're all going to die. There's nothing that can be done," is how she encapsulated the possible reaction.
"We need to get the public to find a path of action that they can see as feasible for themselves," Siok said at the workshop Tuesday.
Paths could cover personal preparedness measures and "more grassroots pressure" from the public on government officials to improve infrastructure and disaster resilience.
Berman emphasized the shiny, modern buildings that his team studied are generally safer than the older, brittle masonry buildings that have been the recent focus of policymakers and emergency preparedness experts. He said his takeaway was to broaden the conversation about seismic retrofits.
"A 20 percent probability of collapse in this event, while it may seem high, because the probability of the event is low in this instance in time doesn't actually result in a huge potential for loss of life," Berman said. "But we should be learning from this information and making the kinds of modifications, advances and thinking about retrofitting older structures because we do live in a high seismic [risk] area."
Seismologists say the Pacific Northwest has entered the broad time window for the next rupture of the offshore Cascadia fault zone. The next earthquake could just as easily come from one of the many shallow, crustal faults that run underneath nearly all of the Northwest's larger cities. A Seattle-based USGS researcher said her next focus would be to do 3-D simulations of shaking from crustal faults such as the Seattle Fault and South Whidbey fault.
Copyright 2019 Northwest News Network