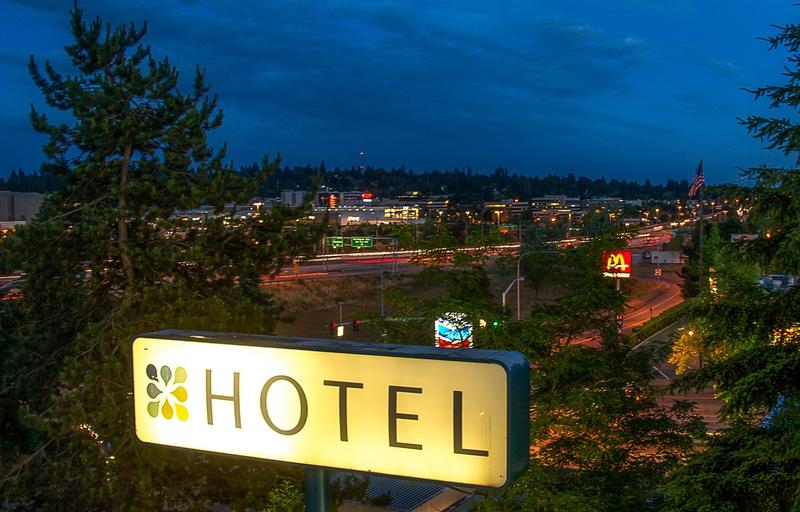 Hotel Stays Put Pressure On Washington Lawmakers To Increase Foster Care Funding
In the woods near Olympia's Capitol Forest, there's a brown two-story house with unpainted plywood walls in the entryway that tell a story.
"People are going to punch holes in walls, kick holes in walls," explained Melissa Darlington as she began a tour. "It's just the cost of doing business."
Darlington is the southwest Washington administrator for Service Alternatives, a provider of services to high-risk foster youth in Washington. For the last 20 years, her company has owned and operated this house as a therapeutic group home for boys.
"Not always the kind of kid that you would want in your own home, but after a few months here they're pretty great," Darlington said.
A decade ago, Service Alternatives operated nine of these group homes in western Washington. But then the Great Recession hit and the state started cutting foster care funding. Darlington said the cost to operate the group homes — especially in King and Snohomish Counties where wages and property values are highe — outstripped the reimbursement rate from the state. Today, only two of the company's group homes are still in operation. Both are in Thurston County.
It's a trend that's played out statewide. Over the past eight years, Washington has lost 170 residential beds for hard-to-place foster youth. But now there's a push in Olympia to nearly double provider reimbursement rates in an effort to reverse the trend.
"If we want to have a safe system, we need to have adequate capacity across all of the different levels of need," said Ross Hunter, the secretary of the Department of Children, Youth and Families (DCYF) which oversees the foster care system.
Hunter is a former Democratic state lawmaker who chaired the House Appropriations committee during the austerity years following the Great Recession. He remembers making cuts to foster care.
"It was one of the things I agreed to," Hunter acknowledged. "There's a bunch of things in hindsight I wished I had not agreed to, but you have to agree to something."
Today, as secretary of DCYF, Hunter is dealing directly with the fallout from those decisions. During a recent 12-month period, Washington foster kids spent more than a thousand nights in hotel rooms because there was nowhere else to place them. Currently, approximately 60 youth are housed in out-of-state facilities as far away as South Carolina. That's down from 80 kids a few months ago. Hunter has said his goal is end the practice of sending kids to other states within the next two years.
"But in order to bring all of them back I need to have a safe, therapeutic place for them to be," Hunter said.
Rebuilding a robust therapeutic foster care system in Washington won't be cheap. A recent study commissioned by the state found that current reimbursement rates only cover 60 percent of the cost. Advocates are now calling on the Legislature to increase funding by $50 million in the next two year budget.
"This is definitely on the radar, it's definitely a priority," said Sen. Christine Rolfes, a Democrat who chairs the Ways and Means committee. But she cautioned that there's a demand for higher reimbursement rates for an array of social services, not just foster care.
"It all takes money and we have to figure out where the priorities are and what rate gets us at least the first step towards where we need to go," said Rolfes who plans to release her two-year state budget proposal at the end of the month.
From Darlington's perspective, a renewed investment in foster care can't come soon enough. And she wonders about the hidden cost of eliminating the 42 therapeutic foster beds her company once operated.
"If you think about that over the last 10 years, that's at least 500 kids that didn't get to have the services, they went out of state, they're in hotels, the system, it's broken in that regard," Darlington said.