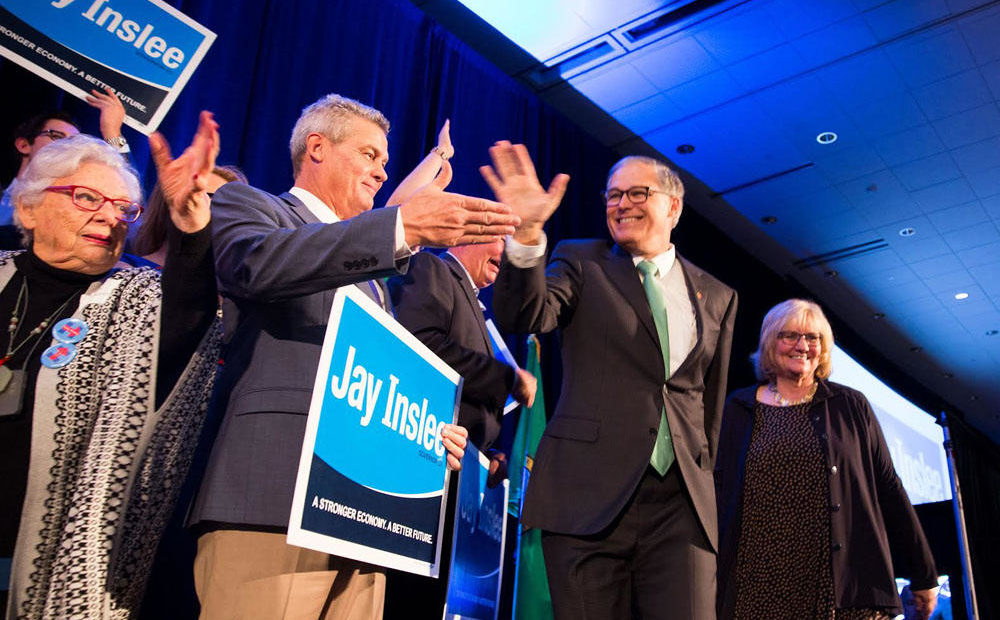 As 2020 Race Heats Up, Jay Inslee Proposes Cutting Senate Filibuster To Boost His Climate Pitch
Washington Gov. Jay Inslee has a well-worn set of speaking points when it comes to his 2020 presidential campaign: clean energy, clean jobs, a clean economy that works for everyone, and ending fossil fuel subsidies.
Inslee calls these goals the four pillars of his climate change agenda.
As of last week, he's added a fifth: gutting the filibuster.
"The filibuster will stop us in our tracks," Inslee said during a Tuesday night appearance on MSNBC with Chris Hayes. "It is the vestige of the antebellum era … and a thing that will stop us from saving the planet."
Inslee sees the filibuster, a delaying tactic used to kill measures in the Senate, as a roadblock to enacting the climate change reforms he has promised to pursue if elected president.
Other lawmakers are wary of getting rid of the process, including U.S. Sen. Patty Murray, the assistant minority leader who represents Inslee's own state in Congress.
"I don't agree with that," Murray said during a press conference in Olympia on Wednesday. "If you want constant, consistent policy that works for this country it's an important tool."
The filibuster creates a way for minority lawmakers to stop a measure by speaking for as long as they want.
One way to sidestep the tactic is known as the "nuclear option," which essentially means a rewrite of the rules to require only a simple majority to block a filibuster.
Both parties have used the strategy. Most recently, Republicans lifted the three-fifths vote to stop a filibuster on a Supreme Court nominee, which helped pave the way for bringing Justice Neil Gorsuch onto the bench.
While politicians like Inslee criticize the filibuster as handing outsized influence to the minority, other Democrats see it as a necessary safeguard to stopping policy that runs anathema to liberal causes.
"If last year we did not have the filibuster, the Trump administration and the GOP majority could have rammed through an incredible range of laws that those same progressive groups would find incredibly destructive," Sen. Chris Coons (D-Del.) said in an interview with The Huffington Post last month.
Sen. Bernie Sanders (I-Vt.), another candidate among the crowded Democratic field in the presidential primary, echoed the sentiment to CBS in an interview last month, when he said he's "not crazy about getting rid of the filibuster."
Other 2020 Democratic candidates have been less committal on whether or not to dissolve the filibuster.
Sen. Kirsten Gillibrand (D-N.Y.) has said she would consider it while adding that not having 60 votes "means you haven't done enough advocacy and you need to work a lot harder."
After repeatedly defending the Senate's supermajority requirement this year, Sen. Cory Booker (D-N.J.) recently softened his position by saying he has yet to make up his mind.