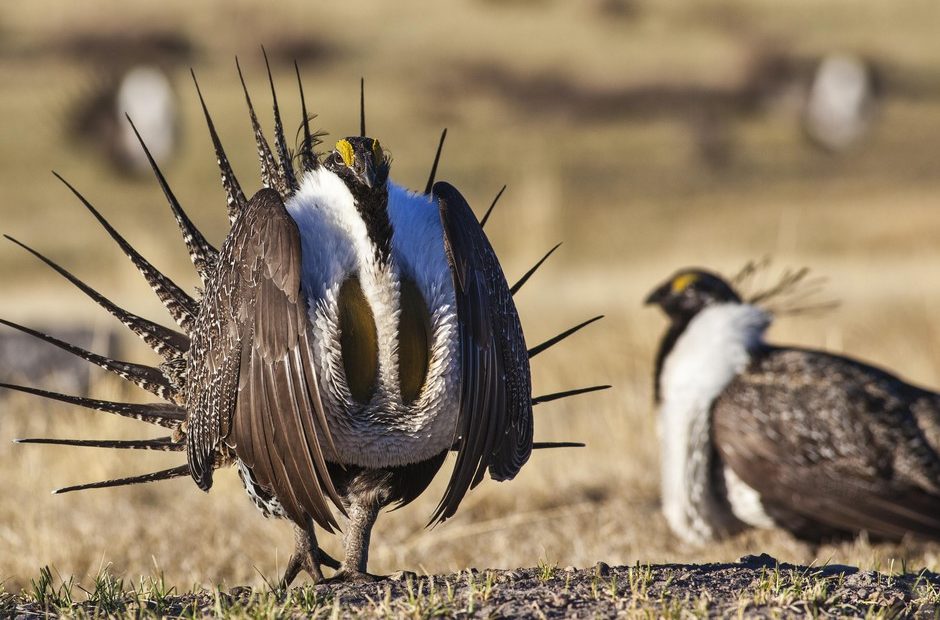 Bird Advocates Question Raven-Killing Plans To Protect Sage Grouse
Deep in Oregon's sagebrush country, there's one county with an abundance of ravens. Biologists say those ravens like to eat sage grouse eggs, and they've come up with plans to take care of the raven problem.
That's got bird advocates questioning whether killing one bird for the sake of another is the right move.
Sage grouse in Baker County are isolated. Their numbers have declined by 75 percent since 2005.
"The Baker (population) is the most imperiled in the state," said Lee Foster, Oregon's sage grouse coordinator. "We haven't seen a similar decline anywhere else."
A big problem in this county on Oregon's eastern border: ravens. Foster said no other area in Oregon has so many ravens on the landscape. He said if sage grouse have trouble recovering because of predation, other habitat improvement projects won't help.
To that point, the state has come up with plans to lethally remove up to 500 ravens in the area every year for three years.
"These actions, which are a short-term, stopgap measure, we really need that," Foster said. "Because we need to maintain a population of sage grouse in the area long enough for those habitat improvement projects to work."
Sage grouse – and their recovery plans – have proven controversial in the 11 western states where they can be found. Recovery of the imperiled birds initially brought ranchers, conservationists, biologists and governments together, through a decade of hard-won compromises.
After the Obama administration decided not to add the birds to the endangered species list, these plans were seen as a new way forward in conservation – a way to avoid stringent government land-use restrictions while improving sagebrush habitat.
But the Trump administration has since weakened those plans, first asking for more emphasis on lesser-studied problems like sage grouse predators and then, recently, altering protections in some states. Environmentalists warn the resulting easier access to oil and gas leases on public lands could spell trouble for the imperiled birds.
Sage grouse are known for their funky mating dances. They were once found in large numbers across the West, but have since faced a "death of a thousand cuts." In the Northwest, they are threatened by encroaching juniper trees, wildfires and overgrazing. And in Baker County, in particular, they're facing the additional threat of raven predation.
The state has released a draft environmental assessment that details a range of options for lethally removing ravens from Baker County. The public comment period closes Friday.
The state's preferred option would lethally remove up to 500 ravens each year for three years, although officials say it's "likely" that many birds may not be taken. Non-lethal measures would be studied in nearby areas at the same time. For five years after, the state would continue to keep raven numbers down through "a combination of egg-oiling, direct nest take, and non-lethal techniques to maintain lower raven density," according to the assessment.
Other options range from lethally removing fewer birds to doing nothing to control the raven population.
Ravens would be baited with poisoned chicken eggs, using a mix of lethal chemicals that the state said "poses a minimal risk" to other songbirds, raptors and mammals because of the dosage and method used. During the second phase of the project, they would put corn oil on nest eggs to prevent the eggs from hatching.
Bird advocates say killing one species to save another isn't a good solution – and that things like overgrazing and off-road vehicles in Baker County's sage grouse habitat aren't being addressed.
"What they're talking about here is not supported by the science. It's inhumane. It'll be very expensive," said Bob Sallinger, director of conservation for the Audubon Society of Portland.
Sallinger said the birds should have been listed and protected under the Endangered Species Act in 2015. That way they would have more protections now.
He said the state is often in favor of "scapegoating one species for another," a concern he's raised with cormorant colonies and California gulls.
"The agencies can avoid dealing with much more difficult problems that are really the primary causes of decline," Sallinger said.
He also said Portland Audubon is concerned the lethal removal methods would end up killing other species. Sallinger said lethal take of ravens should be a last-ditch effort. He said it's important to protect sage grouse, but raven predation problems haven't been proven in Baker County.
Doctoral students at Oregon State University are working to better understand the sage grouse-raven battle in Baker County. The study is still ongoing.
Other states have also looked at lethally removing ravens to protect sage grouse. In 2014, Idaho Fish and Game had to postpone its plans to kill ravens after a federal environmental assessment wasn't completed on time. The program faced a lot of pushback from critics.
For his part, Oregon's Lee Foster said these sage grouse in Baker County need "every option on the table" – and that means making some hard choices.
"(Habitat improvement) actions that will actually fix the problem in the long-term take time," Foster said. "It's really hard to get a sage grouse population back on the landscape once it's gone. So our best option is to hold on using whatever handhold we can find, while those longer-term options can pay off."
Copyright 2019 Northwest Public Broadcasting