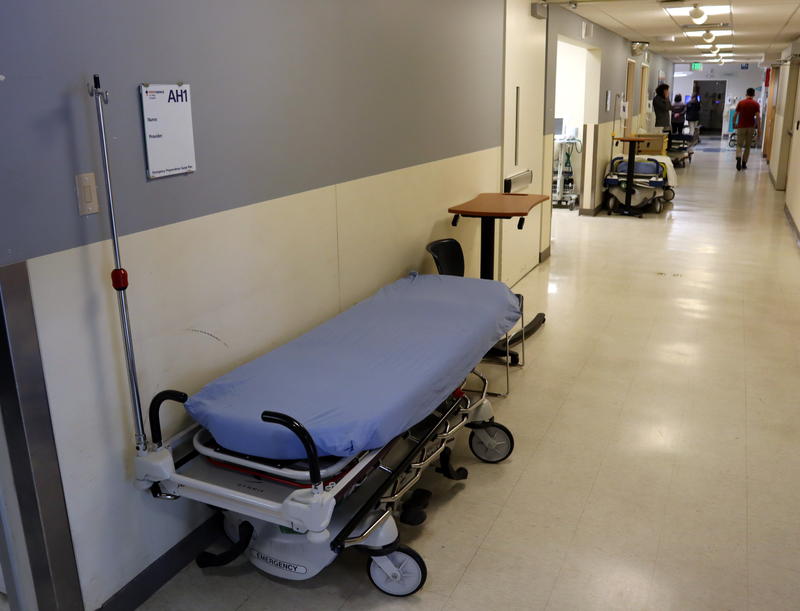 Those Experiencing Mental Health Crisis Find Themselves Stuck In ER, With Nowhere Else To Go
Some psychiatric patients are spending not just hours in the emergency room, but days or a week. They're living there in the ER because there is nowhere else to send them. Pacific Northwest policymakers are now making it a priority to create more treatment capacity for people in mental health and addiction crises.
One of the places on the front lines is Providence St. Peter Hospital in Olympia. It has a good-sized emergency department, but the 40 beds are no longer enough. The staff has set up gurneys in the hallways for overflow, each complete with a standing desk and a station number as if it were a room.
"We have made these into beds in our hallways because every room is full," explained chief nursing officer Michelle James.
James said a big reason why patients overflow into the hallways is the domino effect of something called "psychiatric boarding." That's when mentally ill patients are parked in the ER or other parts of the hospital while they wait for scarce psychiatric treatment slots to open up. At St. Peter and other hospitals around the Northwest, patients have been lodged in the emergency department for as long as a week.
A study by the Oregon Health Authority counted 3,504 psychiatric patients who were boarded in an emergency department for longer than 24 hours over the course of a year ending in September 2015.  The Washington State Hospital Association attempted a census of psychiatric boarding by surveying its membership on a single day. The "snapshot in time" from last October recorded 155 patients being held in emergency or acute care departments, which the association suspects is an undercount.
"We have a patient boarding here," whispered James as she passed a woman asleep on a gurney in the corridor. "That's a behavioral health patient over there," she said with a wave toward another person in a hallway bed who appeared zonked out despite the bright lighting of a late morning.
"This is increasing more and more," added Sue Beall, Providence's director of behavioral health in Southwest Washington. "There aren't enough services available. Individuals' symptoms become more and more acute, harder to treat. So they end up in the emergency department, on the streets, in jail, etcetera."
Beall said 10 of the 40 beds in the emergency department might be occupied by people with grave mental or substance use disorders at any given moment. The spaces they occupy in turn cause longer wait times for other people seeking treatment.
A public defender who sometimes represents patients called the hallway boarding situation "outrageous." Not even the hospital staff pretended it is OK.
"We have people staying here long periods of time because there's nowhere for them to go," James said in an interview. "We are keeping them safe. We're making sure we're meeting their needs – getting their medications. But the reality is we're not providing the therapeutic environment to help somebody in their healing process."
To add to the difficulty of finding more suitable placements, James said it is common for police, ambulance crews or families to drop off a person in a mental health crisis who has additional complicating issues. Those can include addiction, dementia, traumatic brain injury, autism or a developmental disability.
"I wish I could say that that was a unique situation. It is not," said Chelene Whiteaker, a senior vice president at the Washington State Hospital Association, when she heard a current description of the St. Peter Hospital ER. "It is something we have been struggling with as a state for the last several years. It's actually a national problem."
Whiteaker spoke to public radio at the Washington state capitol after she had spent the day buttonholing legislators. Lawmakers use the term behavioral health to encompass mental illness and addiction treatment. Whiteaker has watched behavioral health become a top priority for attention and funding during the 2019 legislative session.
"We would agree it can't happen soon enough," she said.
"I've been in this business a long time and my reaction is, 'Hallelujah!'" said Beall.
Psychiatric boarding was supposedly declared illegal in Washington state by a 2014 State Supreme Court decision which held that people detained because they are likely to hurt themselves or others must receive treatment. But the boarding practice continues through administrative workarounds because the usual places to send the seriously ill for long-term treatment, the state-run psychiatric hospitals Western State and Eastern State, are full, which leads to a cascade of backups down through the treatment system.
In Salem, Oregon Governor Kate Brown is asking the legislature to open a new ward at the state hospital in Junction City as a stop-gap measure and then pay for increased capacity at residential treatment centers.
In Olympia, bipartisan majorities in the state House and Senate are coalescing around big spending increases to raise community-based treatment capacity by hundreds of beds. They also propose putting more resources than ever before into other types of psychiatric care including drop-in crisis centers, a secure detox center and outpatient preventive care. State Sen. Manka Dhinghra (D-Redmond, WA) said she is optimistic the state can make a dent in emergency room boarding.
"We're really taking a look at the entire spectrum of care starting from our children and our children's mental health, to doing early intervention, to taking a look at crisis intervention," Dhinghra said at a recent state budget proposal unveiling.
One of the proposed recipients of increased funding is Everett, Washington-based behavioral health care provider Compass Health. CEO Tom Sebastian said his organization wants to take patients off the hands of emergency rooms and the state hospital.
"We can do it less expensively than a state institution and we can do it closer to home and we can do it in an environment in which the care that we're able to provide will really meet their needs better than an institutional setting," Sebastian said in an interview.
Sebastian said Compass Health plans to break ground late this year on a redevelopment of its campus in Everett to double its capacity for inpatient mental health treatment, plus build new supportive, affordable housing next door for people with chronic mental and behavioral health issues. Other places in line for new psychiatric beds via other health care companies include Bremerton, Auburn, Spokane and Yakima.
The rub is it will take years to complete construction on all the expanded capacity in the works statewide. An emphasis in Oregon according to an Oregon Health Authority spokesperson is to expand supported housing as well as mobile crisis services, which involves mental health counselors riding along with police or making home visits to head off emergency room admissions.
Washington state Sen. John Braun (R-Centralia) wants to speed up the addition of more treatment beds by borrowing money for construction on the financial markets. The bond issues would require approval from voters statewide at next November's general election.
"I think the voters will approve it," Braun said. "There's broader and increasing understanding of the challenge mental health is in all of our communities."
A major increase in community-based residential treatment beds will be necessary for Washington legislators to achieve a long-term goal to end civil commitments to Western State Hospital. The troubled state hospital in Steilacoom would remain open to hold the criminally insane and people charged with crimes who need mental health treatment to restore their competency to stand trial.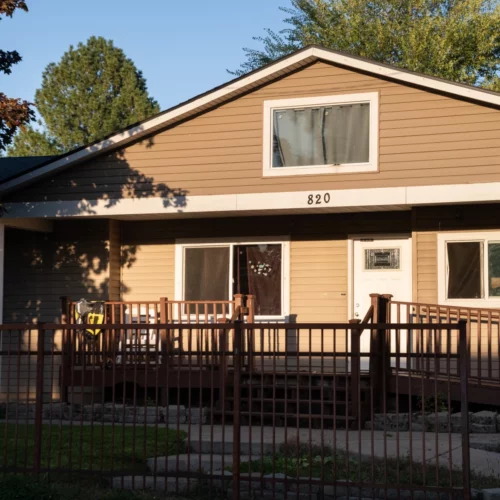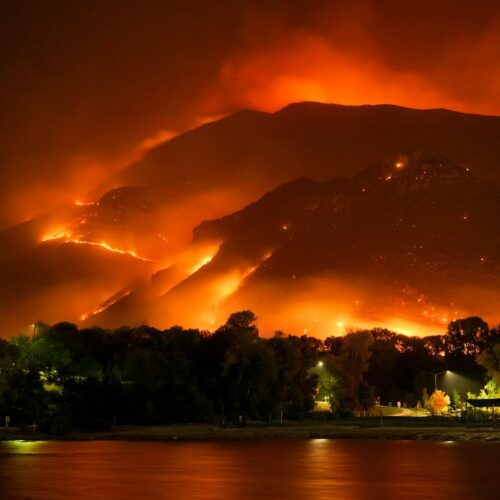 Wildfires can be frightening and result in overflowing emotions. Fear, anxiety and even depression can arise before, during and after these natural disasters, but specialists say there are still resources to cope with the trauma that environmental emergencies can cause. Continue Reading Wildfires can impact your mental health