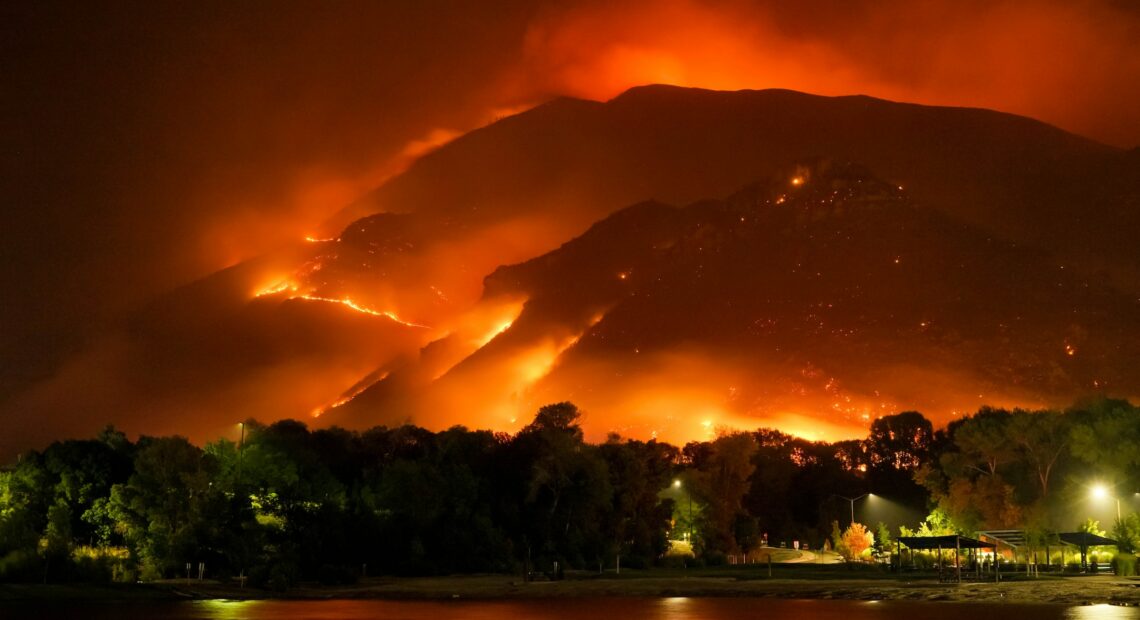 Wildfires can impact your mental health
Wildfires can be frightening and result in overflowing emotions. Fear, anxiety and even depression can arise before, during and after these natural disasters, but specialists say there are still resources to cope with the trauma that environmental emergencies can cause.
The threat of fire, loss of belongings or dealing with smoke during wildfires can make people feel stressed, said Savannah D'Evelyn, an Environmental and Occupational Health Sciences researcher at the University of Washington.
"Nobody is really untouched. At this point it seems like everybody knows, either has lost their own home or knows someone that has lost their home," said D'Evelyn.
Maria Sanchez felt that stress months ago, during the Tunnel Five fire near Portland.
"Even though none of the houses here burned down, it was very hard. It was very sad, because suddenly we say: 'There is nowhere to go, where am I going'," said Sanchez in Spanish.
Thomas Doherty is a licensed psychologist in Portland, Oregon. He specializes in the relationship between the environment and mental health.
Doherty said regardless of the wildfire's cause, many factors will affect people physically and mentally.
"It's still going to affect your health by breathing in smoke and particulate matter, from the effects of heat, obviously, if you're in harm's way, in terms of the actual fire itself, or whether it's threatening your home," said Doherty.
Doherty said stress and trauma, loss and grief and all the things that come with disasters compromise mental well-being and add more pressure to people's existing stressors.
"If I already have a lot of existing stressors, or a lack of support, lack of resources, certainly even just purely on a physical or mental health level, then this disaster weighs heavily on the existing problems," said Doherty.
D'Evelyn said the stress doesn't end when the wildfires season ends.
"It's almost a post-traumatic stress response that people are having to this, where there's high anxiety thinking about not only the worry about fire but knowing that the rest of their summer is going to be filled with smoke."
Sanchez agrees.
"I think people who live this closely do get affected in that way. We have the fear," she said.
Sanchez said she felt overwhelmed days after the fire was contained.
"I hadn't cried. I just felt like this big sadness and like I wanted to cry. Depression-like symptoms," Sanchez said.
Doherty said it's a normal response to suppress our emotions during an emergency.
"We can't afford to break down because we have to be strong for ourselves or for our family and then, I think, after the fact that those emotions might catch up to us. We might be able to stop and to take a breath, and then really realize what we've been holding."
Doherty says it is also important to recognize red flags to help ourselves.
"Understanding when we're really having severe difficulty functioning, we're not sleeping, we're not eating, we're relying too heavily on substances. We're being angry, we're being irritable, we're isolating, and we're not connecting with our friends or our loved ones," explained Doherty.
Doherty said people can do many things to cope with distress.
"I can do healthy things to take care of myself, and our body is like nature. If we feed ourselves and eat healthy food and get rest and exercise and social support, and we stay hydrated, we keep our own personal landscape healthy."
He said we can also help others by listening to them or finding ways to help them express how they feel.
There are also resources like the Disaster Distress Helpline (DDH) which provides year-round disaster crisis counseling. And the American Psychology Association offers tips to managing the distress that wildfires can cause, like take news breaks or find ways to help others.
Since disasters can impact anyone at any age, there are also resources to help families to deal with these stressful situations. The National Child Traumatic Stress Network has recommendations for before, after and during wildfires.
The Climate Psychology Alliance of North America addresses climate psychology and provides resources for understanding the relationships between mental health, the environment and climate change.