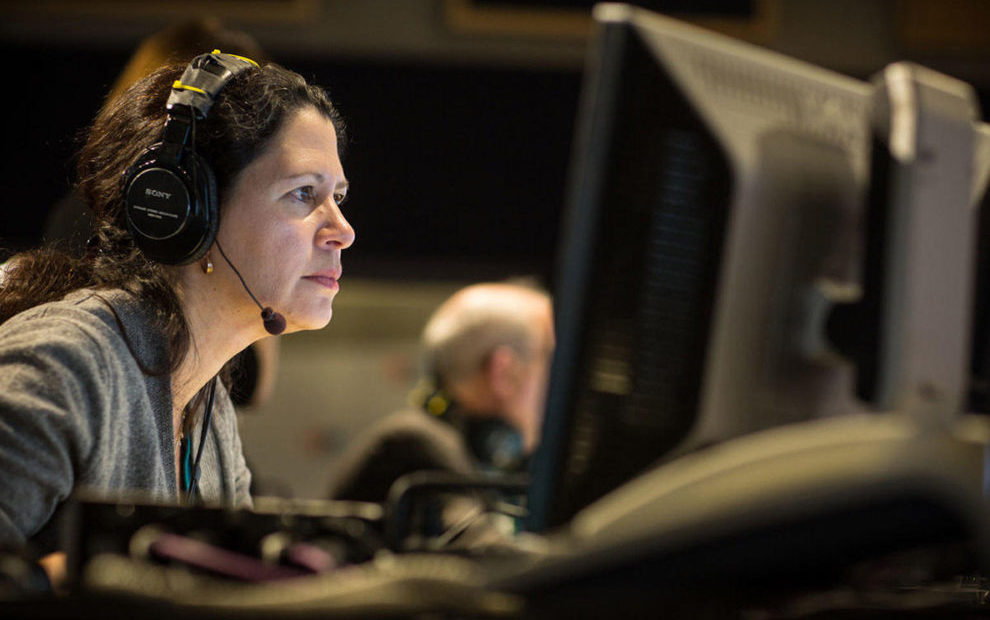 NPR's Melissa Block Visits Pullman, Reflects On Murrow's Legacy: 'Without Facts, What Do We Have?'
FEATURED PHOTO: Melissa Block during live election night coverage. Photo by Stephen Voss/WBAA. Courtesy of NPR
LISTEN
Longtime NPR journalist Melissa Block visited Pullman April 3-4 to receive a lifetime achievement award from The Edward R. Murrow College of Communication at Washington State University. Block joins a growing list of NPR journalists to receive the same honor: Daniel Schorr, Deborah Amos and, in 2018, Block's former co-host Robert Siegel.
She sat down with NWPB's Thom Kokenge during All Things Considered to discuss her experiences as a journalist, NPR's legacy and the state of journalism today.
(Listen to the full conversation above. Watch Block's lifetime achievement award speech below.)
CONVERSATION HIGHLIGHTS
(edited for length and clarity)
On the connection between Murrow's legacy and NPR:
When I won the award, I went back and listened to a whole bunch of his radio broadcasts, especially from World War II. What he did, second to none, was bring people into the midst: into the blitz of London or a bombing run through Berlin.
His descriptive powers illustrate just how intimate radio can be: The power of somebody telling you something but not showing it. It makes the listener's imagination fire on its own, creating those pictures in your mind. It's a really interactive experience.
On trust in the media based on her own reporting experiences:
I was doing a story for a series called "Our Land" where we traveled around the country talking to people about what makes their communities unique or helps shape who they are.
We were in Independence, Kansas. There were all of these little kids lined up behind their crockpots. I was asking incredibly probing questions like "what's your recipe." One of my producers overheard one of the kids lean over to another and say, "Don't talk to them. You can't trust the media, not even Fox News."
My heart just sank. This is a kid, maybe 10 years old. How does a 10-year-old get that message? And, if he's propagating it, just think of how viral that thought becomes. That's deeply disturbing to me. I think all of us in public radio, most journalists, are trying to defeat the notion of 'fake news' or media you can't trust. The notion that the media can't be trusted I reject with every fiber of my being.
On what NPR brings to that trust:
We have a lot of airtime. All Things Considered is almost two hours long, so we don't have to give everyone the world in 30 seconds. It gives people the opportunity to stretch out their views. It's not a shoutfest either. We don't value argument for the sake of argument. It's been a place of reasonable discourse. Talk that illuminates rather than inflames. I think we do our best to temper the flames of polarization and the divide we see in the country.
WATCH: Melissa Block Receives The Edward R. Murrow Lifetime Achievement Award
On why facts matter:
Without facts what do we have? They're the lifeblood of any intelligent discourse. If we aren't trafficking in facts and everyone has their own version of reality then I don't know what kind of dystopian world that would be. That's not the country I'd want to live in.
On refuting those with their own version of the truth:  
Everyone is entitled to their own opinions, but not their own facts. Our job is to reinforce — again and again — to remind people what reality looks like. In the course of doing so, you may represent a wide range of views but facts are facts. How you present those facts is something journalists struggle with all of the time.
On what she takes away from talking to so many different people:
We are all so much more alike than we are different. Political discussions today seem to be centered on how different we all are. Time and time again I'm reminded about how much commonality there is. The things we all care about cross all sorts of lines: racial lines, class lines, gender lines. We all want the same things: good schools for our kids, a hospital near our house, healthcare we can afford. These things are all really basic and fundamental.
On the need for skepticism in a social media world:
I think most journalists take their jobs extremely seriously. Some have paid with their lives to do the job that they do, and we shouldn't forget that. I think a lot of the disinformation and twisting of reality comes through social media, whether through a troll-factory in Macedonia or a guy in his parents' basement. Overall, I think journalists try to abide by a strict code of ethics, admit when they've made a mistake and do the right thing.
On the staying power of radio:
I think it's partly because we've adapted to new platforms. We've moved to mobile and with podcasts being so popular today, that's opened up all new mediums. Frankly, I think NPR is growing because so many local media organizations have shrunk or disappeared. I think we're filling a niche that news outlets used to fill more. But I also think we've expanded and, in a lot of ways, we've gotten better.
Copyright 2019 Northwest Public Broadcasting. To see more, visit nwpb.org