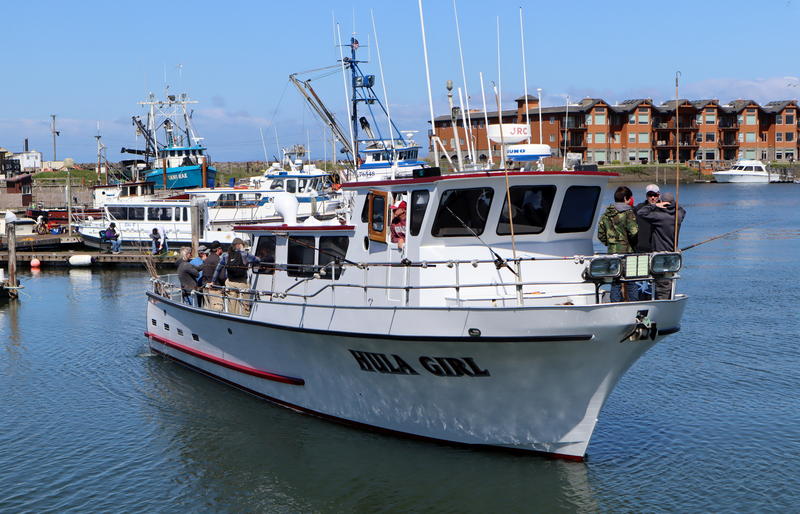 Charter Fishing Fleet Casts Wary Eye Toward Possible Fishing Cutbacks To Save Orcas
Pacific Northwesterners are undeniably fond of their endangered resident killer whales. Many locals are also fans of salmon fishing, a hobby that sustains charter fishing fleets in coastal harbors from Neah Bay, Washington, to Brookings, Oregon.
But now there is a chance future fishing trips on the ocean could be curtailed to leave more food for the killer whales. Regulators are preparing to reassess the Pacific salmon harvest and an environmental lawsuit seeks more action to save orcas.
The cross-currents of this quandary remain beneath the surface for most visitors to the sport fishing haven of Westport, Washington. A well-timed stroll along the harborfront in midafternoon can coincide with the daily return of charter vessels from daytrips to fishing grounds in the Pacific Ocean.
"Man, as soon that thing just started ripping out a bunch of line I knew I had a big one on," exclaimed fisherman Dave Wessel after disembarking from the charter boat Hula Girl.
"Then it got tangled into four different lines. They had to cut some lines to get it in. It was outstanding," added fishing buddy Roy Hatton about the fight with a hefty lingcod.
Captain Steve Westrick gave Wessel, Hatton and the day's other clients bulging bags of rockfish and lingcod fillets before turning to ruminate about the ups and downs of the fishing industry.
Westrick and his grown son Jason, also a licensed captain, are looking forward to a busy summer of salmon fishing in the ocean now that the 2019 season has been approved. Recreational anglers can pursue salmon from ports along the Washington coast and northern Oregon coast seven days a week from late June through September.
But on the horizon, there's uncertainty introduced by the plight of the critically endangered Pacific Northwest killer whales.
"I'd be a fool to say I wasn't concerned," said Steve Westrick with a nervous laugh. "We're definitely concerned and aware of the issue."
Federal fishery managers and the agency overseeing orca recovery agreed this month to reassess West Coast fishing quotas for next year and beyond. The object is to make sure endangered orcas have enough king salmon, their preferred food, to eat. At this point, no one knows if the reassessment will trigger stricter catch limits or cutbacks in times and places for ocean fishing.
"If a fishery reduction is what we need, well, we've had that and we've had that for a long time," said Jonathan Sawin, president of the Westport Charterboat Association.
There were about 240 boats in the Westport charter fleet in the heyday of salmon fishing of the 1970s and early '80s. Now there are 21. Charter fleets at the mouth of the Columbia River are also shadows of their former selves. The Ilwaco, Washington, charter fleet shrunk from about 150 at its peak in the 1970s to fewer than 20 today.
"Fisheries have taken a big cut in the last 30 to 40 years," Sawin said in an interview on the deck of the Cormorant, his charter boat. "It's just vastly different than it used to be. There's other things that can be as helpful or more helpful that wouldn't have a negative effect on Westport, Ilwaco and so on."
A solution the fishing industry and Northwest tribes support is higher hatchery production of king salmon — or Chinook — to put more fish in the ocean for all. The Washington Legislature seems willing to fund that.
Westport Public Works Director Kevin Goodrich said a long salmon season is tremendously important to the well-being of coastal ports such as his small town.
"While we're really not where we used to be, it's still a vital part of our economy and a vital part of the tourism industry we have," Goodrich said between dishing out platefuls of Dungeness crab to attendees at a crab fest and derby.
Goodrich said he doesn't think anyone who fishes for a living wants to see the orcas suffer.
A pair of environmental groups is also keeping the heat on federal fishery and orca managers through an endangered species lawsuit filed in federal court earlier this month.
Attorney Julie Teel Simmonds said her group, the Center for Biological Diversity, and co-plaintiff Wild Fish Conservancy were motivated by seeing how the endangered orcas need more to eat. Simmonds said in an interview that reducing ocean salmon harvest could have "a positive short term" benefit.
"Our intention certainly is not to impact the fishing industry," Simmonds said. "But we have to recognize that not just industry, but also these wild animals rely on these stocks for their survival. If we lose the orcas, what does it say about how we're managing our environment and what our future is?"
The legal complaint Simmonds helped write said the endangered southern resident killer whales spend more than half the year hunting for food offshore off the West Coast, even though many people think of them as Puget Sound orcas.
The lawsuit demanded that federal fishery managers consult with NOAA's endangered orca recovery team to reassess the West Coast salmon management regime. Ten years ago, an agency consultation process determined commercial, recreational and tribal ocean fisheries did not have a significant effect on the orcas' food supply. Nevertheless, the agency consultation process got rolling at the mid-April ocean salmon season-setting meeting of the Pacific Fishery Management Council before a single court hearing was even scheduled by the U.S. District Court in Seattle. 
A Washington Department of Fish and Wildlife official who helps craft salmon seasons said there is limited data to guide whether and how to rejigger ocean salmon fishing locations and seasons to mitigate potential competition with orcas.
It's easy to figure out how many calories the orcas need each day, WDFW salmon policy lead Kyle Adicks said in an interview. But it is hard to figure out how to get enough prey fish to swim in front of the wide-ranging killer whales.
"We don't know how many they need for them to forage on at a given time and place," Adicks said.
This year and last, the Canadian Department of Fisheries and Oceans restricted Chinook salmon fishing on specific British Columbia runs and at specific times for conservation reasons and to help the resident orcas who routinely cross back and forth over the U.S.-Canada maritime border.
Veteran charter boat captains like Westrick said in the good old days of the 1970s the charter fleet used to be all about the pursuit of salmon, but now the trip offerings have diversified out of necessity. Some of the anglers disembarking from charter excursions last Saturday expressed a preference for rockfish and lingcod fishing over salmon trips because of the steadier action bottomfishing typically provides.
The ocean fishing season in the Pacific Northwest nowadays runs from March to October, roughly speaking. Bottomfish trips dominate in spring, salmon in summer, with a helping of tuna from summer to fall. There are also dollops of halibut or recreational crabbing thrown in on certain days from certain ports. The 2019 ocean fishing seasons for Washington and northern Oregon target improved returns of hatchery-bred coho salmon — a.k.a silvers — alongside a small allocation of Chinook salmon.
Copyright 2019 Northwest News Network