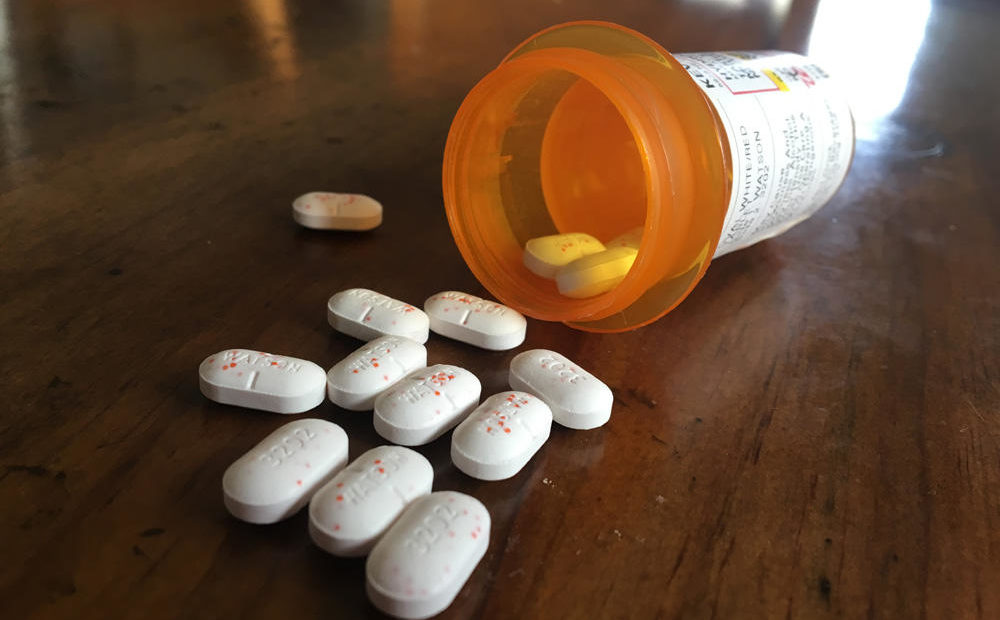 Opioid Manufacturers Sued By Washington State Get To Keep Their Big Tax Break
At the same time Washington Attorney General Bob Ferguson is suing three Fortune 15 pharmaceutical distributors for allegedly "fueling the state's opioid epidemic," majority Democrats in the Washington Legislature this year left intact a generous tax break for distributors of opioids and other prescription drugs while raising taxes on other business sectors.
The story of why lawmakers didn't repeal the tax break for prescription drug resellers reveals stark divisions among majority Democrats, as well as the power of lobbying coalitions in Olympia. It also highlights the political complexity and sensitivity around prescription drug prices.
The warehousing of prescription drugs is a highly-regulated, multi-billion-dollar business and a crucial link in the pharmaceutical supply chain. Warehouse companies purchase drugs from manufacturers, store them and then ship them – often in nearly real-time – to hospitals, nursing homes, pharmacies and other health care entities to ensure there's never a shortage of pills on the shelf.
But in the wake of the nation's opioid crisis, prescription drug resellers have become the target of lawsuits, as well as federal fines and enforcement action, alleging they failed to properly police the flow of highly-addictive pain medications into states and communities. At the same time, states like Washington have dedicated millions of dollars to fight the opioid crisis through treatment and prevention efforts.
Today, drug resellers in Washington pay a 250% discount off the state's regular business and occupation (B&O) rate for wholesalers and manufacturers. The industry's .138% tax rate is also less than half the discounted rate that Boeing and other aerospace manufacturers pay.
According to the state's Department of Revenue (DOR), 29 prescription drug resellers paid $8 million in Washington B&O tax on more than $5.8 billion in taxable revenues in the fiscal year 2018. Most of that tax — $6.7 million — was owed by just three firms with taxable revenue of more than $1 billion each.
Despite multiple efforts over the years to repeal Washington's prescription drug warehouse tax break, it's survived.
This year, late in the legislative session, Democratic state Sen. Reuven Carlyle of Seattle reintroduced a bill that sought to eliminate the tax discount and dedicate the proceeds, estimated at $20 million more a year, to opioid abuse treatment in rural and high-needs areas.
Carlyle said the tax break is long overdue for repeal – even more so now because of recent lawsuits against the industry's three biggest players.
"These companies are literally in the process of being sued by the state attorney general in Washington, as well as the attorney general of New York and many other states," Carlyle said. "And these are the folks that we here in Washington state are granting a very generous tax break."
In March, Washington's attorney general filed suit against McKesson Corp., Cardinal Health Inc. and AmerisourceBergen Drug Corp., the nation's three largest drug distributors with more than 90% of the market and more than $500 billion in revenues in 2018.
The attorney general alleges that the companies "fueled the state's opioid epidemic" by failing to block and then report to the Drug Enforcement Administration a flood of orders of large quantities of highly-addictive painkillers like oxycodone, fentanyl and hydrocodone into Washington state.
The companies are currently seeking to have the lawsuit dismissed. Both McKesson and Cardinal Health referred requests for comment to their industry trade group, the Healthcare Distribution Alliance (HDA), while AmerisourceBergen did not respond to an email.
In a statement, HDA's senior vice president of communications, John Parker, said the idea that opioid distributors are responsible for prescriptions "defies common sense and lacks understanding of how the pharmaceutical supply chain actually works and is regulated."
One week after Ferguson announced his lawsuit against the industry, Carlyle reintroduced his bill to eliminate the industry's tax break.
But the odds were against him from the start. Since 2007, the Legislature has repealed or let expire just 28 tax breaks out of 279 reviewed by the Joint Legislative Audit Review Board.
The prescription drug warehousing tax break also had a history of withstanding scrutiny and at