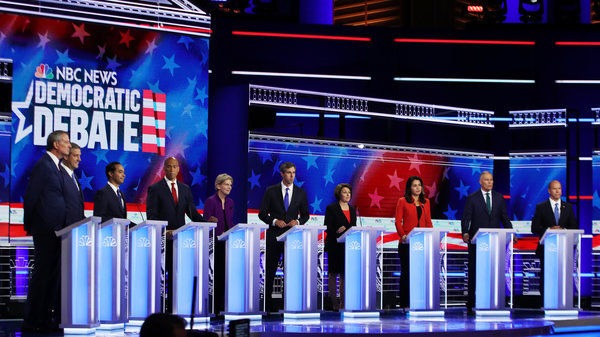 1st Democratic Presidential Debate Kicks Off, Jay Inslee Highlights Climate Message
Night one (of two) of the first Democratic debate is over. The conversation was dominated by immigration policy, climate change and Mitch McConnell. As the candidates tussled, at least three of them showed off their Spanish-speaking prowess. President Trump even weighed in — to mock NBC for audio difficulties and to pronounce the debate "BORING."
As NPR's Jeff Brady reported, climate change came up, with a question going to Washington Gov. Jay Inslee, who has made it the signature issue of his campaign:
In the second-half of the debate came the first question about climate change. Moderator Rachel Maddow asked Washington Gov. Jay Inslee if his plan would save Miami.
Inslee didn't answer the question specifically but said he's the only candidate who has made climate change a top priority. "We are the first generation to feel the sting of climate change and we are the last that can do something about it," said Inslee.
Miami is a place where people already are seeing the effects of, and adapting for, climate change. A recent survey of 1,558 registered voters in Florida shows climate change is one of the top issues in the state. The group Climate Nexus reports 71% of Florida voters say they support government action to address climate change. This echoes trends Gallup has noted across the country. The state's Republican governor, Ron DeSantis, is hiring a "chief resilience officer" whose job description is to, "prepare Florida for the environmental, physical and economic impacts of climate change, especially sea level rise."
In discussing climate change former Housing and Urban Development Secretary Julián Castro echoed calls from other candidates and said he would sign an executive order recommitting the U.S. to the Paris Climate Accord. President Trump announced in June of 2017 that he would withdraw from the agreement. 
Despite Inlsee's overall campaign message of climate action, he didn't highlight that when he and the nine other candidates were asked what is the primary threat facing the United States, though others did.
Washington Gov. Jay Inslee — President Donald Trump
Former Maryland Rep. John Delaney — China, nuclear weapons
Hawaii Rep. Tulsi Gabbard — nuclear war
Minnesota Sen. Amy Klobuchar — China, Iran
Former Texas Rep. Beto O'Rourke — climate change
Massachusetts Sen. Elizabeth Warren — climate change
New Jersey Sen. Cory Booker — nuclear proliferation, climate change
Former HUD Secretary Julián Castro — China, climate change
Ohio Rep. Tim Ryan — China
New York City Mayor Bill de Blasio — Russia
Copyright 2019 NPR. To see more, visit npr.org