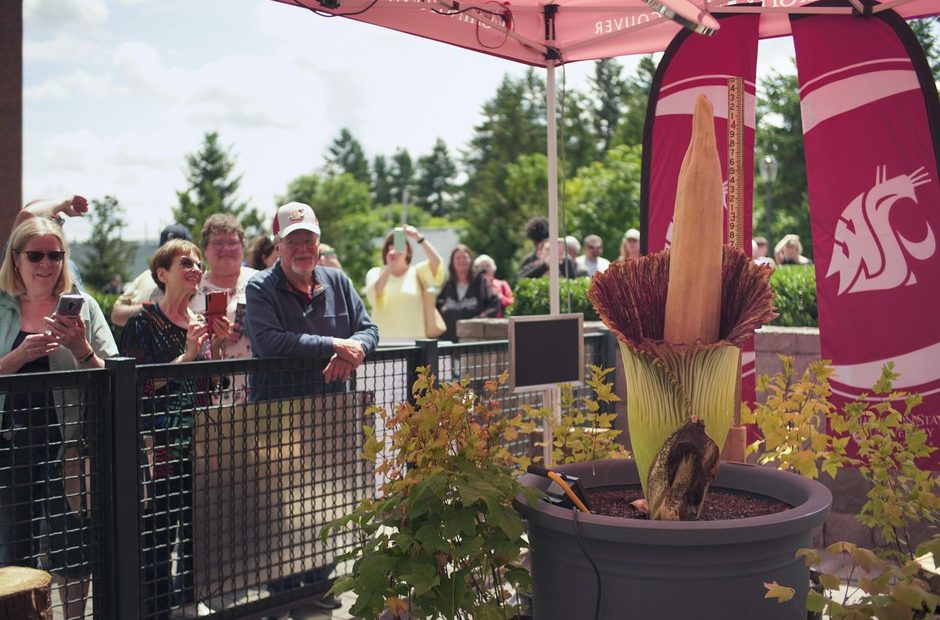 It's Alive! Corpse Flower Unleashes Rare Bloom, Big Stink At WSU Vancouver
BY MOLLY SOLOMON / OPB
The line snaked across the parking lot at Washington State University Vancouver — to see a plant with an odor that draws comparisons to rotting flesh. Thousands of people endured the hourlong wait Tuesday to get up close and personal with Titan VanCoug, an 18-year-old corpse flower in bloom for the first time. 
"It's so alien and captivating. It's awesome," exclaimed high schooler Edme Guetschow, who hopped in the car with her parents Monday night to see the plant.
"They bloom so rarely, so when we heard this one was ready, we dropped everything," added her mother Michelle Bickley.
The Titan arum plant, also known as the corpse flower, began its bloom Monday night just before 8 p.m. The window to smell its signature odor is brief, lasting just 24 to 48 hours.
"I thought it was going to not smell as strong as it does. I thought it was an overreaction. It is not an overreaction," said Guetschow, who compared the stench to the time her school's toilet exploded.
"This thing smells quite awful."
Others who came out to see the plant likened the putrid odor to rotting fish, dead rats or dirty socks.
"It smells like the boys' gym," said Maxine Gonzalez-Kelly from Woodland. She waited more than an hour with her 3-year-old granddaughter, Adeline, to see the plant.
"This is history for my granddaughter. I've never seen a flower this big and with only hours of life before it's gone," she added.
Scientists say the plant's smell and dark purple coloring is meant to mimic rotting flesh, to attract flies and insects, which crawl inside to help pollinate the plant. During the bloom, the plant's spadix heats up to temperatures as high as 90 degrees Fahrenheit to increase the potent smell.
"Roses do one thing and this does another," said molecular biosciences professor Steve Sylvester.
Sylvester nursed this plant from a seed 18 years ago. He came across it from a story in a science newsletter about a bloom at the University of Wisconsin, Madison. A professor there was looking for takers interested in the plant's seeds.
Sylvester reached out to the school and ended up with a highly unusual desk plant. It soon outgrew Sylvester's lab and was later moved to the downstairs floor of the Science and Engineering building.
He learned about the bloom Monday evening while on his rider lawn mower at home. His wife ran out to tell him his phone was "going crazy," he recalled. A campus security officer had called to tell him his plant was ready.
"I drove here trying not to speed," said Sylvester, who's been standing guard next to the plant and answering questions throughout the day and night.
With just two hours of sleep over the last day, Sylvester was surprisingly chipper. He held a microphone in one hand, rattled off facts and helped people take close-up photos of the purple leaves and red flowers that line the inside bottom of the plant.
Sylvester said his motivation to get the corpse flower was to raise the community's awareness that Vancouver had a research university.
"The whole reason I got this plant was to do this," he said, waving at the long line. "And it's doing its job."
Copyright 2019 Oregon Public Broadcasting. To see more, visit opb.org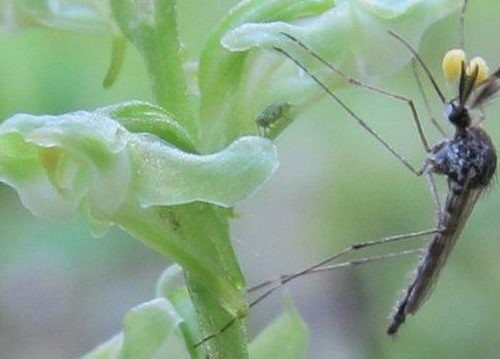 With the name corpse flower, this rare, tropical plant set to bloom at Washington State University Vancouver has quite the reputation to live up to. "People describe the smell as a mix of rotten fish and dirty socks," said Steve Sylvester, associate professor of molecular biosciences at the Salmon Creek, Washington, campus. Continue Reading Rare Corpse Flower To Release Its Foul Stench At WSU Vancouver